2012 NHL Mock Draft: Defensemen Who Will Make Quick Impact at Next Level
June 19, 2012

Richard Wolowicz/Getty Images
Finding a player in the NHL draft who will make a longtime—or even immediate—impact is no easy task.
For proof, just check out this fairly scary stat (via HabsWatch via Twitter):
Pre-draft reality check: On average, only 55% of 1st round picks taken outside the top 10 will play more than 2 full seasons in the #NHL

— HabsWatch (@HabsWatch) June 18, 2012
Nonetheless, there are plenty of players in this class who will quickly have a positive influence on whatever team drafts them.
In my latest first-round mock draft, I will take a closer look at the defensmen who will make that type of impact.
Note: These players are in italics.
1. Edmonton Oilers: Nail Yakupov, F, Sarnia 
Yakupov is arguably the most talented prospect in this draft. He has had a great season both for Sarnia and for Russia's Under-20 team.
The talented forward will remind many people of another prospect out of Russia who goes by the name of Alex Ovechkin. The Oilers can't afford to let someone like that slip by. 
2. Columbus Blue Jackets: Ryan Murray, D, Everett 
There's no question in my mind that Murray is the best defenseman in this draft.
He was absolutely dominant for the Everett Silvertips this season, racking up nine goals and 22 assists in just 46 games. And he's a defenseman. 
Throw in some solid performances for Canada's Under-20 team, and it's clear this 18-year-old is ready to take his game to the next level and compete in the NHL very soon.
Not only is Murray a terrific puck-handler and distributor, he is very good defending his own goal. He looks to be the prototypical two-way player.
The Blue Jackets would be happy to grab Murray, who could easily go No. 1. 
3. Montreal Canadiens: Alex Galchenyuk, F, Sarnia   
Yukupov's teammate at Sarnia clearly has talent, as he was drafted No. 1 overall in the OHL draft. 
He tallied an amazing 83 points in 68 games in his first year for Sarnia last year, but a knee injury forced him to miss most of the season in 2011-12.
Nonetheless, it will be hard for Montreal to pass on a player of this caliber. 
4. New York Islanders: Mathew Dumba, D, Red Deer 
Dumba may only be 175 pounds, but he can lay some devastating hits in true enforcer style. But it's not just his big hits that will land him with the Islanders at the fourth pick.
The young defenseman from Canada tallied 57 points in 69 games this season for Red Deer to go along with 12 points in just seven games for Canada's Under-18 team. 
He has good speed and offensive ability for the amount of big hits he tends to lay. Dumba may only be 17 years old, but don't be surprised if he is one of the first in this draft to make it to the NHL.
The Islanders need defensive help as soon as possible, so this pick makes sense. 
5. Toronto Maple Leafs: Filip Forsberg, F, Leksands
The young winger from Sweden has had a great season for Leksands and could easily crack the top three.
6. Anaheim Ducks: Mikhail Grigorenko, F, Quebec 

Grigorenko is yet another Russian player who could easily be drafted in the top five. He had a tremendous year for the Quebec Remparts, scoring 40 goals and compiling 45 assists in 59 games. 
The Ducks would be lucky to land the talented forward here. 
 7. Minnesota Wild: Griffin Reinhart, D, Edmonton
Reinhart has everything going for him that suggest a successful NHL career.
First, he's got the right lineage. His father, Paul, played in the NHL for a long time and his brother, Max, is a top prospect for the Calgary Flames.
Throw in his elite size (6'4", 200 pounds), and it would be surprising for Reinhart to not have an impact in the NHL. 
He also has some budding offensive skills, as he tallied a respectable 36 points in 58 matches for the Edmonton Oil Kings this season.
The Wild need a defenseman, and this would be the smart pick. 
8. Carolina Hurricanes: Teuvo Teravainen, F, Jokerit
The small winger from Finland likely won't have a quick path to the NHL, but he oozes talent and potential. 
Teravainen is smart and has lots of skills with the puck at his stick. 
9. Winnipeg Jets: Radek Faksa, C, Kitchner 
Faksa can contribute on both sides of the rink, but he isn't quite as dominant on the offensive side as he needs to be.
Still, he's a solid top-10 pick. 
10. Tampa Bay Lightning: Morgan Rielly, D, Moose Jaw   
The Lightning could use some defense, and while Rielly is more known for his offensive prowess, he has improved his defensive skills as of late.
This pick makes lots of sense. 
11. Washington Capitals (from COL): Jacob Trouba, D, USA U-18
The Minnesota-born defenseman is a talented player with great speed. He's nothing special on the offensive side of things, but his combination of quickness and hitting ability is special. 
The Capitals would do well to get Trouba here. 
12. Buffalo Sabres: Cody Ceci, D, Ottawa 
Ceci is a big defenseman who has the ability to lay out some big hits. What makes him more intriguing, however, is his offensive upside. 
He tallied 60 points in 64 games for Ottawa this season, and some believe he has plenty more potential.
13. Dallas Stars: Olli Maatta, D, London
Maatta won't provide much on offense, but he's big, smart and a good skater. He has the potential to be a first-line defenseman in the future. 
He's one of the best true defenseman in the draft.
14. Calgary Flames: Sebastian Collberg, F, Frolunda HC 
The Swedes are producing great talent for this draft, and Collberg is evidence of that. 
The young winger has great speed, he has a slew of moves with the pick and he's a great finisher. This is a good value pick at No. 14 for the Flames.
15. Ottawa Senators: Hampus Lindholm, D, Rogle    
Lindholm has good size at 6'1" and 200 pounds, but he also has solid skating speed and can contribute on the offensive side every once in a while.
He's not a true two-way defenseman, but Lindholm is a solid prospect.
16. Washington Capitals: Zemgus Girgensons, F, Dubuque
The Latvia native has been terrific for Dubuque this season, tallying 55 points (24 goals) in just 49 games. 
He's a very strong, physical player who will be able to make plays right in front of the goal.
After getting a defenseman with their first pick, the Capitals would be smart to grab Girgensons here. 
17. San Jose Sharks: Brendan Gaunce, F, Belleville
Big Brendan Gaunce is 6'2" and 205 pounds, which is great size for a center. Throw in his high hockey IQ and good leadership qualities, and the Canadian is a great pick at No. 17.
18. Chicago Blackhawks: Tom Wilson, RW, Plymouth
At 6'4", Wilson is someone who will lay punishing hits whenever he gets the chance. He can absolutely dominate the game down low and on the boards because of his large frame.
His not a terrific scorer, but Wilson is a menacing and intriguing prospect.
19. Tampa Bay Lightning (from DET): Derrick Pouliot, D, Portland 

Pouliot is yet another defenseman in this draft who has terrific ability on the offensive side of the rink. At Portland, he racked up 11 goals and 48 assists in 72 games.
He's a great distributor from the back and is a good pick for Tampa Bay.
20. Philadelphia Flyers: Dalton Thrower, D, Saskatoon
The six-foot defenseman from Canada had a great year in 2011-12 for Saskatoon, racking up 54 points in 66 games.
He's another two-way defenseman and the Flyers will be happy to grab him here.
21. Buffalo Sabres (from NSH): Slater Koekkoek, D, Peterborough 
The run of defensemen continues as the young Canadian slips a little bit to the Sabres. 
Koekkoek can contribute all over the rink. He has top-15 talent, and if he slips this far, Buffalo will consider themselves very lucky.
22. Pittsburgh Penguins: Brady Skjei, D, USA U-18 
The pride of Minnesota had a good season for the USNTDP Juniors, tallying 12 points in just 24 games. 
He's a big defenseman who will continue to fill out and make an impact on both sides of the ice. 
23. Florida Panthers: Matt Finn, D, Guelph 
The Canadian native had a great season for Guelph, as he scored 10 goals and dished out 37 assists in 61 games.
He's great on the power play and makes good sense at No. 23 for the Panthers.
24. Boston Bruins: Stefan Matteau, F, USNTDP
The young winger from America, who is a product of Notre Dame Hounds Midget Triple-A, was impressive for the United States' Under-17 team. 
He still needs time to develop, but he fits the Bruins' system well. 
25. St. Louis Blues: Pontus Aberg, F, Djurgardens
Aberg may be a forward, and he can certainly score like one, but he also has great defensive skills. The Blues will consider themselves happy to see him still available here. 
26. Vancouver Canucks: Henrik Samuelsson, C, Edmonton 
The young American has good size and had a solid season in his first year in the WHL for Edmonton, scoring seven times and assisting 16 in 23 games. 
27. Phoenix Coyotes: Scott Laughton, F, Oshawa  
The talented Canadian is coming off a 53-point season for Oshawa. He could use some better skating skills, but he's a great two-way player who will likely be a second-line player in the future. 
Great pick for the Coyotes. 
28. New York Rangers: Tomas Hertl, F, Slavia 
The Czech Republic product really improved his stock with a great showing at the World Junior Hockey Championships.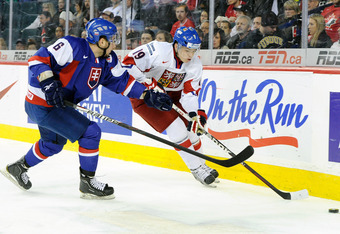 Richard Wolowicz/Getty Images
He scored three goals and dished out two assists in just six games. He should be right on the Rangers' radar. 
29. New Jersey Devils: Malcolm Subban, G, Belleville
Martin Brodeur isn't getting any younger, and Subban, who is the younger brother of P.K. Subban of the Canadiens, is the best goalie in the draft.
Don't be surprised if the Devils make this smart pick for the future.
30. Los Angeles Kings: Colton Sissons, F, Kelowna
Sissons is an absolutely terrific player, as he has proven during the last two years with Kelowna. The Stanley Cup champions would be happy to grab him at the end of the first round.