LSU Football: SEC Championship Rings Provide Motivation for 2012 Tigers
June 18, 2012

Chris Graythen/Getty Images
LSU's 2011 SEC Championship rings have an interesting twist.
Instead of paying honor to the Tigers' run to an undefeated regular season, which included a 9-6 win over Alabama in Tuscaloosa and a 42-10 romp over SEC East champion Georgia in the SEC Championship Game, the rings also take a subtle jab at how LSU ended the season.
Right above the SEC Championship logo and the text that recognizes the 13-win season is a reminder of what became the dominant headline of LSU's 2011 season (h/t KeggsNEggsBlog.com).
"#2 Nationally."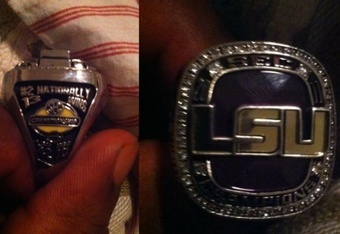 On the surface, there's nothing wrong with being proud of finishing No. 2. LSU had a great season, but that season finished with a resounding "thud." The SEC Championship is still something to celebrate, and it's a season that deserves recognition.
Is the recognition of being No. 2 a slap in the face to LSU's players? You bet it is, and it's there for a reason.
It's a reminder that the job isn't complete. It's recognition that a fine season screeched to a halt on the game's biggest stage. It's motivation to the players who remain on LSU's roster from last year's team that the SEC Championship is great, but there's still another hill to climb.
Why hide from history? We all know what happened in the Superdome on Jan. 9, 2012. LSU got out-coached, outplayed and outworked by Alabama in the BCS National Championship Game. It'd be more detrimental to hide from history than it is to recognize it.
So why not use it for motivation?