Arsenal Transfer News: What the Gunners Need to Know About Olivier Giroud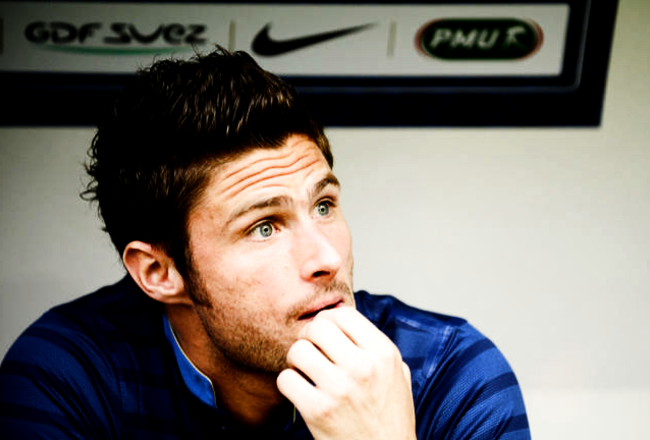 Agence France-Presse

Arsenal are set to sign Montpellier forward Olivier Giroud for £12 million, according to David Ornstein at BBC Sport.
Borussia Mönchengladbach sporting director Max Eberl ruled out his club when he told Bild (via ESPN.co.uk): "The problem in our negotiations is that we are in competition with clubs like Arsenal and top clubs in Germany."
Montpellier manager René Girard said: "Arsenal are very interested and Giroud wants to play in England. If Arsène agrees [a fee] with the president, he will sign for them."
Arsenal are in pole position to sign Giroud and here's what the Gunners need to know about him.
6. £12 Million for Olivier Giroud Is Value for Money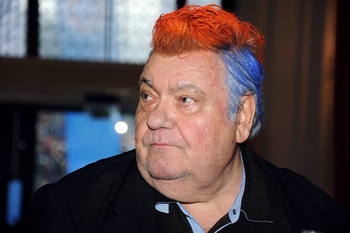 Image via bahisgazetesi.com
Arsène Wenger will be dealing with Montpellier president Louis Nicollin, who has never sold a player for over £7.5 million.
If Chelsea or Manchester City wanted Olivier Giroud, they would have paid in excess of £20 million, but Wenger's negotiation skills seem to be working wonders once again.
| | | |
| --- | --- | --- |
| | Transfer Fee | Form Prior To Being Signed |
| Fernando Torres | £50 million | 9 goals in 30 games |
| Andy Carroll | £35 million | 18 goals in 30 games |
| Dimitar Berbatov | £30 million | 16 goals in 30 games |
| Giroud | £12 million* | 14 goals in 30 games** |
* not confirmed
** factor in 11 assists and five sub appearances for France
5. Olivier Giroud's Playing Style
Image via uefa.com
Olivier Giroud is a unit—6'3" and 194 pounds.
He has good technique, he's agile enough to dink past centre-backs and could make the transition into a world-class forward if he is the main man at Arsenal.
He was a contradiction at Montpellier. René Girard's team centered around making low-risk decisions, but Giroud wanted to make Hollywood passes.
Montpellier were one of the weakest teams in winning headers, but Giroud was a beast in the air.
| | | | |
| --- | --- | --- | --- |
| League Only | Headers Won | Headers Scored | Headers Won % |
| Peter Crouch | 143 | 5 | 64.1 |
| Andy Carroll | 152 | 1 | 64.4 |
| Stefan Kießling | 147 | 2 | 55.1 |
| Mario Mandžukić | 111 | 8 | 58.4 |
| Giroud | 132 | 1 | 70.2 |
4. Olivier Giroud's Shooting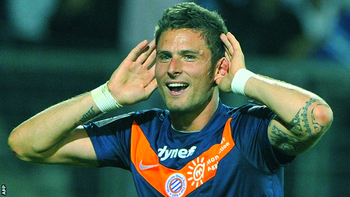 Agence France-Presse
Don't be too worried about Olivier Giroud's high shots per goal average. He was the only centre forward in René Girard's 4-2-3-1, so he was given the green light to shoot more often than not.
Last season, he didn't shoot enough as he only registered 2.4 shots per game. This season, he shot 4.5 times per game, which is the norm for prolific forwards, as Robin van Persie and Wayne Rooney accumulated 4.6 shots per game.
Selfish would be Cristiano Ronaldo's 6.9 shots per game in La Liga and 7.4 shots per game in the UEFA Champions League.
Here's a statistical comparison of Giroud's scoring to Emmanuel Adebayor, Rooney, Sergio Agüero and Van Persie.
| | | | |
| --- | --- | --- | --- |
| League Only | Goals | %SIGP* | Shots Per Goal |
| Adebayor | 17 | 51.5 | 5.9 |
| Agüero | 23 | 67.6 | 5.7 |
| Giroud | 21 | 58.3 | 7.7 |
| Rooney ** | 27 | 79.4 | 5.8 |
| Van Persie | 30 | 78.9 | 5.8 |
* percentage scored in games played
** Rooney played 34 games compared to Van Persie's 38
3. Olivier Giroud's Productive Passing Mentality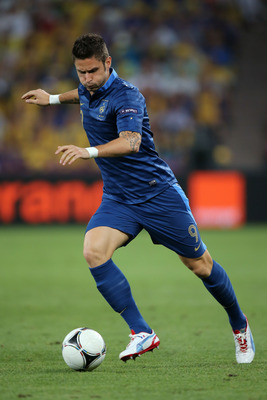 Ian Walton/Getty Images
The primary reason why Olivier Giroud only completed 69.1 percent of his passes was his ambivalent approach to keeping possession. If he misplaced a pass, it was up to Jamel Saihi and Marco Estrada to win the ball back.
The majority of Giroud's passes either dragged an opposing player out of position or led to a shot on goal.
Do you know who led Montpellier in assists? Giroud.
2. Olivier Giroud the Man for the Moment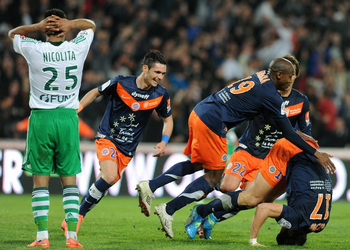 Image via foot01.com
During the 2010-11 season, Edinson Cavani scored late game-winning or equalising goals in the 86th minute, 87th minute, 88th minute, 92nd minute, 93rd minute and 97th minute.
Olivier Giroud may never replicate Cavani's freakish late-game heroics, but the Frenchman has established a reputation for coming up big in critical situations.
2010
Converted his penalty during a 4-3 penalty shoot out loss to Győri.
13 minutes after coming on as a sub, he headed the winning goal with seven minutes remaining in a 1-0 win over Nice.
2011
He broke Paris Saint-Germain's heart with a 117th minute winner.
Scored his penalty in a 4-3 shoot out win over Amiens.
Iced Auxerre's attempts at a comeback with a 90th minute goal in a 3-1 win.
Scored twice in the last three minutes in a 3-1 win over Sochaux.
His free kick led to a 88th minute penalty, to which Younès Belhanda scored in Panenka fashion. Two minutes later, Giroud provided for Hilton to score the dramatic equaliser.
2012
Scored a 90th minute winner in a 1-0 win over Nice.
Provided an assist in the 82nd minute to put Montpellier 2-1 up against PSG, but Guillaume Hoarau scored a late-game equaliser for Les Parisiens.
Exquisitely placed an 89th minute volley passed the dominant Stéphane Ruffier in a 1-0 win over Saint-Étienne.
Scored an 84th minute equaliser in a 2-2 draw against Evian. It was a crazy game with four players sent off after a brawl and Souleymane Camara's 98th minute penalty miss.
In a monumental game against Lille, Giroud dribbled past the last defender and provided the pass to Karim Aït-Fana for a 93rd minute winner.
Provided two assists in the last five minutes to seal a 3-2 win over Iceland.
Even during Giroud's days for Tours, he scored a brace in the last eight minutes to beat Le Havre 2-1.
1. Olivier Giroud Is in a Bromance with Laurent Koscielny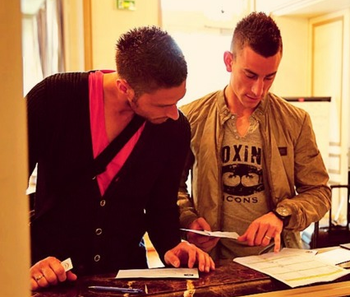 Image via celebratedsummer.tumblr.com/
Keep Reading

Arsenal: Like this team?