New York Yankees Have Interest in Cubs Starters Matt Garza, Ryan Dempster
June 16, 2012

It's been well-known that the Yankees have been interested in adding to their starting rotation.
We are less than a month-and-a-half away from the July 31 non-waiver trade deadline for baseball, and the rumors have already begun to heat up.
With the Chicago Cubs virtually out of the playoff race in the NL Central, many of their key players have been linked to trade rumors for next month.
Two of them have been tied to the Yankees: Matt Garza and Ryan Dempster.
The Yankees' interest in Garza has been well documented, and we have talked about potential trade deals before.
But Dempster's name is a new one for the Bombers, as Gordon Wittenmyer of the Chicago Sun-Times reported that the Yankees are now coveting the veteran pitcher.
Wittenmyer also said the Los Angeles Dodgers are coveting Dempster too and are interested in dealing for him.
Dempster is 3-3 with a 2.11 ERA in 2012 for the Cubs and is fresh off pitching a seven-inning shutout against the Boston Red Sox on Friday afternoon.
What has boosted Dempster's trade value is the fact that he's thrown 22 consecutive scoreless innings, which is why his ERA is down to 2.11.
Dempster knows he's going to be dealt soon and has accepted it, although he's never pitched in the American League.
The 35-year-old Dempster is a career National Leaguer, having pitched with the Marlins, Reds and Cubs, so while he has had success with Chicago, it's hard to say how he would do well pitching in the American League, and especially in the American League East.
Yet Dave Kaplan of WGN Radio and Comcast Sportsnet in Chicago posted on Twitter saying scouts told him the Yankees prefer Garza over Dempster
I spoke w/ 2 scouts who were at today's Cubs/Red Sox game + both told me that Yankees are much more interested in Matt Garza than Dempster.

— David Kaplan (@thekapman) June 15, 2012
Garza is currently 2-5 with a 4.04 ERA in 2012 with Cubs and hasn't won a decision since April 29.
He's been up and down with the Cubs this season, but his previous experience in the AL East pitching with the Tampa Bay Rays is what makes him an attractive option.
Garza's also only 28 years old, as opposed to Dempster being 35.
Plus, Garza only makes $9.5 million, while Dempster is making $14 million. Dempster will be a free agent once the 2012 season concludes, while Garza won't be a free agent until 2014.
The only thing that makes trading for either of them complicated is the fact that the Yankees' pitching staff is doing well at the current moment.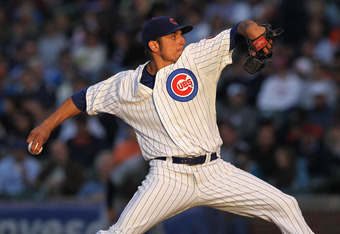 Jonathan Daniel/Getty Images
Most of us considered CC Sabathia and Andy Pettitte safe in the rotation because of their experience and reputation with the Yankees.
The other three—Phil Hughes, Hiroki Kuroda and Ivan Nova—all had to step up their games in order to keep their jobs, and they have all done that.
Hughes is now 7-5 with a 4.50 ERA, Kuroda is 6-6 with a 3.43 ERA and Nova is 8-2 with a 4.64 ERA, and all have improved over the last month.
So if Yankees GM Brian Cashman tries to make a trade for Garza or Dempster, what does he do?
A couple of weeks ago, I had suggested putting Hughes in a package for Garza, but that was only when Hughes was struggling for the Yankees.
Now, I don't think it would be wise to trade Hughes because not only is he winning, but he's also turning into a dominant strikeout pitcher for the Yankees.
Plus, ever since May 1, where Hughes was 1-4 with a 7.48 ERA, he's completely turned around his season and is 6-1 since then. His last loss was back on May 17 against the Blue Jays.
It's also known that the Yankees aren't the only ones who are interested in the Cubs starters.
Ken Rosenthal of FOX Sports has reported that the Dodgers are also interested in trying to make a move for Garza as well.
The Dodgers are in first place in the NL West and are looking for reinforcements to their pitching staff for the second half of the season, so their interest in Garza and Dempster make sense too.
It'll be very interesting to see where the Yankees and Cashman go from here and if they do decide that they want to make a deal with the Cubs and Theo Epstein and Jed Hoyer.
Stay tuned, Yankees Universe.