Can Josh McDaniels Fill the Tom Martinez Void Left in Tom Brady's QB Career?
June 15, 2012

Donald Miralle/Getty Images
The timing of offensive coordinator Josh McDaniels' return to the New England Patriots couldn't have been much better for quarterback Tom Brady, who lost his mentor, Tom Martinez, to a heart attack in late February.
Martinez's impact on Brady's career and his life can't be overstated; not many men will text "Love you" to one another.
When Brady struggled in-season, he often turned to Martinez to help figure out what was wrong with his mechanics. Make no mistake—Brady's mechanics are among the best in the league. But hang-ups in those mechanics are sometimes the source for struggles.
And even if they're not, it's always a good place to start.
Brady was asked about that very subject earlier this week and said (per The Boston Globe):
Throwing the football is about mechanics. There's nothing special, it's just a matter of doing it the right way and the better mechanically you are, the more accurate you're going to be able to throw the football. When you're not accurate, there's a reason for it. It's not like, 'Hey, you just have to throw the ball more accurately.' There's a reason, what are you doing? So I'm constantly evaluating every throw.

I watch every throw in practice, every rep that I take in practice I have someone film and I watch it after practice. I just make sure that I'm continuing to work on the right things because ultimately when you're under pressure, your body is going to revert to what it knows.
That dedication and focus will help Brady keep his mechanics razor-sharp, his throws high-velocity and his accuracy pinpoint.
But when they're not, Brady will have to turn elsewhere for pointers.
Just because Martinez is gone doesn't mean his teachings will be forgotten. In fact, quite the contrary. Brady added:
I've got to rely on what he's taught me over the years. I've got a lot of stuff written down, of things that we talked about and things that I've learned. I have a great understanding mechanically of what I need to be able to do, it's just a matter of seeing it and being able to correct it.

Hopefully you can correct it between series sometimes because you don't always have the fortune to wait until Monday to figure things out—sometimes you have to figure them out in the middle of the third quarter. That's something where I'll have to rely on everything he's taught me over the years.
It's when things don't get figured out between series that Brady could be turning to McDaniels. Although perhaps no one knows Brady's mechanics quite as well as Martinez did, at least the Patriots old-and-new-again offensive coordinator can provide some insight. After all, McDaniels has made his name by getting the most out of any quarterback put in front of him.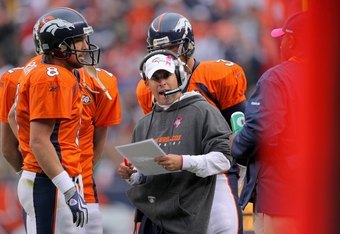 Doug Pensinger/Getty Images
Matt Cassel? Kyle Orton? Not world-beaters. Tom Brady? No explanation needed.
McDaniels helped mentor Brady from 2006-07, when Brady made the leap from managing games to lighting up scoreboards. While a lot of that had to do with McDaniels' scheme, it was and is a scheme that plays directly into his strengths.
The teachings of Martinez live on through Brady, but with McDaniels back in the fold, the support system is in place for the remainder of his career.
Erik Frenz is the AFC East lead blogger for Bleacher Report. Be sure to follow Erik on Twitter and "like" the AFC East blog on Facebook to keep up with all the updates.