‪50 Pictures of Fans Freaking the Freak Out‬
Image via businessinsider.com
Forget the box scores, highlight reels and player reactions. The only way to truly judge the outcome of a game is by reviewing the stadium-wide fan reactions.
Not their comments or ridiculous poster-board signs, but rather by their open-mouthed gawks, ferocious stares and comical flails. Fan shots are rarely normal, and never subtle.
There's no scenario in which these passionate fanatics aren't seen erupting like a pot of boiling water.
These explosive diehards continue to define the world of sports.
Here are 50 pictures of fans freaking out...hardcore.
We thank the photographers for catching these epic moments and the fans for having the audacity to produce such breathtaking art.
50. The Tooth Fairy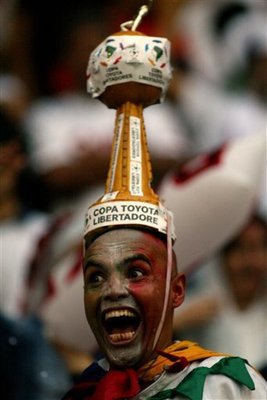 Image via strangecosmos.com
Gingivitis is believed to be the No. 1 reason of all tooth decay.
49. The Rockstar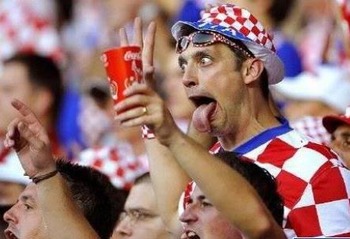 Image via amazingdata.com
48. Urban Lurkin'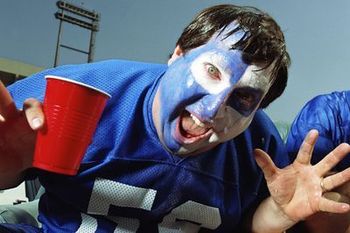 Image via blog.trutv.com
47. An Ancient Tradition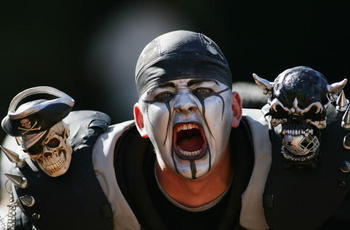 Image via sacramento.cbslocal.com
Beloved, feared, studied. Raider Nation is a unique species.
46. Schedule in Conflict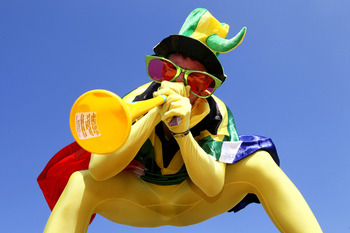 Christof Koepsel/Getty Images
Calm down bro, the game is tomorrow.
45. Permanently Striped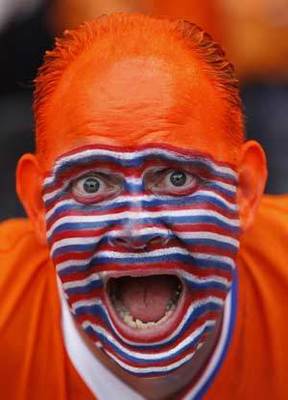 Image via china.org.cn
He may not come out of this.
44. A Lone Species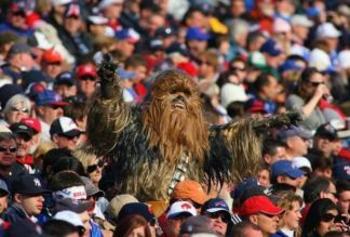 Image via 99redblumes.tumblr.com
Amid a calm, relaxed audience of more than several thousand is one thought-to-be-extinct Wookie.
He must've smelled the Ewok meat roasting in the press box.
43. A Rush of Blood to the Head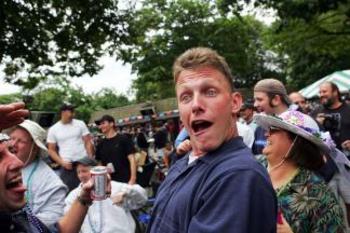 Image via kiss951.cbslocal.com
Most Neil Peart impressions turn into this.
42. A Nightmare Past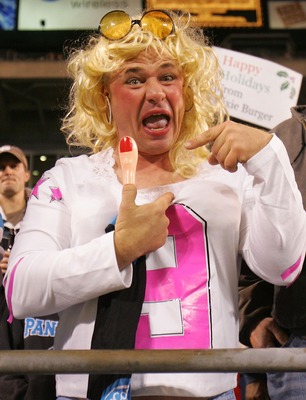 Streeter Lecka/Getty Images
A juicy Big Mac is the only improvement we see fit.
41. Green and Mean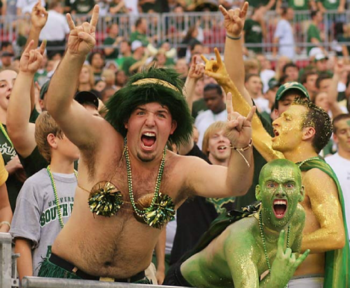 Image via sportsfans.org
The squirmy green creature crawling beside the gargantuan Caucasian makes this shot somehow more uncomfortable.
40. Intermission Mission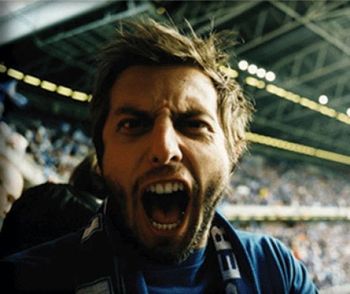 Image via snarkyhawk.com
Some fans just can't handle the seventh inning stretch.
39. Philly Pheastin'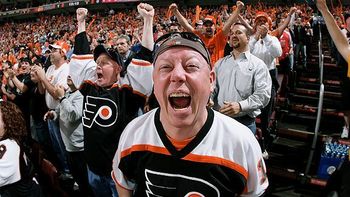 Image via inothernewz.com
A fish eye-esque lens makes this Flyer fan shot that much more legendary.
38. Mr. Congeniality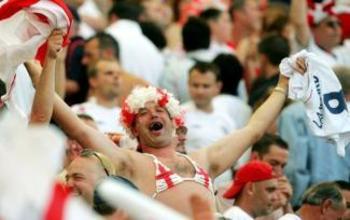 Image via chilloutpoint.com
The only thing he forgot on the way to the game were his dentures. Other than that, great work.
37. Gentleman's Quarterly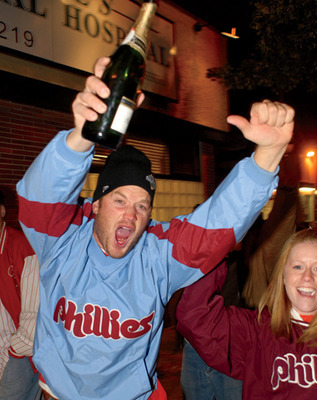 Image via warroomsports.com
And he hasn't even popped the champagne like they won a championship game (thank you Weezy).
36. Unique New York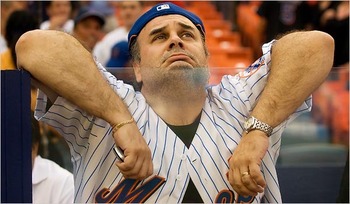 Image via realdirtymets.com
This may seem calm to most, but Mets fans understand that underneath the melancholy exterior is a fuming fanatic ready to burst.
The Amazins, however, might just be on the cusp of surprising the world.
35. Duck Season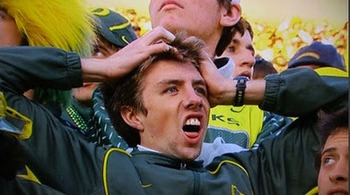 Image via thedawgdude.com
Perhaps attempting a ferocious quack really does motivate the Oregon football team. This dude's neighbor doesn't seem to agree.
34. Duke's Flukes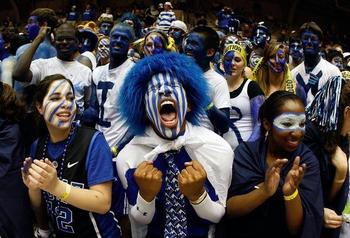 Image via howtogetfansinthestands.wordpress.com
33. Wisconsin Ice Age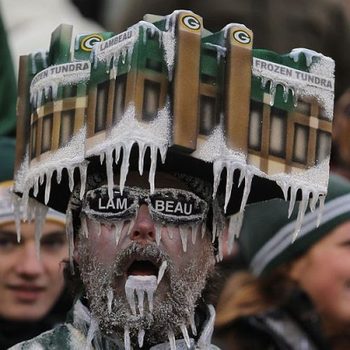 Image via piximus.net
This curious artifact was thought to be from an ancient culture when it was uncovered moments ago. On second glance, it's clearly just a frozen Cheesehead.
32. Frozen in Time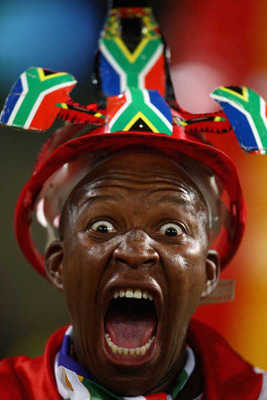 Image via chicagonow.com
World Cup madness. Nothing out of the norm here.
31. Pointer, Texas Ranger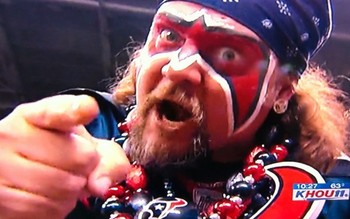 Image via middlezonemusings.com
Relax big guy, the Texans won a single playoff game. Although it was with T.J. Yates at the helm...alright bravo.
30. Blood Vessel Madness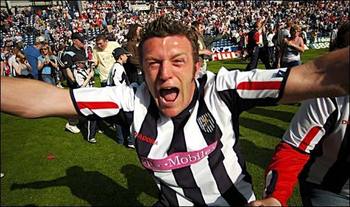 Image via thesun.co.uk
The life of a soccer fan is rarely anything close to calm.
29. West Coasting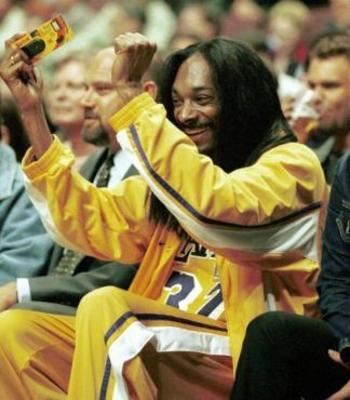 Image via theberry.com
We haven't seen Snoop this excited since he was discovered by Dr. Dre in 1992.
28. The Boiling Point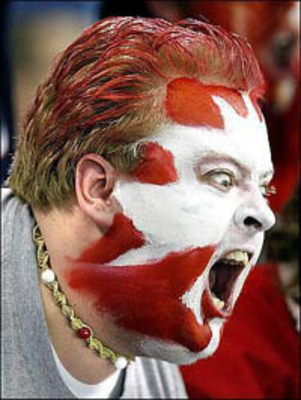 Image via spaff.com
Perhaps he'd feel a lot better if he ripped off the handcrafted hemp choker.
27. Culture Shock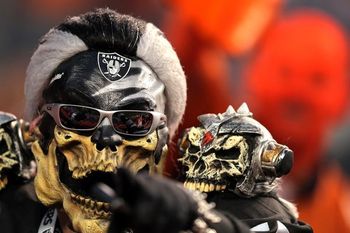 Image via raidersgab.com
His piercing stare and point may seem routine for Raider Nation, but we believe this is a warning.
Don't ever question the Black Hole.
26. Blue Fan Group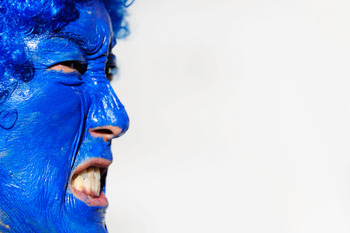 Stuart Franklin/Getty Images
A legendary side view is the only way to appreciate this type of loyalty.
25. A New Breed
Image via guyspeed.com
Such a regal creature, truly breathtaking.
24. Wrap Battle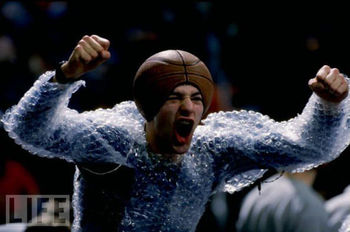 Image via jocka.net
Few can resist the temptation to pop those bubbles.
23. Boston Delicacy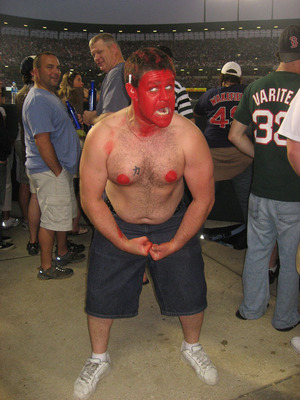 Image via thehusker.com
This is how Red Sox fans dealt with 86 championship-less years.
22. Hokie Dokie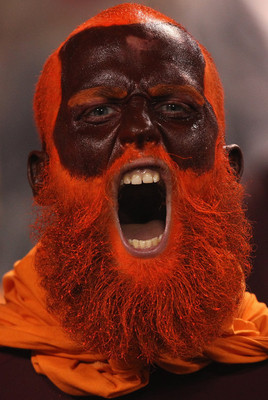 Image via carolinarefs.com
Face Paint: $10
Ridiculous Cape: $13.50
Scaring young children: priceless
21. New Zealand Feelin'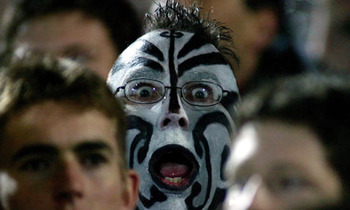 Image via guardian.co.uk
Somehow this creation looks like the product of Marilyn Manson and Bill Colbert merged into one.
20. Here's Johnny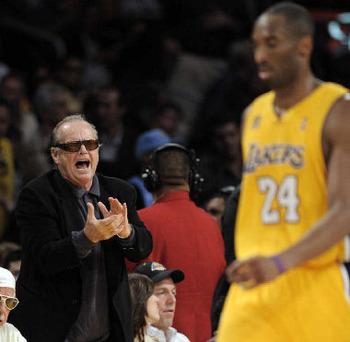 Image via suckyball.wordpress.com
Jack Nicholson is the greatest sixth man in Lakers history.
19. Once in a Lifetime Opportunity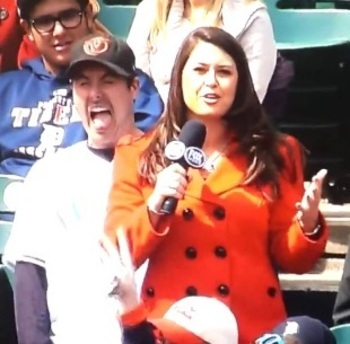 Image via lastangryfan.com
He may want to check those trousers at the commercial break.
18. Oh Canada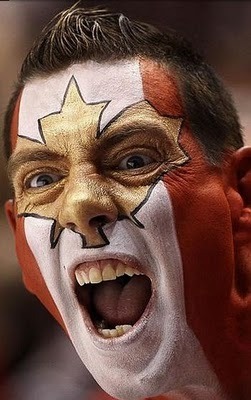 Image via funtasticus.com
17. That Kung Fu Grip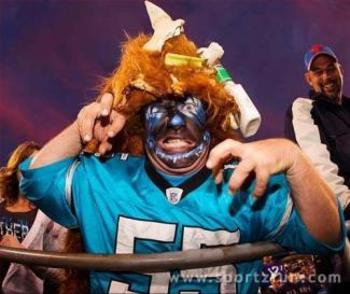 Image via tiptoptens.com
Motivating Cam Newton and company one grinding expression at a time.
16. A Moment of Clarity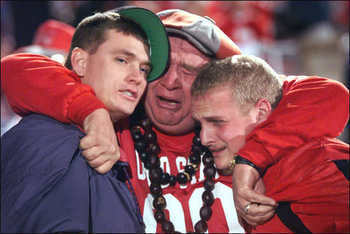 Image via artofmanliness.com
Only in sports is this socially acceptable.
15. Invincible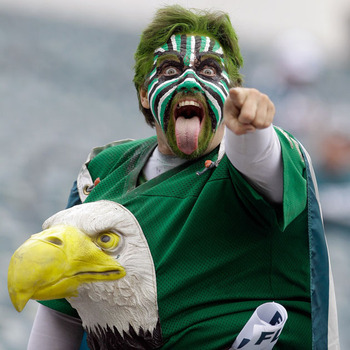 Image via blogs.thescore.com
If only Philadelphia bartender Vince Papale came to tryouts in this getup. He could've been something special.
14. Dominating Ivory Coast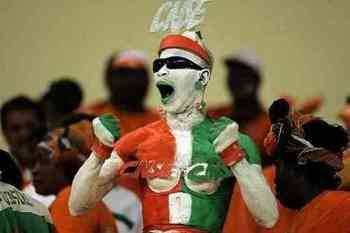 Image via guardian.co.uk
13. Jamming out in Louisiana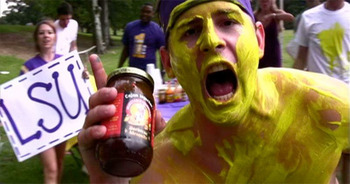 Image via tailgatelot.com
This Jam is ridiculously awesome! Eat it!
12. The Ringleader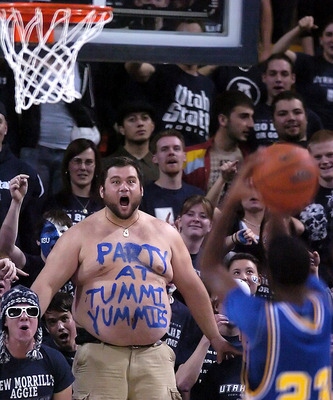 Image via saveonbrew.com
11. World Travels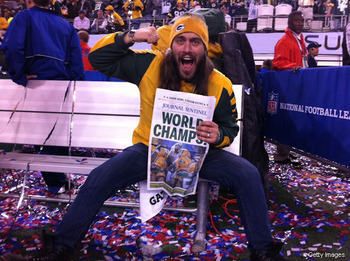 Image via sports.yahoo.com
10. A Tongue Twister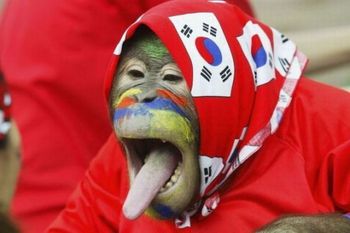 Image via snitchcentral.com
The next one to say this monkey isn't allowed in the arena is getting licked.
9. The Wild Bill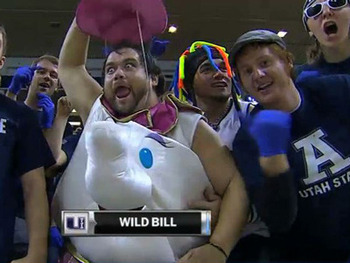 Image via businessinsider.com
Disturbing, inspirational, baffling. There are few adjectives that don't describe this memorable masterpiece.
8. A Burning Desire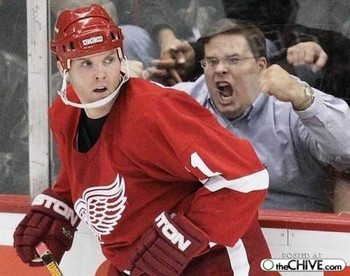 Image via thechive.com
Aneurysm alert...He'll be a legend at work tomorrow.
7. The Human Vendor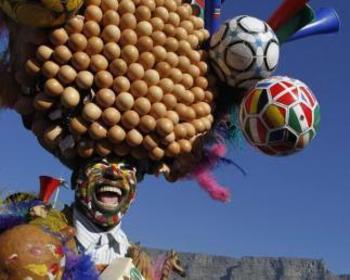 Image via newstrick.com
Just another day at the office for this entrepreneur.
6. Heavy Duty Determination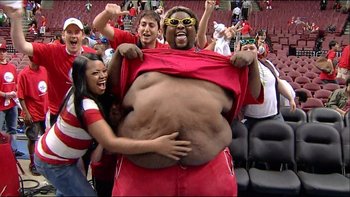 Image via sportsgrid.com
The sexiest hardwood performance to date. Fact.
5. Watch the Gap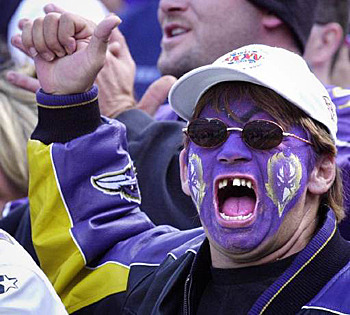 Image via abbyofftherecord.com
Going the Michael Strahan route? Alright, alright.
4. The Great Gator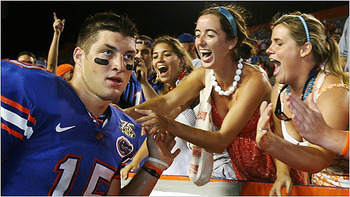 Image via blogs.nfl.com
Not now ladies, Timmy's got some Tebowing to do.
3. A-Head of the Game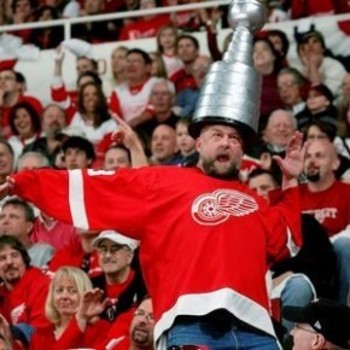 Image via realtalkthemag.com
11 Stanley Cups can have this effect on people.
2. The Origin of Marbles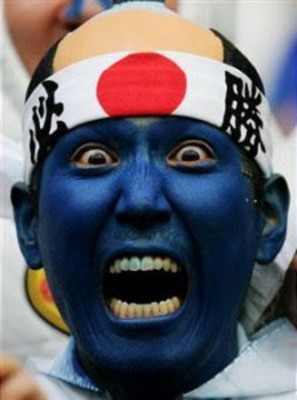 Image via chicagonow.com
1. Dazed and Confused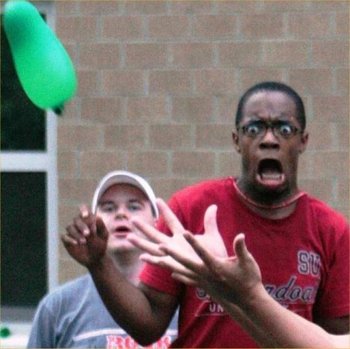 Image via explainthisimage.com
Just a harmless tailgate gone horribly wrong.
Keep Reading