Stanley Cup Final 2012: Refs Decide It's Time for Kings to Win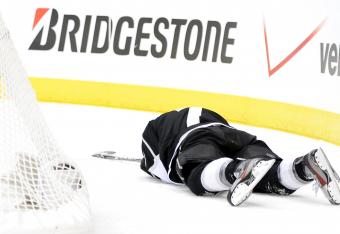 Harry How/Getty Images
It seems like, in the most important games of the top league for a sport, you'd have competent refs. Of course, in all sports, we've seen this to not be the case. But it's never been clearer than these Stanley Cup Finals.
The refs have been godawful. They have missed countless offsides and interferences, and tonight they decided who won the Stanley Cup.
Early in the game, Steve Bernier was given a five-minute major for boarding Rob Scuderi. I do not have an issue with that call.
The issue I have is that mere seconds prior, Jarret Stoll boarded Stephen Gionta in exceedingly similar fashion. If there had been glass, Gionta's face would have been just as cut up as Scuderi's.
As the play was winding down (once the delayed penalty had been called), Stoll decided to wildly throw a punch at the face of a Devil who was trying to stick check him.
Guess how many penalties were called against the Kings?
And now, with a full, uninterrupted five-minute major, the Kings have scored three goals and all but secured their Cup.
The reffing has not entirely been one-sided. There have been missed goalie interferences against the Devils and missed hookings and tripping for both teams. But there have also been some pretty bogus moves against the Devils as well. In four of the first five games, a Devil was high-sticked without a call (once drawing blood). It would be less troubling if the refs weren't so eager to call high-sticking on the Devils.
In Game 4, less than a minute after the Devils took their first lead of the series, the refs called the softest penalty of the playoffs on David Clarkson, and, sure enough, the game was evened up. The refs seem to have become especially adept at sapping a team's momentum.
The Kings won the first three games, and they earned those wins. Sure, the first goal in the third game shouldn't have counted, but they scored three more anyway.
It is truly a shame that the refs were either (a) swayed by the home crowd or (b) astonishingly incompetent. Either way, they've spoken, the Kings have scored, and the Devils have paid the price.
Some might take these as the ramblings of an angry fan. To some extent, that's true. I am very angry. I'm angry the refs can't be relied on to do their jobs. I'm angry that I've yet to see a series where one team wasn't favored by the refs.
The Kings are a great team who've played a great playoffs, but that doesn't mean that they haven't been helped, whether they like it or not. Truth be told, the refs have been significantly more important to the outcome of this series than Dustin Brown.
UPDATE: Wow. I wrote this before that beautiful pick the linesman set. Can't help but feel it helps the argument.
The Kings have now won the Cup. And they deserve it. They were the playoffs' best team by far. At the beginning of this game, they were overwhelming the Devils, and it felt like a matter of time. They likely would have won regardless of what was called or not called. That is not the point I'm trying to make.
My point is that the refs had way too big an influence on this game. It doesn't have to be a conspiracy. If there were a conspiracy, I'm pretty sure New Jersey wouldn't have beat New York or Philadelphia.
It may be that each missed call is entirely random, it may be that a strong home crowd can sway their standards (as in other sports), I don't know. But there have been a LOT of bad calls and missed calls this postseason, in every series and for every team, and that shouldn't be the case when the games are this important.
This article is
What is the duplicate article?
Why is this article offensive?
Where is this article plagiarized from?
Why is this article poorly edited?

Los Angeles Kings: Like this team?