Phil Mickelson: 5 Most Memorable U.S. Open Moments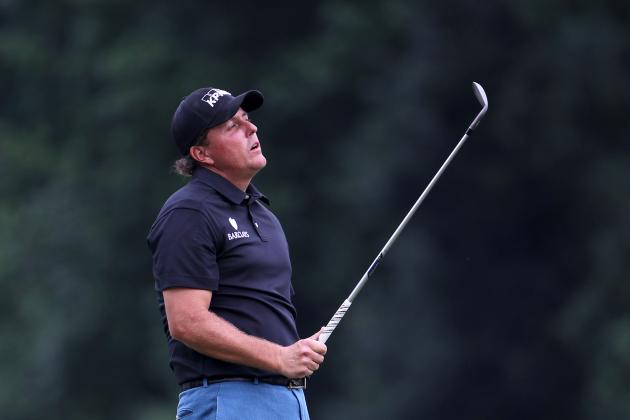 Jamie Squire/Getty Images

The U.S. Open and fun generally go together about as well as oil and water, and Phil Mickelson knows this all too well.
The 41-year-old has put together some great performances at his national open, but with five runner-up finishes and nary a U.S. Open title, he has experienced little reward and excruciating heartaches in the process.
Whether it be strong finishes by his competitors or his own gaffes down the stretch, the lefty always seemed to be devastated by the elusive U.S. Open trophy. Like Sam Snead at the same event or Greg Norman at the Masters, Mickelson looks to be star-crossed, never to win the major he now desperately wants the most.
There is still time yet though. The oldest U.S. Open champion was 43 years of age (Raymond Floyd) and with still two years to reach that mark and his game in form, Mickelson could yet break his Open curse.
However, the future isn't the point here, rather it's Mickelson's past. While his past U.S. Opens have been largely depressing, are there any silver linings?
Well, while Mickelson has experienced little joy at some U.S. Opens, he has had his moments.
Overall, despite zero victories at the Open, Mickelson's most memorable moments at this event include the highest of highs and the lowest of lows.
Begin Slideshow

»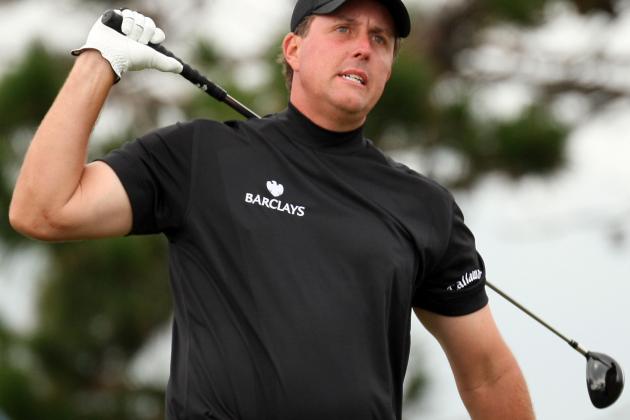 Ross Kinnaird/Getty Images

In 2008, the U.S. Open arrived at Mickelson's boyhood home and he was largely expected to win.
The lefty had the home-field advantage and with Tiger Woods, his greatest threat, seemingly neutralized by a competitive hiatus since the Masters, everything looked in place for the 37-year-old.
However, as Mickelson would prove yet again that week, betting on him with the odds in his favor is not a good practice.
From the start, something seemed awry.
Mickelson put together a decent first-round 71, but it included one shot from the rough that he advanced no more than five feet and left a nagging question: Where was his driver?
Indeed, the man who two years before put two drivers in his bag en route to a victory at Augusta brought exactly zero to the fray for the first two rounds at Torrey Pines. This might've been a fine tactic at a local muni, but at a course that measured 7,643 yards (the longest in U.S. Open history) and had exceptionally wide fairways for an Open, it was a head-scratcher to say the least.
Opting to hit a 3-wood (albeit a lowly lofted 11-degree three wood) on most tees for accuracy purposes, Mickelson's plan turned disastrous as he shot a second-round 75, found just 12 of 28 fairways over the first two days and was six shots back of playing partner Woods (who was only playing on a torn ACL and had two stress fractures in his left leg) at the halfway point.
Even when he acknowledged that failure and put a driver in his bag for round three, bad things still happened. Mickelson aggressively went for the pin on his approach to the treacherous par-five 13th, only to see his ball roll off the front and back to his feet, not once, not twice, but three times on his way to a demoralizing quadruple-bogey 9.
Mickelson later joked that he had made a 9 there before...when he was eight years old.
The tournament-killing gaffe was a bizarre way to end his nightmare week at home. As Mickelson watched from his house while Woods held that U.S. Open trophy, he could only ponder how things could've possibly gone so wrong in what should've been his week to win.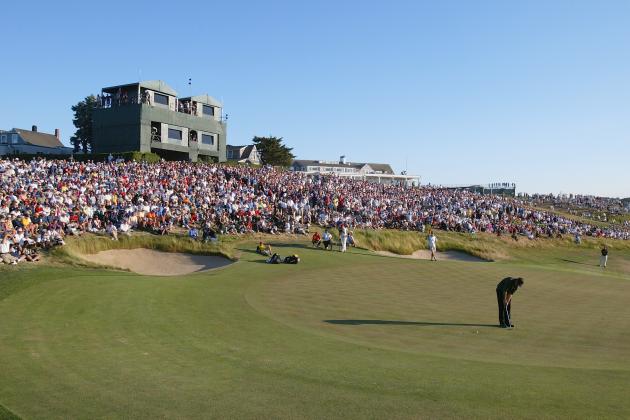 Jamie Squire/Getty Images

New York loves Phil Mickelson. Too bad he delivers like the Mets rather than the Yankees.
In 2004, Mickelson was coming on strong. He won his first major title, quite unforgettably, at the Masters in April and took no time in attacking for his second.
In his very next major championship, the lefty was a halfway co-leader at Shinnecock Hills. And by Sunday afternoon, Mickelson's chances of capturing the second leg of the Grand Slam were very good.
A birdie on 16 put the energized Mickelson one stroke up on Retief Goosen with just two holes to play.
At that point, Mickelson might have felt that this would be his day, but he was abruptly brought back to Earth.
A bunkered tee shot and a solid blast out five feet beyond the cup left Mickelson an excruciatingly quick short putt for par and his chance to hold a one-stroke lead heading to the 72nd hole.
Everything was on the line, but sadly, Mickelson folded. His first putt never had a chance, speeding by the cup on the left side and leaving himself a testy four-footer back uphill. Shockingly, Mickelson missed that putt too, and with a double-bogey 5 on the penultimate hole, his challenge had ended.
This wasn't a tournament Mickelson lost; after all he had played near flawless golf on Sunday and lost to a competitor who had one-putted 11 times during the round on Shinnecock's baked out greens.
But that three-putt has and will live on in infamy. Until he wins one of these things, Mickelson will constantly be reminded of failures like this.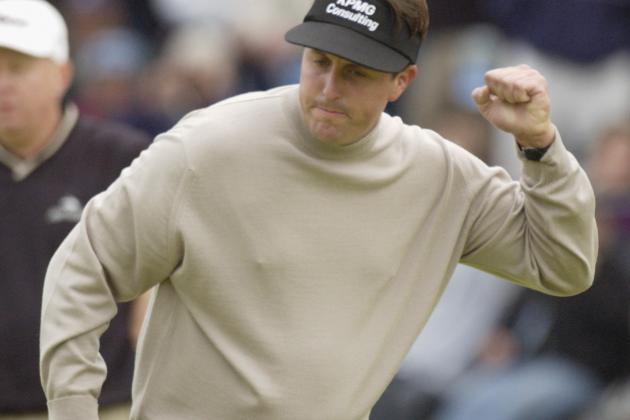 Stephen Munday/Getty Images

You know how I said New York loves Phil Mickelson? Well, they never showed it more during the third round of the 2002 U.S. Open.
It wasn't tough to see why. Tiger Woods had stormed out in front over the first two days and looked unlikely to relinquish it over the weekend.
While Woods was a respected figure with a large fanbase at the time, many grew tired of his dominance and hoped a new guy would come along and knock Woods off his pedestal.
Thus, the crowds cheered Mickelson's every move. And by the time he reached the closing stretch of his back nine in round three, they were ready to erupt.
Mickelson had climbed to within four of Woods' lead when he reached the 15th green. There he faced a 15-footer for birdie that included at least a foot of left-to-right break.
With a pure stroke, Lefty put the ball on a good line and begged it to keep turning. It did, falling into the far left side of the cup, and a deafening roar ensued.
Two holes later, Mickelson faced a 25-footer for another birdie and an opportunity to be just two back of Woods. Mickelson hit the putt with confidence and, seizing the moment, made a spirited fist pump as his ball jammed right in the center of the cup.
The crowd went ballistic for their favorite as NBC anchor Dan Hicks exclaimed, "How about this decibel level!"
Mickelson couldn't make a big enough charge on Sunday to catch Woods, but his week was one to remember. Saturday was especially unforgettable, and even though this Open marked another Mickelson second-place finish, the excitement from that day was enough to make that tournament worthwhile.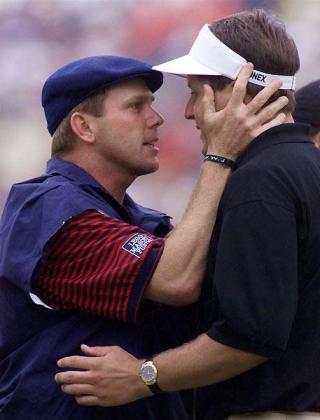 The 1999 edition of the U.S. Open had just about everything, and it wasn't all about golf.
Phil Mickelson and his wife, Amy, were expecting a child around the time of the Open, and although the due date was technically 10 days after Open Sunday, early complications in the pregnancy made Phil suspicious, and he wasn't taking any chances.
This would be the 29-year-old's first child and he desperately wanted to be there for the birth. He carried around a baby beeper the whole U.S. Open week and told Amy to call no matter the circumstances.
Even if he was leading the Open on Sunday.
Well, Phil did indeed have the lead late on Sunday, holding a one-stroke advantage over Payne Stewart with three holes to play. The thought had to be on everybody's mind, if Amy called now, would Phil really withdraw and relinquish his chances at a first U.S. Open title?
Phil didn't have time to dwell though, as he had his hands full with Stewart. Things tightened up after Stewart made a double-breaking 30-footer for par on 16 and Mickelson, likely in shock, missed his eight-footer to drop a shot.
The duo was now tied and came to the penultimate hole with the Open title on the line. Neither man let up.
Stewart stuffed his tee shot four feet from the cup, and Mickelson, unfazed, followed suit, sending his ball seven feet from the hole in prime birdie position.
When he got to the green though, he couldn't deliver, pulling his putt right and falling one behind when Stewart knocked his right in the cup.
One stroke down, one hole to go, could Mickelson force a playoff and go another day with the potential birth of his child looming in the distance?
Stewart answered with an emphatic no. A poor drive left him in trouble, but after knocking his third 15 feet from the cup, he drilled his par putt for the title and set off a wild celebration.
There was more to this day than a U.S. Open title, though, and Stewart knew it. He embraced Mickelson afterward and reminded him of the joy he was going to feel when he became a father.
It was a fitting ending sequence to an incredibly exciting tournament. And even though he lost on that day, Mickelson scored a much greater victory a few days layer when his daughter Amanda was born.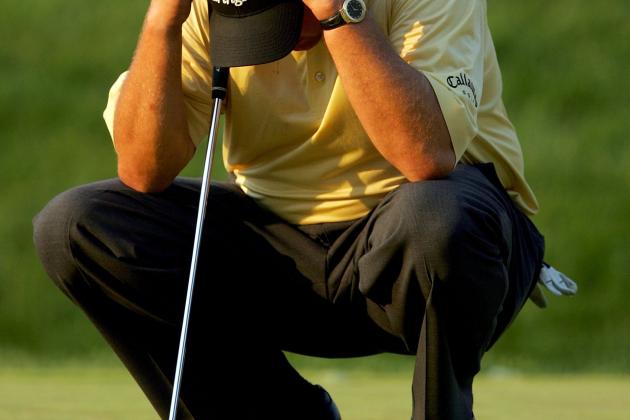 Jamie Squire/Getty Images

Of Mickelson's five runner-up finishes at the Open, none hurt worse than his collapse at Winged Foot. It was his tournament to lose and he choked it away in grand fashion.
It didn't look so dire for a while though. Despite missing fairway after fairway on Sunday and having to play out of the brutal Winged Foot rough, Mickelson held it together.
His Houdini act was almost complete as he walked to the 72nd tee.
That's when Mickelson made one of the biggest mental slips in golf history.
Just needing a par at a 450-yard par-four (not a long hole by any means) on a day where he'd found the short grass just two times, Mickelson pulled out the driver.
Calamity ensued.
Mickelson's drive went off-the-planet left, hitting a hospitality tent and landing in a spot far, far away from the fairway with a large tree in his way.
One poor decision begot another. Instead of punching out to the fairway, Mickelson went for it all again and sliced his three-iron right into the tree. Another overcooked three-iron and he was buried in the left green side bunker from where he couldn't get up and down, carding a devastating double bogey six.
This was Mickelson's shot at history. It would've been his first U.S Open title and his third consecutive major championship victory.
Alas, Phil isn't Phil without some disappointment thrown in. And no matter if he ever wins an Open, his collapse at Winged Foot will always be the most memorable moment in his Open career.
He is Phil the thrill and he will always have his great highs and depressing lows. It's a wild ride that never gets old.