Dale Earnhardt Jr: Why Former Nascar Great Will Never Win Again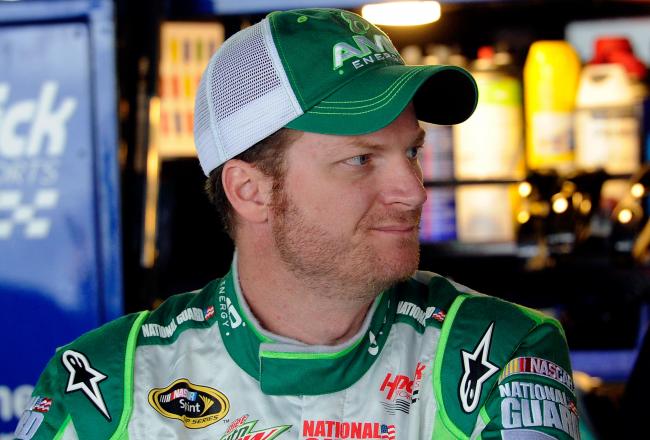 John Harrelson/Getty Images
Let's face it folks, Dale Earnhardt Jr. is never going to win another race.
He had a great run, a career filled with 18 wins, but his last coming in 2008 at Michigan during a green and white checkered finish. Even before that Jr. went 76 races without getting a win.
Since his win at Michigan however, Dale Jr. hasn't won a race in over 140 races.
Why is it so hard for Dale Jr. to win a race? It's really hard to say. Jr. is on one of the premier teams in NASCAR, Hendrick Motorsports, and still seems to struggle.
So far this year Jr. has been off to a solid start, and he even had a season finish of 7th last year. However, prior to 2011, Jr. finished 21st in 2010 and 25th in 2009.
Maybe it has something to do with Earnhardt's crew chief, or his pit crew? These two reasons could be good explanations, but Jr.'s crew chief and pit crew are some of the best in the business.
His current crew chief Steve Letarte, is the main reason for Earnhardt Jr.'s success in finishing 7th last season compared to 21st in 2010. Letarte himself is a fantastic crew chief, setting records with former driver Jeff Gordon and helping Gordon finish high in the standings at the end of several seasons. Letarte's full profile can be viewed here.
When Earnhardt Jr. first found out that his new crew chief would be Letarte he was quoted over at sbnation.com as saying:
Jr. Runs Out of Gas, Losing to Kevin Harvick

"We needed this to happen. I needed this to happen. And hopefully this...will get me back to winning races, running in the top five, running in the top 10."
Clearly the switch to Letarte was well wanted, but Jr. has still yet to pull off a win. Top 5 finishes and Top 10 finishes are great, but at the end of the day every driver wants to win.
Maybe then, it has something to do with Jr.'s pit crew? That too seems unlikely. The pit crew coach for the 88 team is Lance Munksgard. Munksgard is also the pit crew coach for Jimmie Johnson's crew, who won the 2012 pit crew challenge.
They also helped get Earnhardt Jr. a 3rd place start during the fourth segment of the All Star race this year, because of how quickly they were able to get Jr. out.
Dale Jr. is on one of the best racing teams, has some of the best equipment at his disposal, both a fantastic crew chief and a pit crew, and yet still cannot manage to pull off a win.
With everything he has, there is no reason why Jr. should be going on such a massive losing streak.
Of course, Jr. is a huge fan favorite and an excellent driver, but it's time to accept that Jr. will never win again.
He almost had a win last season during the Coca Cola 600, but ran out of fuel at the end and Kevin Harvick was able to pass him and get the win.
Jr. also increased his average finish from 18.6 in 2010 to 14.5 in 2011.
Even taking a look at something more recent, the Pocono race on Sunday, brings to question if Dale Jr. will ever win a race again. He had a dominate car throughout and was able to lead some laps. Towards the end of the race however, Junior seemed more concerned about running out of fuel than his crew chief was, and choose to pit toward the end of the race.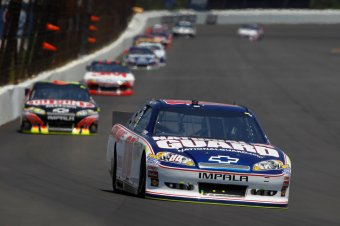 Streeter Lecka/Getty Images
No matter how much the announcers try and talk up Dale Jr. throughout the Pocono race, it didn't help him win.
The choice dropped him back toward the back of the pack, and while Earnhardt was able to run up to eighth place, he couldn't pass the cars that were equal to him in power.
The only one to blame for Junior going on such a massive losing streak is Junior himself. His crew chief and pit crew problems were fixed last season, yet he still sits winless.
It's time to accept that at this point, Dale Jr. will never win a race again. Will he remain a fan favorite? Of course he will, he is the son of the late great Dale Earnhardt senior after all.
However, it's time to accept that Dale Jr. will never see victory lane again.
This article is
What is the duplicate article?
Why is this article offensive?
Where is this article plagiarized from?
Why is this article poorly edited?