Jorge Arce vs. Jesus Rojas Results: Round-by-Round Highlights and Recap
June 10, 2012

Jorge Arce vs. Jesus Rojas started out in dramatic fashion, with both fighters exchanging shots early on and Arce scoring an early knockdown.
But the promising start ended quickly, when Rojas landed a low blow, then hit Arce with a left hook in the ear.
It was deemed a no contest, the referee saying Rojas' shot was unintentional, and fans were left with what may have been between the two hungry fighters.
Arce (60-6-2) and Rojas (18-1-1) figure to give us another good fight if they ever meet again.
Here's a breakdown of the fast-paced, yet ultimately disappointing bout. 
Round 1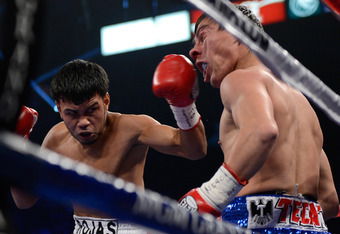 Kevork Djansezian/Getty Images
This fight began in spectacular fashion, with Arce and Rojas showing more activity than Mike Jones and Randall Bailey probably showed in six rounds.
Arce knocked down Rojas early with a left hook, but Rojas battled back later on, showing tremendous heart. He landed a few big uppercuts on Arce moving forward, then Arce came back with a big uppercut before the round ended.
It should have been the beginning of a great fight, but the unthinkable happened in Round 2.
Round 2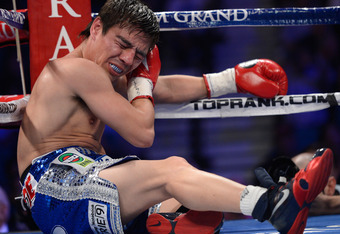 Kevork Djansezian/Getty Images
Arce and Rojas began the second round much like the first, showing lots of activity and looking to land big shots.
Then, Rojas landed a low blow, a head butt, a kidney punch and then a left hook to Arce's ear, which shook Arce and caused him to fall to the canvas.
As Arce clasped his ear in pain, unable to get back up, you feared the worst. The fight ended up as a no decision, with the referee calling Rojas' shots after the low blow as unintentional.
Arce told Max Kellerman after the fight on HBO that he understood what happened and didn't think Rojas was trying to cheap-shot him.
Both fighters appeared to be ready for a rematch after the fight. It was a disappointing ending to what could have been a high-octane, back-and-forth battle.
Instead, it was the shortest fight of the evening, and it left a sick feeling amongst the crowd at the MGM Grand. One thing's for sure: Whenever these two fight again, it should be worth the price of admission.
Follow me on Twitter. We can talk about boxing together.