Biggest Winners and Losers of Cleveland Browns OTAs, so Far
Matt Sullivan/Getty Images

Brandon Weeden is going to be the Cleveland Browns starting quarterback in 2012. Some of the other positional battles, though, may not be as easy to foresee.
The final OTAs are still to come and a lot will certainly change once the pads come on. However, there have been some impressions made early in this year's offseason.
Long-standing rumors and speculation about a change of position for Sheldon Brown have turned out to be untrue again this year. He will compete for and likely start at the opposite cornerback position from Joe Haden.
Instead, the starting safety position has been filled by a young secondary player already on the roster. Imagine that.
There are no absolutes in this game. Well, I guess there is one: Everything you think you know will soon be flipped upside down.
Teams rise, fall and players fade as quickly as they arrive.
That's the nature of the game.
Nothing is ever written in stone, especially in Berea, Ohio.
Begin Slideshow

»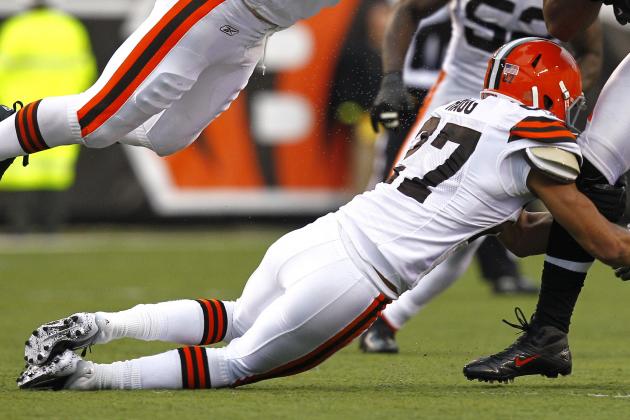 Tyler Barrick/Getty Images

Second-year safety Eric Hagg has been thrust into the starting role opposite T.J. Ward.
Hagg was said to be the MVP of the Nebraska Cornhuskers defense by head coach Bo Pelini. That would make him the "best" defensive back in a stout Nebraska Cornhuskers unit that also sent Prince Amukamara to the NFL in the first-round of the 2010 NFL draft.
Pelini said Eric Hagg was the "steal of the draft."
Personally, I saw Hagg out of place frequently in limited action in 2011. A couple of times he was beat over the top and was unable to recover.
Cleveland Browns head coach Pat Shurmur seems to think Hagg has progressed significantly from his experience in 2011 and his offseason preparation.
"When you play free safety, of course there's a portion to the responsibility of the free safety making sure everybody gets lined up, and being able to verbalize, and being able to get lined up yourself, but also direct," Shurmur said. "We've seen him do that."
We'll see how much Hagg can make out of his golden opportunity. If he does pan out, the Browns have taken one step closer to solidifying an already improved secondary.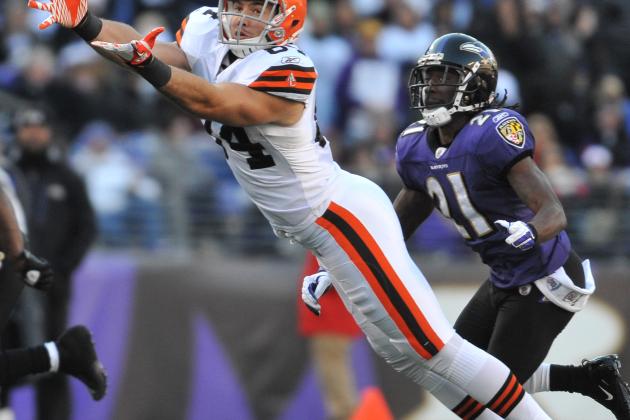 Larry French/Getty Images

Jordan Cameron is already making an impression during OTAs.
"I think he's flashed out here in a way that we didn't see him flash last year in training camp," Pat Shurmur said. "I feel like based on what he's done here in the offseason, he's positioning himself to make an impact for us."
He wasn't utilized in 2011, but could see a larger role in 2012 due to injury concerns surrounding Ben Watson and Evan Moore.
His 6'5" frame and excellent athletic ability could earn him significant playing time with rookie quarterback Brandon Weeden's strong arm slinging the ball downfield.
After all, big-target tight ends are usually rookie quarterback's best friends.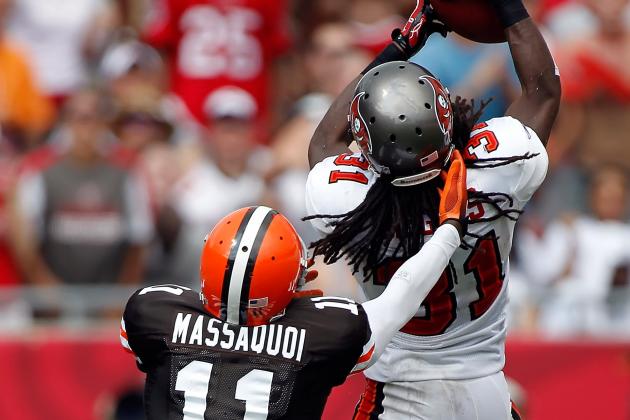 J. Meric/Getty Images

The expectations for Mohamed Massaquoi are that he will start opposite of Greg Little at the flanker position for the Cleveland Browns in 2012.
Expectation and eventuality do not always end up being one in the same. This is especially true in a Browns wide receiver group that has continued to struggle in offseason activities.
That, at this point, is the only thing working in Massaquoi's favor.
"The wild card to me is Mo," Mike Holmgren said. "Mohamed has to come in and...I believe in that young man. I really do."
Drops and an inability to consistently separate from defenders have plagued Massaquoi to this point in OTAs. If he is going to step up and make a difference in 2012, it had better be soon.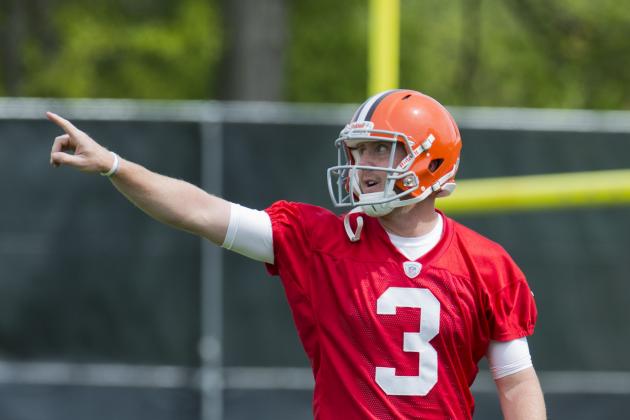 Jason Miller/Getty Images

Brandon Weeden was destined to take over the Cleveland Browns starting quarterback position the moment the team selected him No. 22 overall on April 26.
How quickly the quarterback learned and developed was thought to be the only hindrance to him usurping Colt McCoy as the team's No. 1 QB.
It seems it has taken less time than expected. Browns head coach Pat Shurmur is already high on Weeden and has already begun shifting repetitions in his favor.
When asked about Weeden's control of the huddle, Shurmur had this to say:
"There is no question in my mind that he [Weeden] can command or have the presence that you need to run an NFL huddle," Shurmur said. "I've seen it, so it's not a concern of mine, for sure."
The QB competition will be over sooner rather than later. It's best for the team moving forward.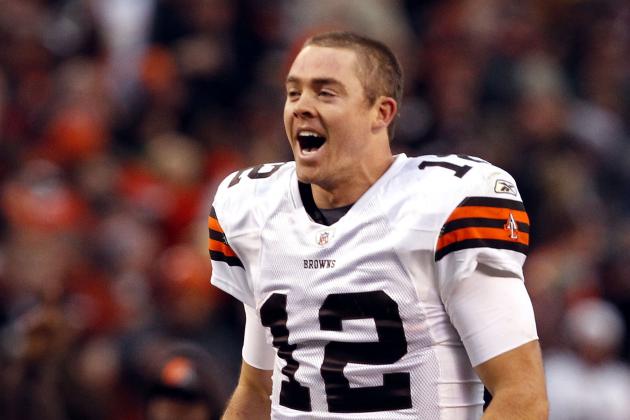 Matt Sullivan/Getty Images

Not many people in the media or the Cleveland Browns organization dislikes Colt McCoy. You'd be hard pressed to come across someone that took that stance on the third-year quarterback.
He tried hard and gave his best shot to the Browns and the city of Cleveland.
Unfortunately for McCoy, the NFL is a league that requires physical attributes that he does not possess. He can throw a football, but he can't throw it like Brandon Weeden can.
I'm comfortable knowing that a guy like McCoy is waiting in the wings if a tragedy usurps Weeden from the helm of the Browns offense.
McCoy was a "loser" long before OTAs; it began on the evening of April 26.
He sure hasn't done anything remarkable to put any doubt as to whether Browns GM Tom Heckert made the right decision on draft day.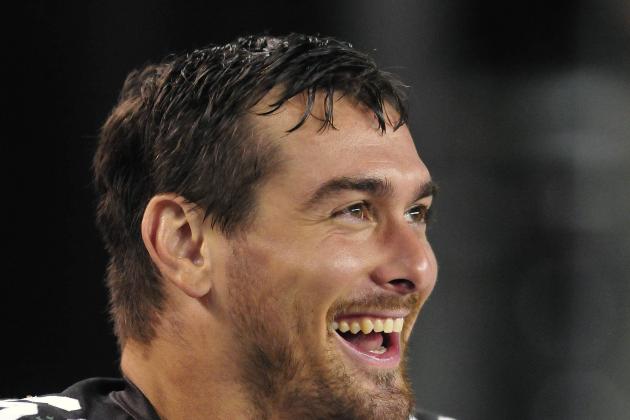 Jason Miller/Getty Images

Scott Paxson will benefit most from the devastating loss of Phil Taylor. Taylor may project to be back in action before the season is over, but the Browns will have to make do without the former first-round pick in the meantime.
Paxson has the repetitions as the starting defensive tackle across from Ahtyba Rubin right now. For him, that is a big win and it seems to be his job to lose at this point because of his experience.
However, rookies Billy Winn and John Hughes could emerge once the team puts pads on and the hitting begins. At the very least, they will likely provide a rotational help and depth.
Paxson is in the driver seat, though, and is benefiting the most from Taylor's absence.
Follow Mike on Twitter @BigHoagowski