Belmont Stakes 2012: Cautionary Reasons I'll Have Another Will Get Upset
June 7, 2012

Al Bello/Getty Images
I'll Have Another will be looking to become a part of history Saturday when he goes for his third straight victory and the Triple Crown.
This won't come easily for him and jockey Mario Gutierrez, even though they will be the favorite, going off at 4-5, for the first time in their career.
I'll Have Another will be starting in post No. 11 Saturday, a spot where only two Belmont winners have started since 1905.
Here are a few cautionary reasons why I'll Have Another will be upset and not win the Triple Crown.
He Has a Target on His Back
The casual horse racing watcher who just tunes in for the three major events each year probably would think this doesn't apply in this sport, but it most certainly does.
When I'll Have Another won the Kentucky Derby and even the Preakness, he was able to ride under the radar.
In the Kentucky Derby, six other horses started the race with better odds than I'll Have Another. Even after winning the Derby, he still wasn't the favorite to win the Preakness as Bodemeister started with better odds than him.
Now that he's only one win away from the Triple Crown, every rider knows I'll Have Another and will be looking to stop him at all costs. Every rider's strategy will be to make sure I'll Have Another does not win.
Whether it's another rider boxing him in or pushing him outside of where he wants to be, you can be certain every rider's attention will be turned to stopping I'll Have Another all race long.
The Favorite Doesn't Usually Do Well at Belmont
The favorite entering the Belmont has not lived up to expectations the past couple of years.
For example, look at last year's favorite, Animal Kingdom. After winning the Kentucky Derby, Animal Kingdom entered the Belmont as a 2-1 favorite but finished only in sixth.
The year before, the favorite, Ice Box, performed even worse and finished in eighth.
You have to go back to 2007 to find a favorite who did well at the Belmont. That year the favorite was Curlin, who finished in second. Second is a good finish, but not good enough to win the Triple Crown had he won the Kentucky Derby and Preakness as well.
This just proves how difficult it really is for the favorite to win at Belmont with all the pressure on him. 
No One Has Won the Triple Crown Since 1978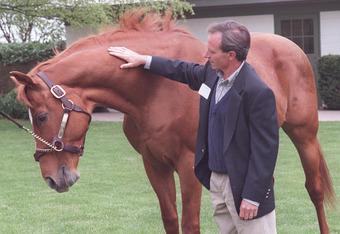 Only 11 horses have ever won all three races in a row. The last horse to pull off the incredible feat was Affirmed back in 1978.
There's a reason no horse has been able to win the Triple Crown in 34 years.
The biggest difference between then and now is the enlarged racing fields these horses need to compete in. The last four winners (Citation, Secretariat, Seattle Slew and Affirmed) needed to defeat 15, 21, 29 and 20 other horses respectively on their way to the Triple Crown.
I'll Have Another has already defeated 19 horses in the Kentucky Derby and 10 more in the Preakness. That matches the largest total for the four horses mentioned above in only two races.
Another major difference is the amount of rest the horses had back then as opposed to now.
In the '50s and '60s, only the three major races really earned the riders a sizable profit. Riders would take it easy on their horses until May, when they needed to start pushing them hard for their Triple Crown run.
As the popularity of the sport grew, other races started giving out huge sums of money to their winners. Riders now want to place high in every race to take home these larger sums of cash, meaning more work and less rest for the horses.
I'll Have Another needs to run his third perfect race in a row if he doesn't want to get upset on Saturday.