Pacquiao vs Bradley Predictions: Projecting Outcome of Every Round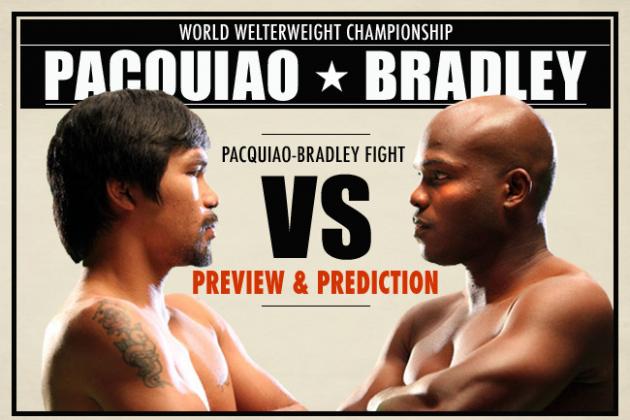 I have a decent record at handicapping big fights. I predicted Mayweather-Cotto would be a little bit closer than it ended up being. Then again, most people acted like it was closer than it really was.
I am one of the few writers I know of who predicted Marquez would give Pacquiao the same kind of problems he gave him in the first two fights.
Now, Mayweather-Ortiz? I never saw that coming.
But predicting a general outcome, even to within a round or two, is one thing.
Trying to predict every round is something else entirely. In a sense, it's like doing a series of prop bets with yourself, fleshing out each round with a series of mini-predictions.
So what follows is a novelization of my general sense of how the fight will go.
Begin Slideshow

»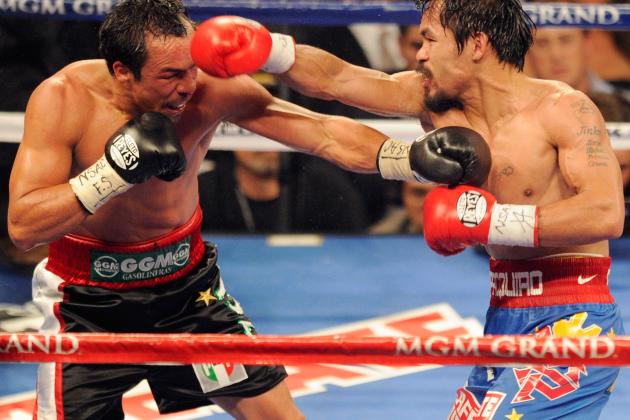 Ethan Miller/Getty Images

There is not the same kind of focus on it in the U.S. media, but Pacquiao is entering the ring next Saturday with outside distractions to rival Floyd Mayweather's heading into his showdown last month with Miguel Cotto.
In March, the Internal Revenue Service in the Philippines launched an investigation of Pacquiao and jail time is at least a hypothetical possibility.
As seen in the 24/7 episodes, Pacquiao has been finding solace in nightly Bible study.
On June 9, I expect Manny Pacquiao to feel a sense of relief to be back in the boxing ring, back in the one arena where he has almost always come out on top.
Manny is going to come out blazing, almost from the opening bell. Jab, jab, overhand left. Bradley will step back and to the side, looking to move his lead foot back outside of Pacquiao's, taking away Pac's left and setting up an angle to attack the body.
This will be Bradley's third straight fight with a left-handed opponent, and his familiarity with southpaws will be evident.
But Devon Alexander and Joel Casamayor don't attack from the same kind of angles that Pacman does. The first significant punch of the fight will be a Pacquiao lead hook that Bradley just won't be able to pick up in time.
Bradley will spend the first round trying to adjust to Manny Pacquiao's speed. He won't panic and will remain confident. But I don't think he is going to feel entirely comfortable during the first round.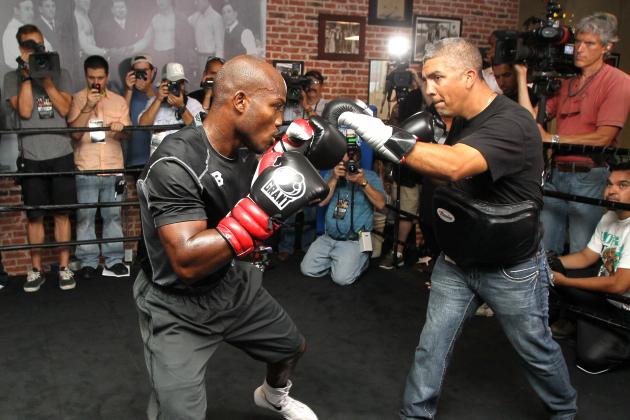 Stephen Dunn/Getty Images

Bradley is going to have a short minute following the first round to let that first taste of Manny Pacquiao digest. And then it's going to be time for the next course.
Bradley will stay committed to his game plan and continue to come forward, looking to get inside and attack Pacquiao's body. But Pacquiao's footwork will be quicker and his attacks more tricky than anything Bradley has seen before.
Bradley is able to avoid absorbing multi-punch flurries. Fighting in close, he is able to tie up and stuff Pacquiao's second and third punches.
But Pacquiao catches him flush with an uppercut midway through the round. He scores with a lead hook and cross combo inside of 30 seconds that makes Jim Lampley apoplectic.
Bradley betrays no serious damage and finishes out the round, scoring with a hook to Pacquiao's body in the closing seconds.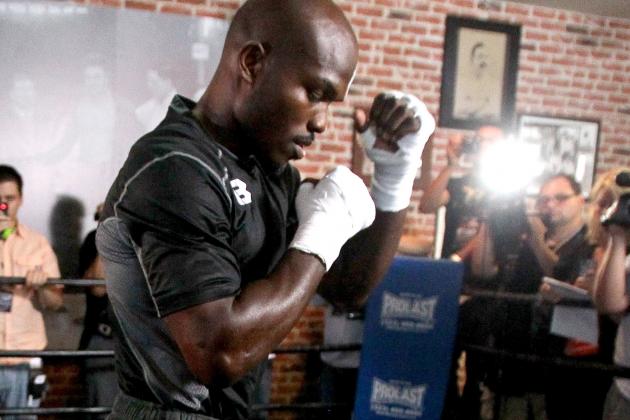 Stephen Dunn/Getty Images

Between the rounds Joel Diaz will desperately rally his fighter, urging him to disrupt Pacquiao's punches and to be the busier fighter.
Bradley will come out aggressively again to start the third, but this time he will start to have better luck finessing Pacquiao's lead foot. A minute into the round he will catch Pacqiao with a hook to the body and a flush right cross to the head.
In the second half of the round, Pacquiao will turn up the pace and take the round back. As Bradley tries to muscle Pacquiao in close to slow him down, Pacquiao will dart in and out, throwing looping hooks and overhands both coming and going.
This will be a close round. Bradley will score to Pacquiao's body but Pacquiao will bring the crowd alive repeatedly by landing lighting quick jabs and hooks flush.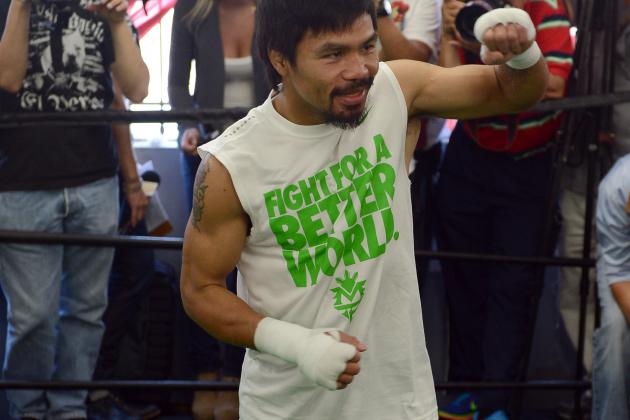 Harry How/Getty Images

Likely up three rounds to none on the cards, Pacquiao will look to extend his lead in the fourth.
But in the round's opening seconds, Bradley will move into range on Pacquiao, slip to the side and then counter his lead hook with an overhand right that lands flush.
Bradley will circle left from the cross and score with a left hook to the body.
After taking his first damage of the fight, Pacquiao will look to even things up and once more find himself countered by Bradley.
Now starting to feel confident, Bradley tries to push the pace through the final seconds of the round. Pacquiao responds. The two trade scoring flurries within the final 30 seconds of the round.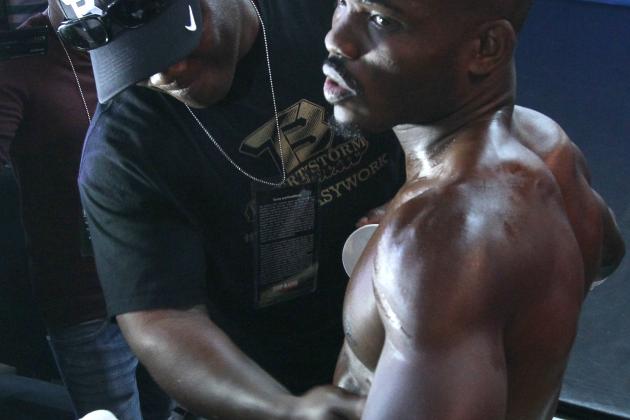 Stephen Dunn/Getty Images

As the bell rings, Bradley will close the distance with Pacquiao and as he attacks the body, Pacquiao will sneak a right hook over the top, catching Bradley flush. Bradley will eat the punch and fire back quickly, stepping into a right cross that catches Pacquiao.
The two will exchange flurries, neither landing a flush shot.
Bradley will continue to push forward, throwing punches from Pacquiao's chest, then clinching and muscling Pacquiao into position to hit him again. Late in the round, Bradley will catch Pacquiao with a solid uppercut from in close, the most damaging punch of the round.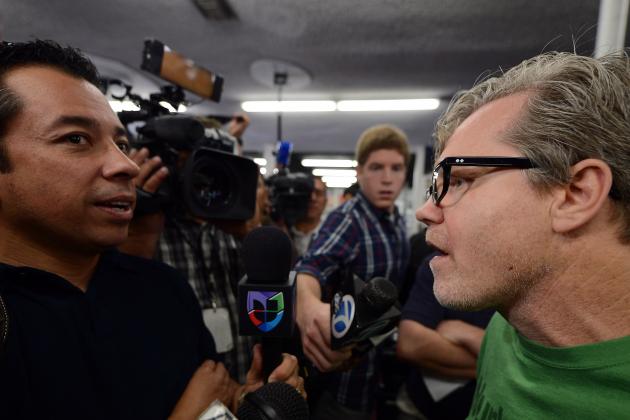 Harry How/Getty Images

With the fight getting close, Freddie Roach will be in Pacquiao's ear between the round.
There has been so much said about the possibility of a head butt occurring in this fight, and Bradley's style combined with the right-left matchup makes it seem quite likely.
A minute into Round 6, the domes will collide as Bradley steps into range and the same time as Pacquiao launches forward with an attack of his own.
With a trickle of blood now coming from high on Pacquiao's forehead, the erstwhile pound-for-pound king will rally, fighting the rest of the round with aggressive intensity.
Bradley will keep coming, staying busy, but Pacquiao will throw a lot of punches and some of them will get through.
By the end of the round, there will be a mouse under Bradley's right eye.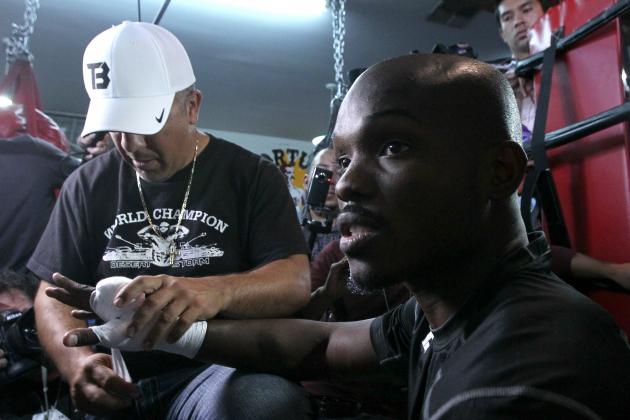 Stephen Dunn/Getty Images

With damage starting to show up on his face, Bradley will have some of his best success of the fight in the seventh, as his physical strength advantage over the naturally smaller Pacquiao allows him to press forward and conduct the fight against Pacquiao from in close.
Bradley will spend the round throwing active flurries in close, then tying Pacquiao up to avoid his return fire. A visibly frustrated Pacquiao will head back to the corner at the bell, still comfortably ahead in the fight but with the pressure mounting.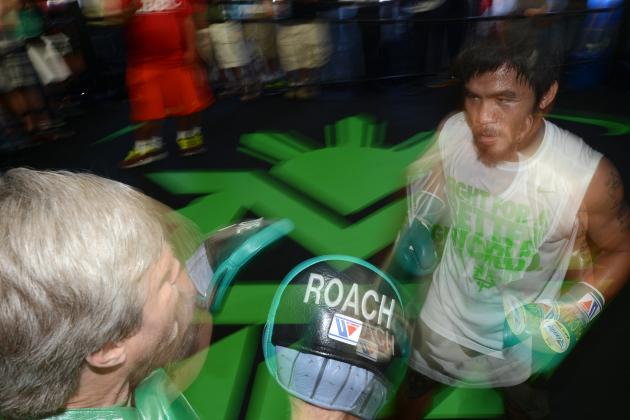 Harry How/Getty Images

Round 8 will start out looking similar to the previous round, with Bradley continuing to have success hitting Pacquiao in close and then tying him up. But a minute into the round, Pacquiao will land a flush lead hook against Bradley that will rock the challenger and bring the crowd to its feet.
With Bradley showing hurt, Pacquiao will pick up the pace, only to find Bradley still game and ready to match him.
The fighting will intensify throughout the second part of the round, providing some of the best action of the fight. Pacquiao will score with two more hard shots in the closing seconds.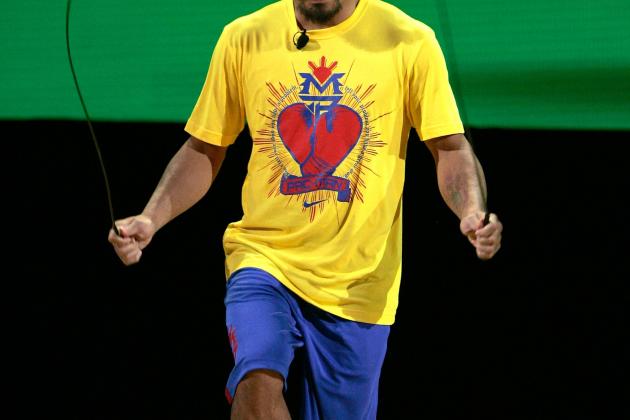 Mike Lawrie/Getty Images

With the crowd still roiling from the excitement of the previous round, Pacquiao will look to make a fast start in the ninth, trying to score with big combinations early as Bradley attempts to hang on.
Bradley will avoid punishment and doggedly continue his attempt to attack Pacquiao inside. As the round progresses, the pace slows, but it is still Pacquiao landing the more significant punches.
As Bradley returns to the corner after the round, the broadcast team will speculate for the first time over whether or not he is going to be able to make it to the finishing bell.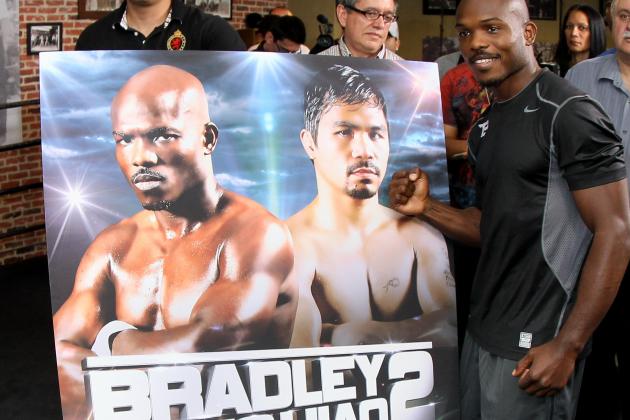 Stephen Dunn/Getty Images

With the fight now clearly slipping away from him, Bradley will rally hard as the championship rounds commence. Pacquiao will make him pay for his aggression early in the round, catching him flush 30 seconds in.
But Bradley will show that his will remains strong as he perseveres and keeps busy inside on Pacquiao. A hook to the body/hook to the head combination catches Pacquiao halfway through the round, encouraging Bradley to keep hustling.
As Pacquiao looks to answer Bradley's aggression, the pace will pick up once more down the stretch. The round will end with the Las Vegas crowd up and screaming and Bradley will have at least theoretically put himself back in the fight.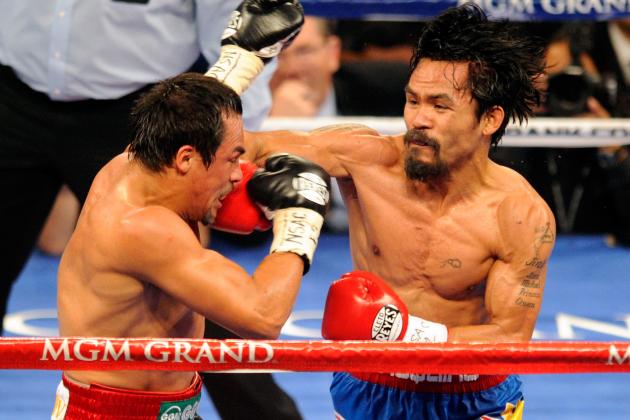 Ethan Miller/Getty Images

With the fight still appearing to hang in the balance, Pacquiao will push hard for a big round in the 11th.
In the opening seconds, it will already be clear that Bradley has suffered the worse damage over the course of the fight, as Pacquiao begins to use his speed to punch through Bradley's guard and catch him flat-footed.
A simple jab-cross combination a little over a minute in puts Bradley in serious trouble. With the crowd on its feet and screaming, Pacman will press hard for a finish.
Somehow the sturdy Bradley will remain on his feet as he absorbs several more overhands and hooks. With one eye starting to swell badly, he will stumble back to his corner at the bell.
Even without a knockdown, it will be a 10-8 round on most cards.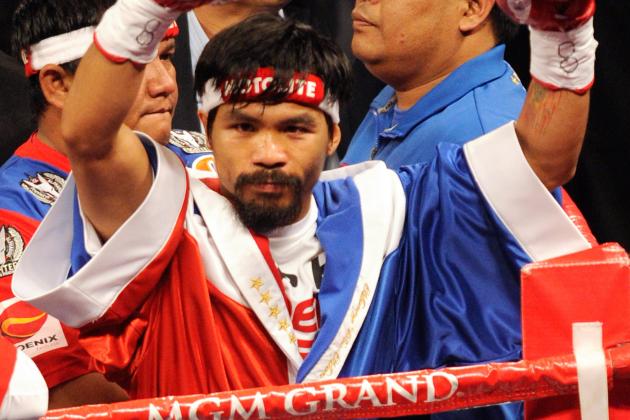 Ethan Miller/Getty Images

After being checked out by the ringside physician between rounds, Bradley will gamely move to the center of the ring to start Round 12.
With both fighters showing their weariness, the round will start slow. Bradley will make a last attempt to open up on Pacquiao a little over a minute into the round, but the champion will only make him pay for it.
The last minute of the fight will be nothing more than a struggle for survival for Bradley. Pacquiao will score with another cleanly-landed uppercut in the closing 30 seconds.
A badly beaten but still unbowed Bradley will make it to the closing bell, having won four rounds against the great Pacquiao on most cards. But there will ultimately be no doubt about who the night belongs to.