Notre Dame Football: The Top 10 Players for the 2012 Season
Jonathan Daniel/Getty Images

With each passing day, the college football regular season is that much closer to kicking off. Fall camp is quickly approaching, and teams are scrambling trying to find out who the playmakers and difference makers are.
Notre Dame returns seven starters on each side of the ball and has a few key players returning. But there are some players that will be asked to participate in a bigger role and take their game to the next level. With the lack of depth in the defensive backfield, questions at quarterback and a young defensive line, there are some players that are more important than others.
As we inch that much closer to September, here are the top 10 most important players for the 2012 Notre Dame football season.
Begin Slideshow

»
It is really no secret that the secondary is the biggest question mark for the Irish heading into the 2012 season (besides the quarterback position of course). Three full-time starters in the defensive backfield are no longer on the team, which means that several players are going to have to step up and contribute in a big way.
Slaughter is a versatile player who can play safety, cornerback or even linebacker. He also brings much needed experience as he is a fifth-year senior, and he hits extremely hard when given the opportunity (as you can see in the video).
Slaughter had his best season last year, racking up 45 tackles, two sacks, breaking up two passes and intercepting a pass. You should expect an even bigger season with him receiving much more playing time this year.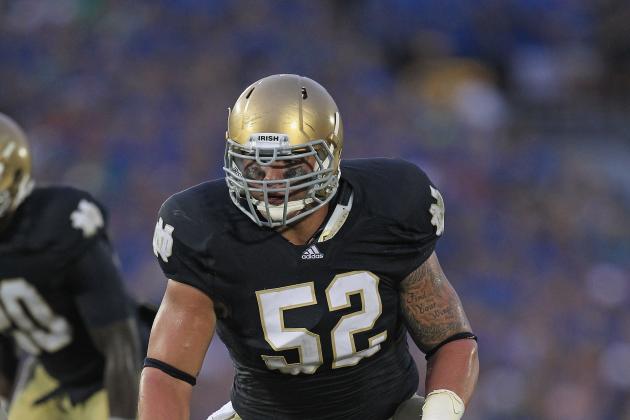 Jonathan Daniel/Getty Images

Braxston Cave has been the starter the last two seasons for the Irish and will once again be the starting center this year. While Cave brings experience to this line, he is coming off of a season-ending surgery, which forced him to miss a few games at the end of the season.
Head coach Brian Kelly says that the senior is fine, but we may never quite know until we actually see him put the pads on and participate in contact drills.
With likely a first-year starting quarterback taking over this team, an experienced center is going to be extremely important this year. It is critical that the quarterback and center are on the same page and the center is able to make the right adjustments every play.
That's were Cave is very valuable to Notre Dame's success this season.
Theo Riddick is extremely valuable to this offense because he has the ability to play either running back or wide receiver. The last two seasons, he has caught 78 combined passes but looks to play more of the running back position this year. Still, he will be needed to lineup as a receiver also, especially with Michael Floyd no longer around.
Riddick has big play ability, as he has averaged over 10 yards a reception the last two seasons. He may also become the punt returner for the Irish this season, an area they struggled at last season.
With Riddick possibly playing three different positions this year, I'd say he is extremely valuable to this football team.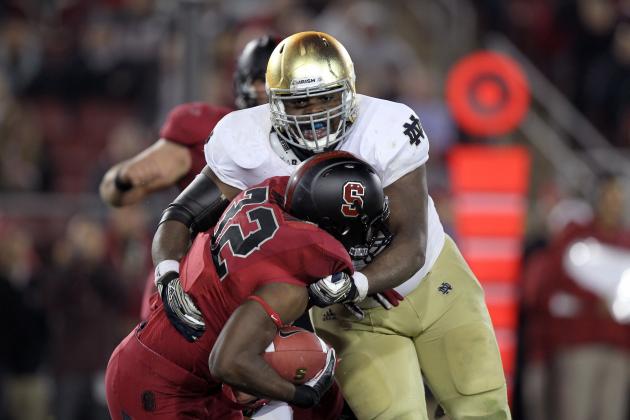 Ezra Shaw/Getty Images

In any 3-4 defense, it is the nose guard that is the most important position on the defensive line. Louis Nix III finished his first year as a starter with 45 tackles and 4.5 tackles for loss. Those numbers aren't exactly mind blowing, but when you factor in that the Irish only allowed eight rushing touchdowns, you know he played a key part in last year's success.
Nose guard Kona Schwenke has had a tremendous spring and possibly taken the starting position away from Nix for now, but it is Nix who will be the key in the middle of this defensive line.
Cierre Wood was on a tear last year, starting the year off with two straight 100-yard performances and scoring a touchdown in each game as well. That was until Jonas Gray began stealing carries away from him and his production began decreasing.
Now that Gray has graduated, Wood will be the No. 1 back and will look to top 1,000 rushing yards once again. Notre Dame has a talented backfield, but Wood is the most experienced and has the big play ability that this offense truly needs. The senior is also a valuable receiver option, catching at least 20 passes the last two years.
The more weapons on offense, the better, and Wood should be in for his best season yet at Notre Dame.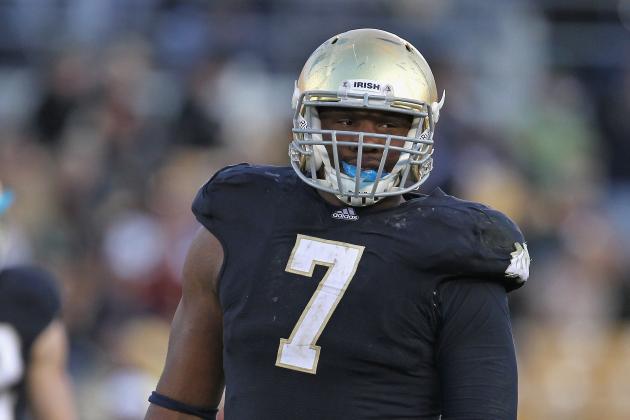 Jonathan Daniel/Getty Images

There is no question that Notre Dame will miss Aaron Lynch, who led the team in sacks his freshman season. He has decided to transfer from South Bend, leaving a huge hole in the defensive line. The loss won't be so severe if sophomore defensive end Stephon Tuitt steps up the way many believe he can.
He wasn't as flashy as Lynch was last year, but he did finish his final six games with 26 tackles and picked up a sack in the bowl game against Florida State. Tuitt has the ability to play inside or outside and is a great pass-rusher when he gets going. With Lynch transferring, Tuitt will have to step up and contribute in a big way.
If the former 5-star recruit can fulfill expectations this season, the Irish could improve last year's sack total of 25.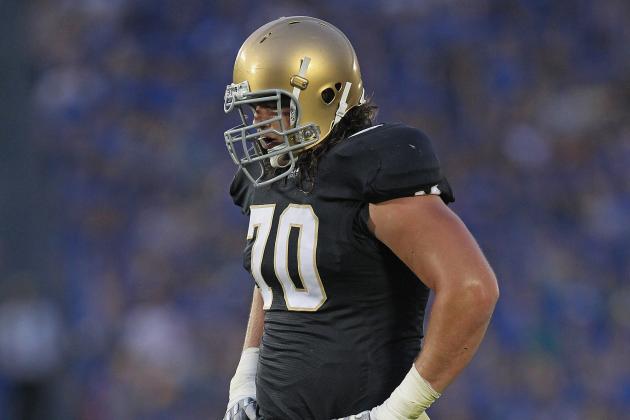 Jonathan Daniel/Getty Images

Notre Dame only allowed 17 sacks a year ago, but with a new quarterback likely under center, that line is going to have to improve on those numbers this time around. The Irish lost a couple of offensive linemen due to graduation, but left tackle Zack Martin remains in his spot.
He is one of the top players at his position in the country, who has started in 26 consecutive games at left and right tackle. Don't be surprised if Martin ends up becoming an All-American at the end of the year.
Whoever is named the starting quarterback will need protection, and it all starts with a solid left tackle protecting his blindside.
With Michael Floyd no longer on the roster, somebody has to step up on offense and become that No. 1 option. Tight end Tyler Eifert is arguably the top player at his position, catching 63 passes for 803 yards and five touchdowns last season. As he enters his senior season, he will be counted on to take that next step and be used in several different ways.
Eifert will continue to be an effective blocker (as you see in the video), and he'll also continue to be used at the tight end position, but this season he will line up at wide receiver as well. Yes, a 6'6", 245-pound wide receiver, good luck covering that opposing secondary.
In an offense that has a lot of underrated talent, Eifert is now the go-to guy, and his increased workload proves that heading into 2012.
The sophomore quarterback has not played in the regular season but is one of the most important players entering the 2012 season, simply because last year's starter Tommy Rees was arrested, and his future with the team remains up in the air.
Then you have a true-freshman quarterback in Gunner Kiel who can't possibly be ready to start his first year on campus.
That leaves this quarterback race down to two players in Everett Golson and junior Andrew Hendrix. Neither have much experience, but it is Golson who has been tearing it up in the spring and has the tools to really add some spark to this offense.
With head coach Brian Kelley's offensive mind and Golson dual-threat ability, this offense could really surprise people if he is named this year's starter.
The quarterback position has really haunted the Irish (33 combined interceptions in the last two seasons), but Golson could help change things this year.
Notre Dame was a solid group defensively last season, allowing just 344 yards a game, which was good for 30th in the country. It returns seven starters on that side of the ball, but none are as important as linebacker Manti Te'o.
He would have likely been the first linebacker taken in the 2012 NFL draft if he left school early, instead he returns as the most important player on this Notre Dame roster. He is the leader of this defense who will help mentor a unit that isn't exactly the most experienced.
Te'o is also the most productive player on this side of the ball, having led the team in tackles the last two seasons and one of two players to finish the year with at least five sacks last year.
Being the best inside linebacker in the country and a member of the IMPACT Lott watch list, he is the guy that will lead this defense and try to help the Irish survive a brutal schedule.