Why Cain Velasquez Is the Uncrowned King of the Heavyweight Division
June 2, 2012

In one of the most brutal beatings of the year, Cain Velasquez put Junior dos Santos and the rest of the heavyweight division on notice at UFC 146.
A Hollywood movie production crew would have trouble reconstructing the carnage left in the Octagon by Velasquez, who was surgical in his ground assault on Antonio "Bigfoot" Silva.
The bout wasn't for the squeamish, as puddles of Silva's blood painted the white canvas like a Picasso piece.
Velasquez was masterful in securing an immediate takedown and blasting Silva with unanswered punches before referee Josh Rosenthal finally decided to step in at 3:36 of the first round.
In his post-fight interview with UFC commentator Joe Rogan, Velasquez appeared satisfied with the victory, but his mind remains set on recapturing the UFC title.
"It's been great to look at what I did in the past and get over that," said Velasquez, who bounced back from a first-round knockout loss to Dos Santos. "This is a step in the right direction."
It isn't far-fetched to consider Velasquez the uncrowned king of the heavyweight division.
The former UFC champion calling his performance against Silva a "step in the right direction" should be considered an understatement. "Bigfoot" is a highly-respected top-10 heavyweight contender, and he never even laid a hand on Velasquez.
The heavyweight division should fear the UFC 146 Velasquez, who stuck to his wrestling and avoided unnecessary standup exchanges.
His rare combination of world-class wrestling and unending cardio is a nightmare for anyone, including UFC heavyweight champ Dos Santos.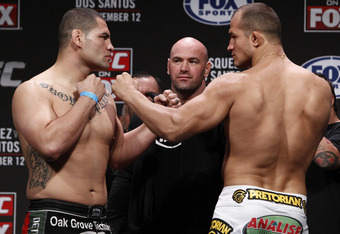 For many, it's hard to shake Velasquez's 64-second knockout loss to Dos Santos. There certainly wasn't anything fluky about the win. Dos Santos is one of the top pound-for-pound fighters in the world, and his boxing is second to none in the heavyweight division.
Whether by punch or submission, people get caught all the time in MMA. Velasquez got caught with a big punch by quite possibly the best heavyweight striker in the world.
Where's the shame in that?
It wasn't like Dos Santos dominated him for a major portion of the bout. The two heavyweights were still in the feeling-out process before the fight-ending haymaker was even thrown.
There still remains some unfinished business between Velasquez and Dos Santos, and fans should eagerly anticipate a more fitting conclusion in the rematch.
Can Dos Santos continue to roll, or will Velasquez rise up and retake the heavyweight throne?
The battle lines are drawn.
Which side are you on?