Utah Jazz: Latest Trade Rumors, Free Agent News, Draft Buzz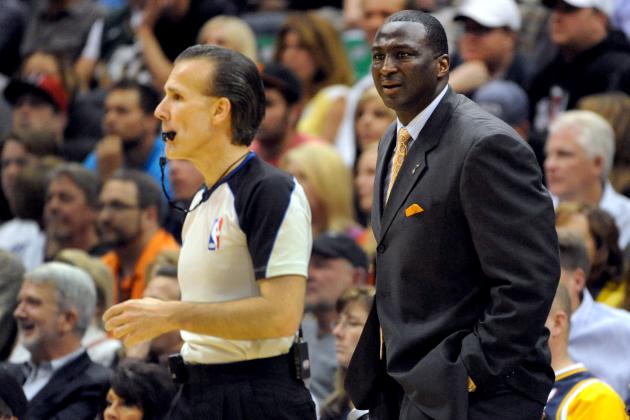 Steve Dykes/Getty Images

The 2012 NBA draft lottery has passed and one of the biggest losers of the evening was a team that failed to capitalize on their previous possession of two lottery picks: the Utah Jazz.
From a meaningless playoff appearance to the Golden State Warriors retaining their Top-7 protected draft choice, you'd be hard-pressed to find a more gut-wrenching finish to a season and beginning to an offseason. Not all is bad, though, as action will be taken to improve.
Won't it?
Begin Slideshow

»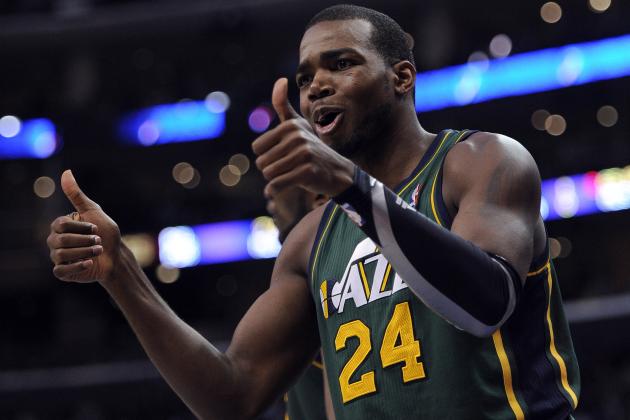 Harry How/Getty Images

The 2013 class of free agents is already garnering more attention than the remaining options in 2012. One of the names expected to join those groups of the unrestricted is Utah Jazz power forward Paul Millsap.
According to Brian T. Smith of The Salt Lake Tribune, the Jazz are looking to make sure he never reaches that stage. Unfortunately, they appear to have failed in that attempt.
The sturdy six-year veteran was offered a three-year extension worth about $25 million, The Salt Lake Tribune has learned, which is the maximum extension Millsap can receive under the new collective bargaining agreement. The proposed deal features an annual 7.5 percent raise, would kick in after Millsap's current contract expires June 2013, and could keep the career Jazzman in a Utah uniform through June 2016.

Initial indications are Millsap won't agree to the extension, though, preferring to enter free agency in 2013 with plans to cash in on an inflated 2012 market that saw mid-tier forwards such as Gerald Wallace, Andrei Kirilenko, Nicolas Batum and Ryan Anderson recently receive lucrative multiyear contracts.
This certainly makes sense. Players with equal or lesser value than Paul Millsap have received mega deals in 2012 and there is no reason for the Louisiana Tech alum to accept $25 million when he could be in store for upwards of $50 million in 2013.
More details on this story as they emerge.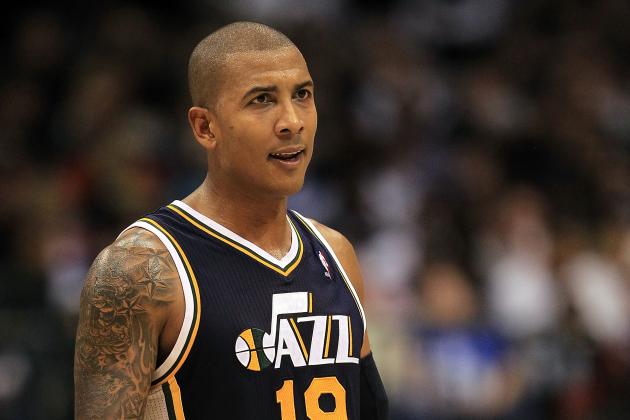 Ronald Martinez/Getty Images

Update: Tuesday, July 31 -- Joel C. Cordes
Disgruntled with a lack of playing time last season, Raja Bell found himself in coach Tyrone Corbin's dog house.
He turned in one of his worst seasons as a pro, appearing in only 34 games and blasting coach Corbin at year's end.
While a contract buyout seemed both likely and desired from both sides, The Salt Lake Tribune reports that Bell has now refused Utah's buyout offer.
Bell made such a move sound like mere formality back in May, so it's odd that he'd be balking at the offer now. Perhaps there is hair-splitting on the final buyout numbers, but one would think that Raja would take the first ticket out of town at this point.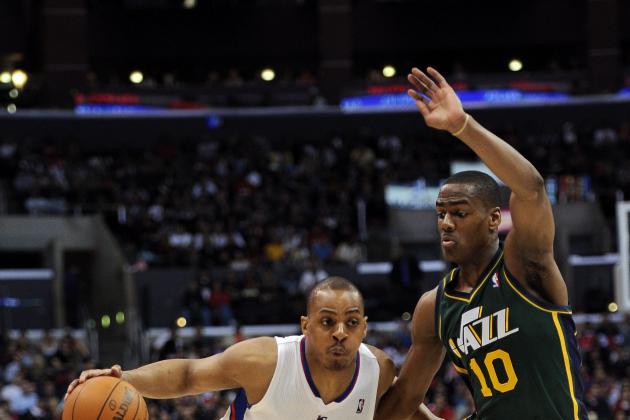 Harry How/Getty Images

Update: Tuesday, July 24 -- Joel C. Cordes
Having already re-acquired Mo Williams via the Lamar Odom sign-and-trade, the Jazz have added another Los Angeles Clippers teammate by signing Randy Foye. In both cases, Utah got a player for a very reasonable price:
To get an idea of the market remaining forSGs-- i.e. Ronnie Brewer, etc. -- Randy Foye just agreed to a 1-year, $2.5M deal w/ Utah

— Jerry Zgoda(@JerryZgoda) July 24, 2012
As a combo guard with reasonable range and basket-attacking ability, Foye's best suited to being a sixth man and spot-starter. He'll likely be the primary backup to Williams and Gordan Hayward.
- End of Update -
The Utah Jazz arguably had the league's weakest backcourt last year, but they've taken some thrifty steps to improve this offseason. After this eventful offseason, it appears as if their luck may have finally taken a turn for the better.
Much at the expense of the Los Angeles Clippers.
After trading for Mo Williams earlier this month, it appeared as if the Utah Jazz were ready to bolster their perimeter. Their latest move proves that they are indeed set on forming a formidable perimeter attack as they've landed one fo Williams' teammates from Los Angeles.
Rich Bucher of ESPN.com has the news.
I'm on vacation but you know I can't pass a chance to serve and honor Jazz fans: Randy Foye signs 1 yr deal. Solid pick-up.

— Ric Bucher (@RicBucher) July 24, 2012
This deal should certainly improve the Jazz's offensive attack from the perimeter. It should also provide Alec Burks with the veteran leadership he was not granted in 2012.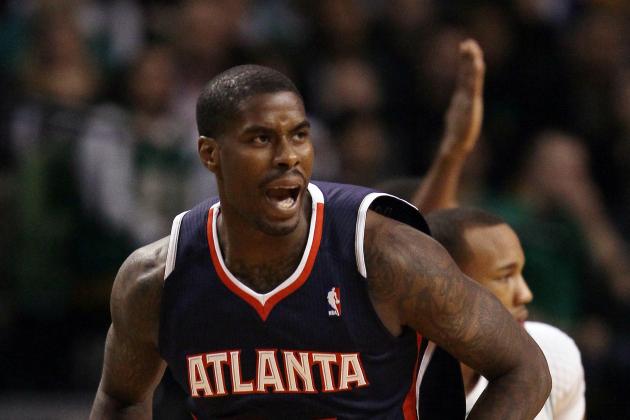 Elsa/Getty Images

The Utah Jazz have made their second significant trade of the offseason. For the second time in as many weeks, the Jazz have taken part a point guard for forward swap.
This time around, it's the Jazz who land the swingman.
Per a report via NBA.com, the Utah Jazz have sent point guard Devin Harris to the Atlanta Hawks in exchange for forward Marvin Williams. Williams was the second overall draft choice in the 2005 NBA Draft but has underachieved as a member of the Hawks.
In Utah, the hope is that Williams will be able to provide a spark as a perimeter defender. His ability to shoot the three-ball and unteachable athleticism should be of equal value.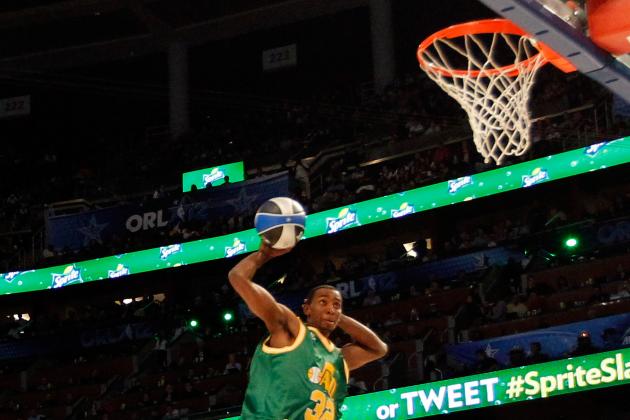 Mike Ehrmann/Getty Images

Per a report via NBA.com, the Utah Jazz have opted to re-sign 6'9" forward Jeremy Evans. The 24-year-old won the 2012 Slam Dunk Contest but offered very little else as the season progressed.
Brian T. Smith of the Salt Lake Tribune reports that the deal will be for $5.5 million over the span of three years. Evans' agent expressed strong excitement over The Human Pogo Stick's re-signing.
"I'm very thankful to [Jazz General Manager] Kevin O'Connor for making the commitment to Jeremy," agent Mark Bartelstein told The Tribune. "It's another huge step in his career, and hopefully this young man will just continue to grow and become a bigger and bigger part of the Jazz."
With both Marvin Williams and rookie Kevin Murphy in the fold, playing time could be tough to come by. Clearly the Jazz believe in Evans' athletic ability, however, as they've locked him up for the long haul.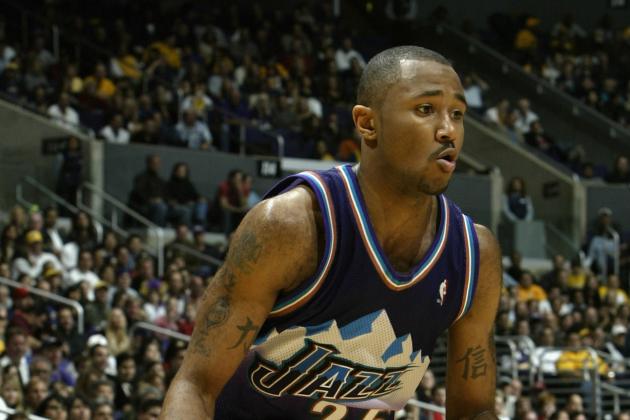 Stephen Dunn/Getty Images

Per a report via NBA.com, the Utah Jazz have acquired point guard Mo Williams in a four-team trade that includes the Los Angeles Clippers, Dallas Mavericks and Houston Rockets. This will be Williams' second stint in Utah.
Mo Williams, a former All-Star, is coming off of a season in which he averaged 13.2 points and 3.1 assists while serving as the Clippers' reserve point guard. Williams also shot 38.9 percent from three-point range, which is another area of need for the frontcourt heavy Jazz.
Williams is two years removed from a career half-year in which he averaged 7.1 assists per game as a member of the Cleveland Cavaliers.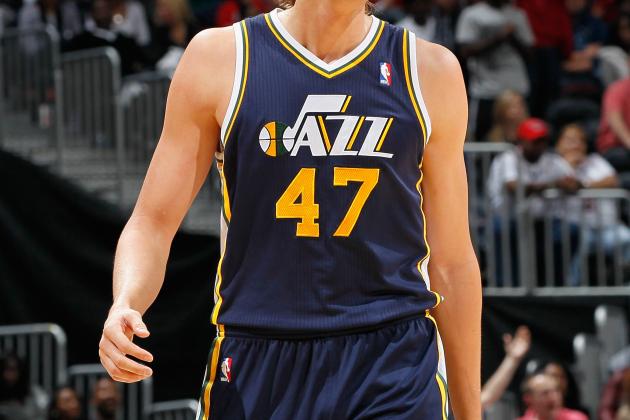 Kevin C. Cox/Getty Images

Update: Tuesday, July 24 -- Joel C. Cordes
It's not surprising that Andrei Kirilenko is still mulling his return to the NBA. That rumor has been floating around for nearly a month now.
The more surprising part is that the presumed destination might be different. As well-regarded NBA scout Wendell Maxey mentions, AK-47 seems closer than ever in his return to the States:
narrows it down to 30. RT @selloutxboy: Anrei Kirilenko will join NBA club, CSKA president Andrey Vatutin told Russian paper Sport-Express.

— wendell maxey (@w_maxey) July 24, 2012
However, it's long been assumed that Kirilenko would join the Russian-owned Brooklyn Nets. Stefan Bondy of the New York Daily News refutes this idea, saying that AK-47 wants more than the veteran's minimum salary, which is all the Nets can currently offer:
Andrei Kirilenko is not interested in signing with the Nets for vets minimum, according to a source

— Stefan Bondy (@NYDNInterNets) July 24, 2012
Kirilenko will have plenty of teams interested in his services, but not many who will have their mid-level exception money left to pay. Isn't that why he went back overseas in the first place?
Update: Friday, July 20 -- Joel C. Cordes
NetIncome.com reports that Andrei Kirilenko told reports during Olympic training that he is still open to an NBA return this year. He cites the Brooklyn Nets as the only possibility in that report.
This is not surprising, considering the Nets are owned by Russian comrade Mikhail Prokhorov. However, the Contra Costa times also mentions the Warriors as having "AK-47" on their wishlist yet.
During his first few seasons with the Utah Jazz, Kirilenko was a nightmare on fast breaks and a defensive wrecking ball at either forward position. However, teams would be penciling him in as nothing more than a versatile, experienced rotation guy these days.
Would he give up his stardom and big European contracts potential to come back to the NBA?
Update: Wednesday, July 8 -- Joel C. Cordes
Eurohoops.com reports that Andrei Kirilenko has opted to remain in Europe and will sign with his Russian club CSKA.
This is much less surprising than the rumors of AK-47's return. He stands to garner much more money and playing-time overseas where he's still a big name. At this point, he couldn't expect to be more than a key rotation defensive and athleticism cog in the NBA.
Kirilenko was an up-and-coming star nearly a decade ago, but injuries and regression hindered him from living up to the max deal he last played on with the Jazz.
- End of Update -
In a report by the Salt Lake Tribune, it's been confirmed that former Utah Jazz forward Andrei Kirilenko is an eyeing a return to the NBA. One of the teams he's considering just so happens to be the Jazz.
Kirilenko spent 10 years in a Jazz jersey and could be feeling a bit of nostalgia. This would be big news for the Jazz, who have quite a significant void at the 3, where Josh Howard may be their best player. Kirilenko may not end the search for a point guard, but he'll certainly improve the perimeter defense and transition offense.
This is a signing that Utah must consider. They may not land a better player, otherwise.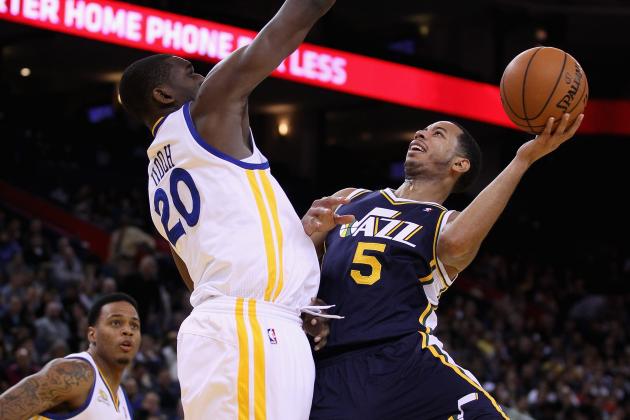 Ezra Shaw/Getty Images

Earlier in the week, it was reported that the Golden State Warriors were eyeing a trade with the Utah Jazz to secure their Top-7 protected draft choice. Unfortunately for both sides, the trade fell through and the pick became a free-for-all.
And then the worst case scenario became a reality.
Ezra Shaw/Getty Images

The worst nightmare of every Utah Jazz fan has come to fruition.
The Jazz made the playoffs, thus being swept by the San Antonio Spurs in a very lopsided series. In turn, the Jazz lost their Top-12 protected draft choice to the Minnesota Timberwolves. Following that was the nail in the coffin.
After trade talks fell through, the Jazz's hopes were riding on the draft lottery to leave their Top-7 protected draft choice at 8 or below. That did not transpire and the Jazz now prepare for just one draft choice: the 47th overall pick.
This is the worst possible news for the Utah Jazz, as they could have landed a franchise point guard to end the Devin Harris experiment. Instead, they will place their future in the hands of free agency and, potentially, another season from Harris.
Al Jefferson and Paul Millsap aren't getting any younger. It's time to act now.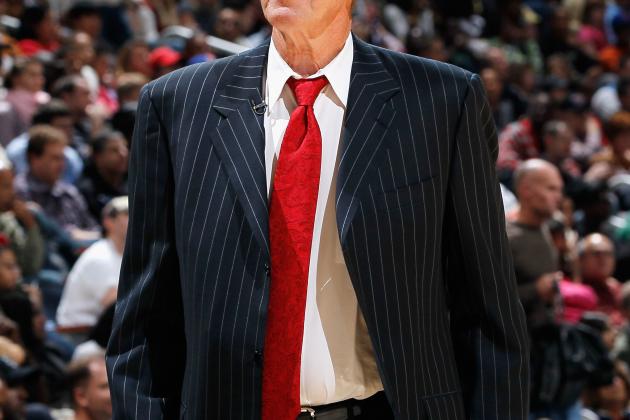 Kevin C. Cox/Getty Images

According to the Salt Lake Tribune, legendary head coach Jerry Sloan is hoping to return to the NBA. While this is unlikely to lead to Sloan reuniting with the Utah Jazz, anything is possible.
After all, the Jazz did go from a team with two lottery picks to a team with none in the matter of one month.
Should Sloan make a high-profile return to the NBA, it's hard to imagine some Jazz fans refraining from taking their allegiances with him. It's also intriguing to consider the possibility of former Jazz players following Sloan to his future destination.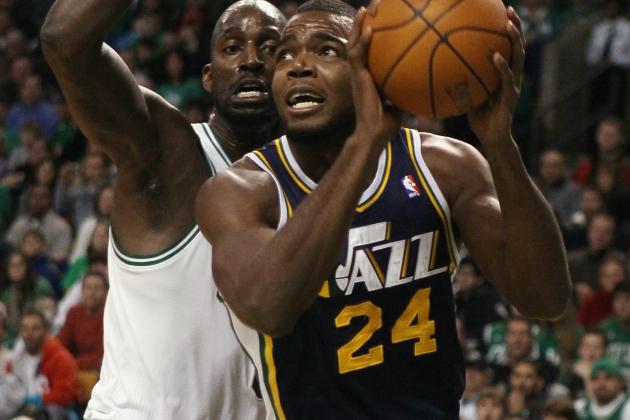 Elsa/Getty Images

According to Brian T. Smith of the Salt Lake Tribune, star forward Paul Millsap is interested in signing a contract extension with the Utah Jazz. This comes after a career-year from Millsap, as he posted averages of 16.6 points, 8.8 rebounds, 1.8 steals and 0.8 blocks per game.
The question the Jazz must answer is how they want to go about the progression of Derrick Favors. While Millsap, Favors and Al Jefferson have formed quite the formidable front court trio, the Jazz seem high on Enes Kanter and Favors as a potential franchise duo.
This will likely call for either Millsap or Jefferson to depart, if not both. Perhaps the Jazz's decision to extend Millsap will offer insight into their decision.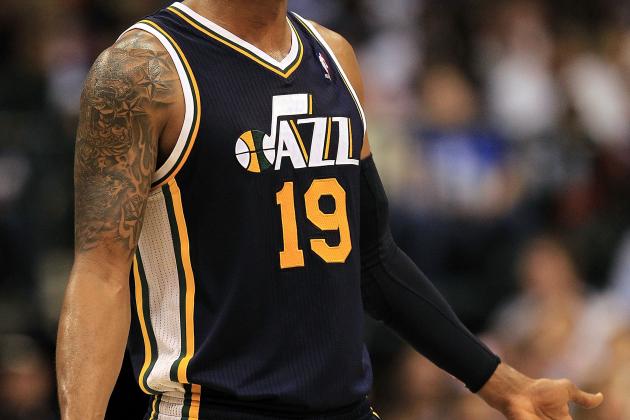 Ronald Martinez/Getty Images

Raja Bell has declared his career with the Utah Jazz officially "over." The reason for this is a frayed relationship with head coach Tyronne Corbin, who Bell deemed "unprofessional."
While Bell may expect the team to shed tears over this declaration of intent, they should not. Bell is yet another aging player whose contract damages the Jazz's potential free agency targets. If nothing else, the Jazz can milk Bell for whatever trade value he may have left.
Which isn't going to be much.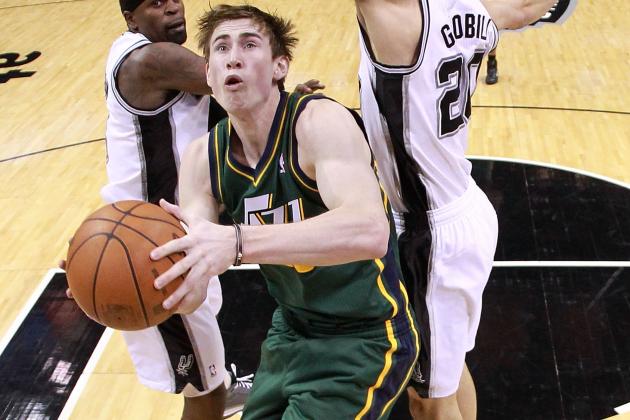 Ronald Martinez/Getty Images

Although the Jazz are unlikely to ship out any of their players to the London Olympics, they have two players who will be competing on the USA select team. Those two players will be youngsters Derrick Favors and Gordon Hayward.
While one may be concerned with a potential injury, excitement should be the only emotion. We've seen what international play has done for young players such as Eric Gordon, thus turning him into a fan favorite and much more well-rounded player. Expect the same from Favors and Hayward.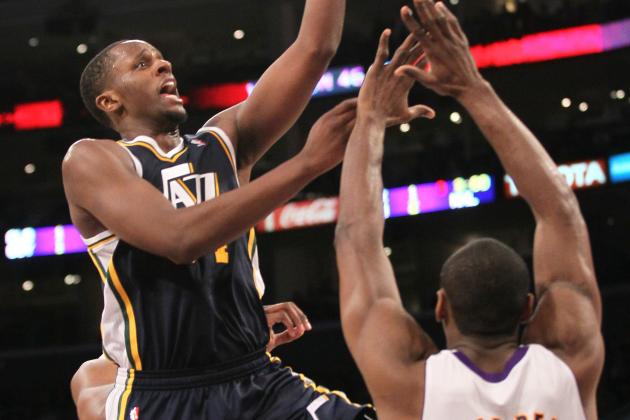 Stephen Dunn/Getty Images

According to Dirk Facer of the Deseret News, young Utah swingman C.J. Miles is anxious to explore free agency. Just don't expect the Jazz to let the unrestricted free agent to go quietly.
As for who Miles could go to, his hometown Dallas Mavericks are definitely an option. The Utah Jazz are also an option, however, as Miles claims he "basically grew up [in Utah]." For the Jazz's sake, re-signing Miles should be a top target.
Miles is an excellent perimeter defender and has improved in each of his seven seasons. It would behoove the Jazz to see him grow more, or re-sign him and utilize his trade value.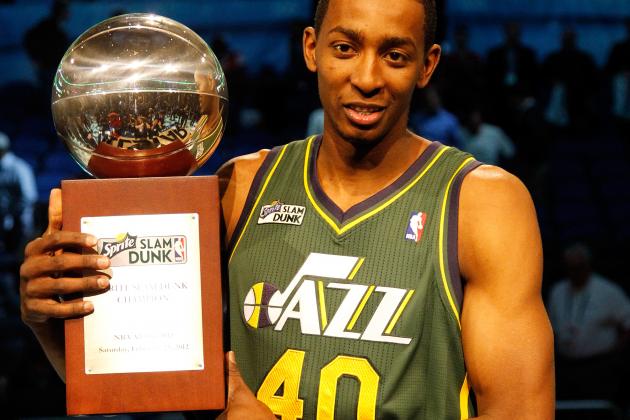 Mike Ehrmann/Getty Images
Will Jeremy Evans be a Summer League champion?
As reported by the Deseret News, the Utah Jazz have agreed to compete in the Orlando Summer League. Joining them will be the hometown Magic, Boston Celtics, Brooklyn Nets, Detroit Pistons, Indiana Pacers, Oklahoma City Thunder and Philadelphia 76ers.
The Jazz will play five games in the summer league series. The games will not be open to the public, but do have media accessibility. It will be interesting to see which players the Jazz expose to this event.