Bradley Beal: Why the Shooting Guard Will Be a Top Pick in This Year's Draft
May 30, 2012

Chris Graythen/Getty Images
If you don't know who Bradley Beal is, here's your chance to get to know him.
Beal became the first one-and-done player from the Florida Gators since Donnell Harvey left after the 2000 season.
Despite being a 6'3", undersized shooting guard, Beal has decided that he will enter the 2012 NBA draft, saying (h/t USA Today),
It was the right time for me. Coach (Billy Donovan) told me whatever you decide, when you decide make sure you're at peace with it. … I wanted to make sure I was comfortable with the decision, comfortable telling coach and making the final decision because I knew there was no turning back.
The 18-year-old was the second-leading scorer for the Gators last season, averaging 14.8 points and 6.7 rebounds per game, including six double-doubles, despite his undersized frame.
Beal's durability was on display during his freshman year at Florida, as he played in all 37 games and averaged the most minutes on the team, at 34.2 per game.
He plays both sides of the ball well, as he led the Gators in steals, at 1.4 per game.
As Ryan Blake, senior director of NBA scouting operations says (h/t The News Herald),
He's listed as 6-5, but he's 6-3. He plays bigger than that. He can play a couple positions. He can handle the ball... He's a good defender. He's not a great outside shooter. He's someone who can get inside and is fearless. He has a high (basketball) IQ. He lets the game come to him. He can step up when he needs to.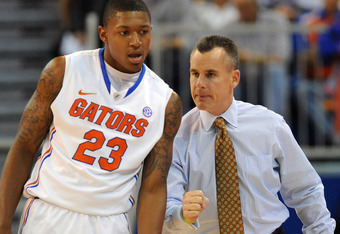 Al Messerschmidt/Getty Images
Beal's college coach Billy Donovan had high praise for the one-year man, comparing him to Ray Allen.
Beal will be competing with guys like Dion Waiters (Syracuse), Jeremy Lamb (Connecticut), Terrence Ross (Washington) and Duke's Austin Rivers to be the top shooting guard selected in the draft. 
His young resume includes a 2010 MVP award for the FIBA Under-17 World Championship as well as being named to the SEC All-Freshman Team and First-Team All-SEC.
Beal could be a nice fit for the Cleveland Cavaliers. With the addition of Beal, the Cavs would boast one of the youngest and most talented backcourts in the NBA, with 2011's No. 1 pick Kyrie Irving leading the way.
For now, it's anyone's guess as to what the 2012 NBA draft order will be, but one thing is for sure.
Bradley Beal will be a top-five pick in this year's draft.
Follow me on Twitter @Pete_Schauer