NL Best of the Night: Ty Wigginton Racks Up 6 RBI in Phillies 8-4 Win over Mets
May 29, 2012

Al Bello/Getty Images
Isn't the Fourth of July when all the fireworks are supposed to take place? Plenty of bats exploded for Memorial Day throughout MLB.
The Colorado Rockies' Dexter Fowler went 4-for-4 with three RBI, a home run and a triple in the nightcap of a doubleheader with the Houston Astros. (Fowler went 7-for-12 in the two games.) Chase Headley of the San Diego Padres had a 4-for-5 holiday with two homers and three RBI.
Of course, someone had to light those firecrackers and several pitchers got shelled on Monday. Luke Gregorson of the Padres gave up three runs and four hits in just 2/3rd of an inning. Manny Acosta also allowed three runs and four hits, but in 1/3rd of an inning for the New York Mets. Teammate Jonathon Niese walked five batters. And the Atlanta Braves' Tommy Hanson was roughed up for six runs and eight hits in just 3 1/3 innings.
But one guy still managed to stand out from those great and terrible performances. Ty Wigginton drove in six runs for the Philadelphia Phillies in their 8-4 win over the Mets on Monday. Playing first base, Wigginton batted 3-for-3 with a three-run homer and two walks. That gave Cole Hamels all the run support he needed on a day he wasn't at his sharpest.
The six RBI was a career-high total for Wigginton. The 11-year veteran is in his first year with the Phillies and has provided a decent replacement at first base for the injured Ryan Howard. As a first baseman this season, Wigginton is batting .280/352/.415 with three homers and 12 RBI. Monday's game pushed Wigginton's OPS back over .700 for the first time in his past 10 games.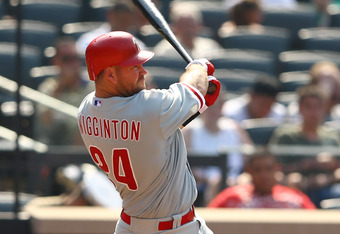 Al Bello/Getty Images
"He sure did have a big day," Phillies manager Charlie Manuel said about Wigginton after the game. "He did the hittin' for us."
The Phillies have struggled for offense all season long, so it shouldn't be a surprise that they've won four of their past five games while scoring almost seven runs per contest. During that stretch, Wigginton has two three-hit games, slugging a homer in each one.
In the other three games, however, Wigginton went a combined 0-for-12. So he's almost literally hit or miss right now. Fortunately for the Phillies, when those hits come, they've been coming in bunches. 
Follow @iancass on Twitter