Manchester United Transfer News: Picking a Starting XI to Include Shinji Kagawa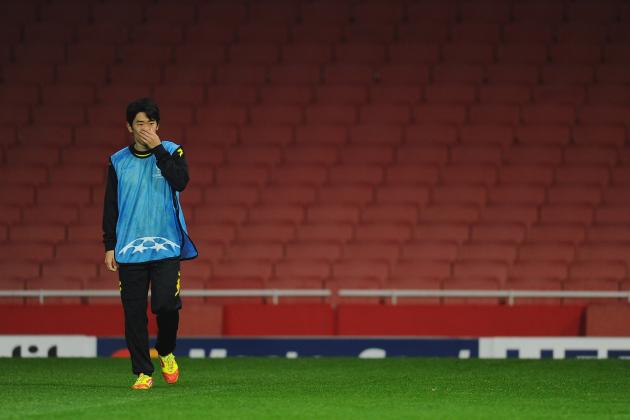 Mike Hewitt/Getty Images

There's no hiding Manchester United's transfer goals as the Red Devils are desperately trying to sign Borussia Dortmund midfielder Shinji Kagawa.
And with every passing day, United are getting closer and closer to signing the Japanese star and strengthening the United midfield. It might not be official just yet, but it is looking likely to happen.
So where will Kagawa fit in to Manchester United? What role will he play within the club?
Here's a starting side to include the Dortmund midfielder who it seems will be coming to Old Trafford sometime in the summer transfer window.
Two things to note though before we begin—firstly, this is done on the current squad that Manchester United has and not on potentially transfer options; and secondly, this is assuming that United continue to adopt the 4-4-2 formation that we've seen at Old Trafford for so many years now.
Speculation is exactly that, and I've gone on the evidence and data that's available for us now.
So with that, let's take a look at the starting side including Kagawa.
Begin Slideshow

»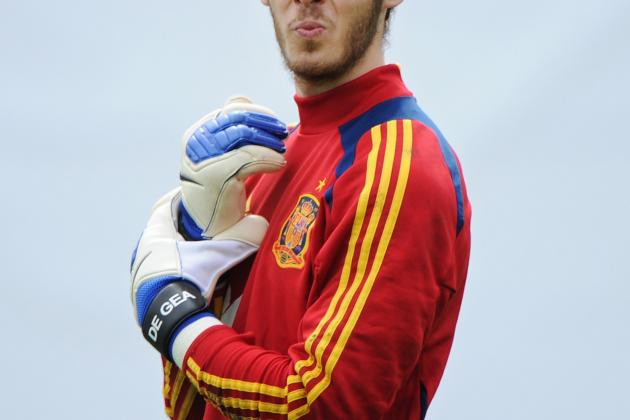 Jasper Juinen/Getty Images

After battling to win the starting job and then struggling for form once there, David De Gea finished the season incredibly strong at the back and has certainly solidified his position as Manchester United's No. 1 goalkeeper.
De Gea notched up the third-most appearances for United in the Premier League this season and conceded goals in just two of his last 10 matches for the club.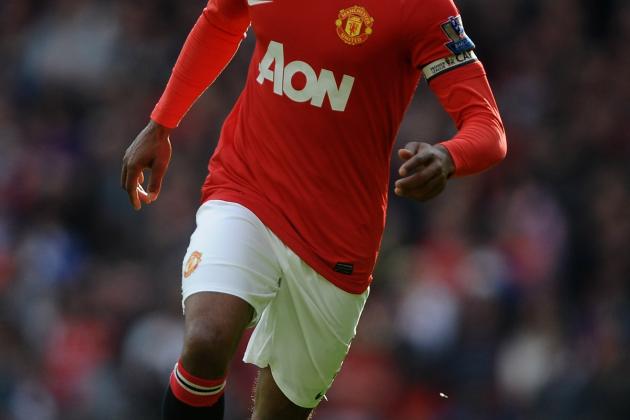 Laurence Griffiths/Getty Images

Patrice Evra appears to be one of the growing concerns for United fans as far as replacements go, yet throughout the 2011-12 season the left back was stellar in the English Premier League—notching up more appearances than any other player and finishing with the highest average match rating out of all United defenders.
Kagawa won't play at left back either, so Evra can breathe a sigh of relief on that front.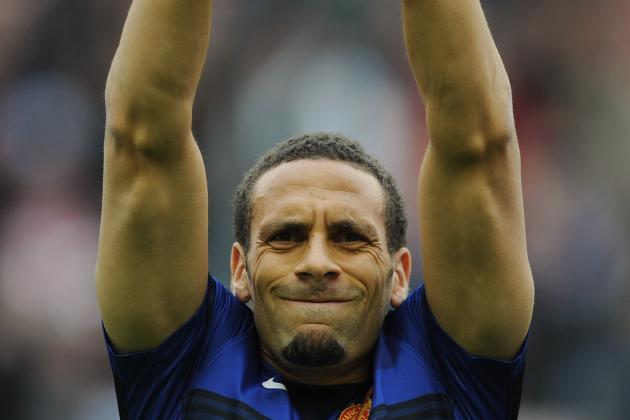 Michael Regan/Getty Images

He might be getting old and he might not have been picked for Euro 2012, but Rio Ferdinand still finds his way in to the starting lineup thanks to his experience and strength at the back.
Averaging 90 percent passing completion for the Red Devils this year, the English centre back also ranked second in clearances and fourth in interceptions per game and was an integral element to the United back line all season.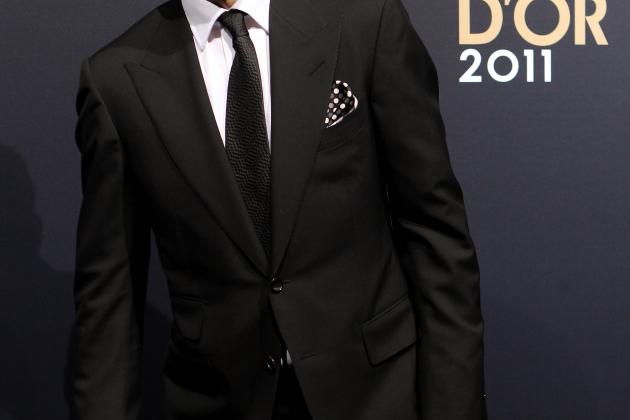 Scott Heavey/Getty Images

Many will look back on the 2011-12 season for Manchester United and wonder what could have been if the Red Devils had a healthy Nemanja Vidic in their side.
The Serbian played just nine matches for United this year before an injury cut his season short. In that short time, Vidic averaged more clearances and interceptions and won more aerial challenges than any other United defender.
He'll be back next year—no doubt about it.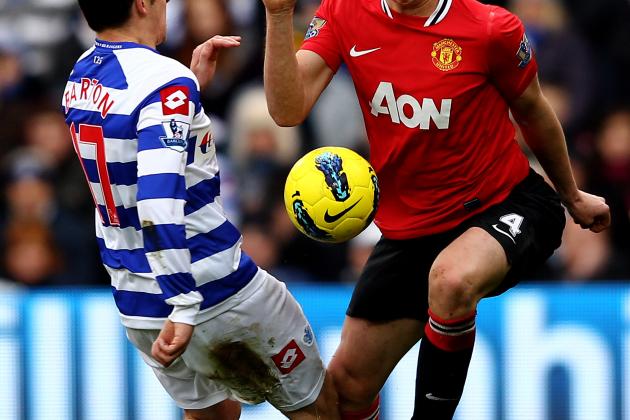 Richard Heathcote/Getty Images

Phil Jones over Rafael? Absolutely.
Jones might not offer the same attacking presence that Rafael does going forward, but in defense—which is his primary role—Jones showed that he clearly was the stronger player all season and wouldn't leave United as exposed as Rafael would at times.
Aged just 20, Jones has a bright future ahead of him at United and with his strong, dominant play will find himself in to the starting lineup soon.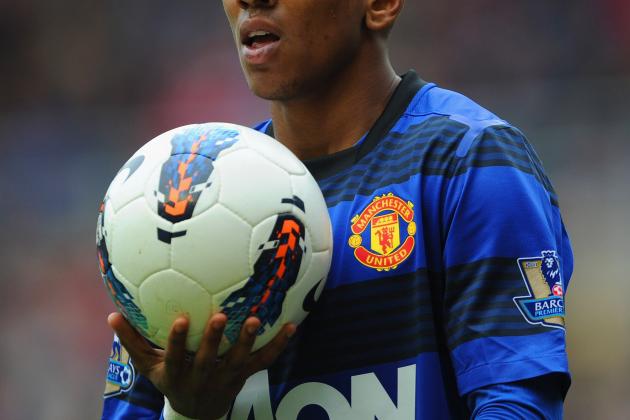 Michael Regan/Getty Images

Now we start to get in to the players affected by the signing of Shinji Kagawa, and first on the list comes left-mid, where Ashley Young keeps his starting spot.
Young had more than triple the appearances of any other United player at left-mid this season, and rightly so, with the Englishman netting six goals and seven assists in the Premier League as well as an average of 1.7 key passes per game.
Jamie McDonald/Getty Images

And now it starts to get interesting.
The reason why I have Carrick listed as a CDM in a 4-4-2 formation is that I think he will be the central midfielder that holds the midfield—just like he has done so well all season for United.
Especially as a central defensive midfielder, Carrick excels in this role perhaps better than any other player on the Red Devils roster. He led the team in interceptions, ranked second in tackles whilst in attack and finished with the most passes per game at completion rate higher than 90 percent.
The midfield is starting to get some crowded for United, but I think Carrick keeps his starting spot.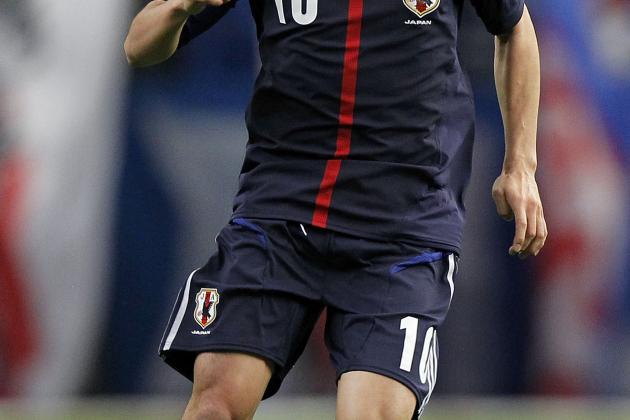 Kiyoshi Ota/Getty Images

There he is—Shinji Kagawa himself.
The Japanese midfielder would flourish as a central attacking midfielder, which would allow him to see plenty of the ball and would develop a great relationship with striker Wayne Rooney, who loves to drop back and help the midfield.
At Borussia Dortmund, Kagawa was taking a high volume of shots and attacking with great frequency, giving Sir Alex Ferguson the opportunity to push the midfielder up front if he feels it is needed.
Kagawa might not be ideally suited to the 4-4-2 formation of Manchester United, but central attacking midfielder is the position where he would impact the game and work with the team best.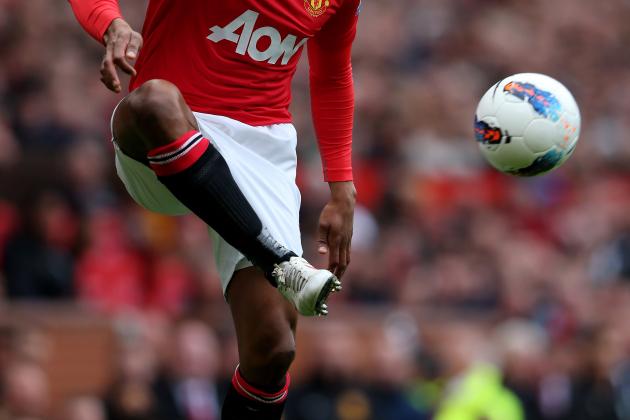 Alex Livesey/Getty Images

As a result, there are a number of players vying for the fourth midfield position on the right wing, but you've got to give it to Antonio Valencia. Valencia was United's best player this season and deserves his place in the starting lineup at the position he excels at the most.
On the right wing, Valencia finished with four goals and an incredible 13 assists in the English Premier League last season and finished with the second highest average match rating for the year. His phenomenal skills and crossing ability holds United in great stead for the future and holds Valencia in the starting role.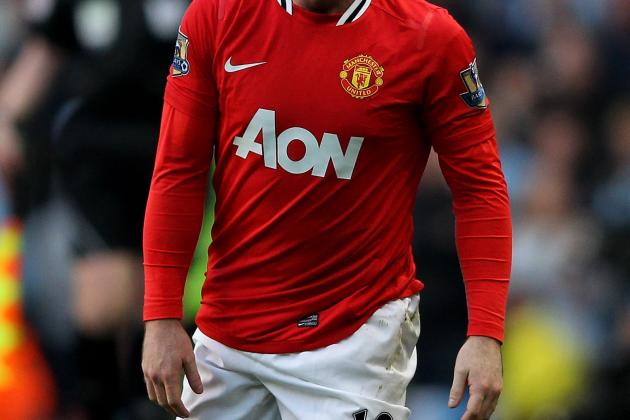 Alex Livesey/Getty Images

No surprises at all here, as Wayne Rooney—the club's premier striker for several seasons now—sees himself in the starting lineup for the Red Devils. Rooney gave Robin van Persie a huge lead in the Premier League Golden Boot Award and almost managed to catch the Dutchman—finishing with 27 goals and four assists for the year.
Rooney and Kagawa will clash at United, but with time I think the opposite could happen. Kagawa loves to push forward and act as a third striker at times, whereas Rooney loves to drop back and act as an attacking central midfielder as well. The symbiotic relationship between the two could reap great rewards for the Red Devils.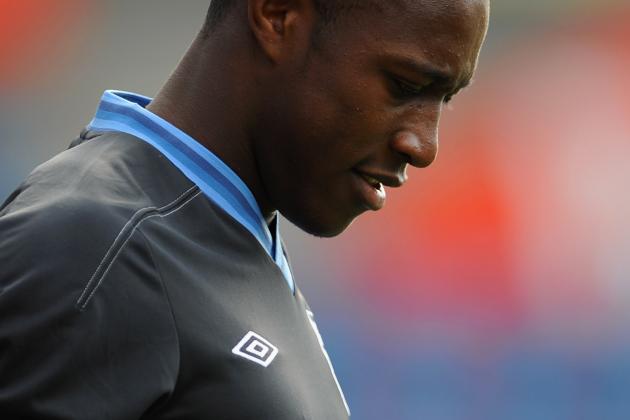 Michael Regan/Getty Images

One spot left, and it goes to Danny Welbeck who, despite struggling for form at times this season, has done enough in my mind to hold down the second striker's position.
Welbeck finished the Premier League season with nine goals and four assists, but also led United in both turnovers and times disposed this season. As the striker's relationship and understanding with Rooney grows, Welbeck will continue to improve and regain the form that saw him start on 23 occasions during the Premier League for United.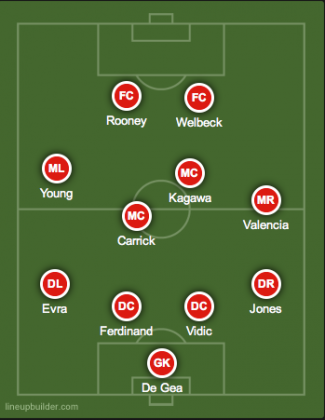 Having said all of that, there are some obvious omissions and some players that have been forced on to the bench for Manchester United. I'm sure you won't completely agree, and I would love to hear your feedback as to why certain players should start over others.
For me, there are a few players that spring to mind immediately.
Johnny Evans has been superb for United all season and is unlucky not to find a position in the Red Devils' back four as a result. Vidic's return does complicate the scenario, with Evans forced to give way for the United captain.
We've already discussed Rafael and Phil Jones at right back, but considering Rafael's poor form toward the latter part of the Premier League, this one is a little bit more understood.
The midfield is where it gets interesting for me with Paul Scholes and Ryan Giggs both forced to the bench. I am sure they will start on multiple occasions throughout the year for the Red Devils, but with Young, Valencia, Carrick and Kagawa all deserving their positions, it's simply a matter of there being no room in the United engine room.
The same goes for Javier Hernandez, who will once again be hot on the heels of Danny Welbeck for the second striker position. Personally, I'd have taken Hernandez over Welbeck all throughout January, February and March, but with Welbeck finding some form again in April, he just beats out Hernandez for my liking.
The biggest one though is Nani—the Portuguese star wholeheartedly deserves a starting position, but there simply isn't room for him. You could play him with Rooney or ahead of Young, and I wouldn't at all be surprised if both of those came to fruition throughout the year, but for now he must be content with the bench.
It's tough, and it's the problem with only being able to field 11 players when you have the depth and talent that Manchester United has.
I'd love to know what you think—what would your United lineup look like with Shinji Kagawa, and how would you deal with the plethora of midfield options that the red Devils have?
Comment below or hit me up on Twitter — Follow @dantalintyre
All statistics courtesy of WhoScored.com