Indy 500 2012: Top Americans Vying for Borg-Warner Trophy
May 24, 2012

Robert Laberge/Getty Images
Marco Andretti headlines the list of Americans who will have the best chance to win the 2012 Indy 500 race and take home the Borg-Warner Trophy.
Americans used to dominate the Indy 500, but since 1993 there have only been five American champions. The European and Brazilian racers have since dominated the race and IndyCar racing in general.
As an American, I'd love to see fellow countryman earn a victory when the action commences on May 27 at the Indianapolis Motor Speedway.
Here are the top American contenders with the best chance to win the 2012 Indy 500.
Marco Andretti
Andretti surely has the pedigree to win this race. After all, his grandfather, Mario Andretti, won the prestigious race way back in 1969. There's more to the younger Andretti than just his last name, though, and if any Americans have a shot to win this year's Indy 500 he is certainly one of them. 
Andretti has come close to drinking the traditional milk in celebration a few times before, finishing in third place in 2008 and 2010 and finishing in second place in 2006. 
He has struggled to put a good race together in four starts thus far in 2012, though, finishing no higher than 11th place, according to ESPN.com.
That hasn't stopped oddsmakers from listing him as a 9/1 shot to win the race this year, according to Bodava.com. Considering his past near-misses and his excellent starting position at No. 4, I can't blame them for expecting Andretti to contend for a victory this year.
Ryan Hunter-Reay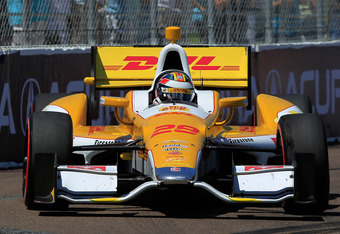 Chris Trotman/Getty Images
Hunter-Reay should have better odds to win this year's Indy 500 than Andretti in my opinion, but Vegas doesn't see it that way.
He's being given 12/1 odds to win, according to Bodava.com, despite the fact that he is currently in fourth place in the 2012 IndyCar Series standing with 121 points—only 59 points behind leader Will Power (h/t IndyCar.com).
Hunter-Reay has finished in the top five in two out of his four starts this season so far and in the top 10 once more, according to ESPN.com. He and his crew are running hot right now, and I won't be surprised in the least if they pull off an upset to win the Indy 500 this year.
Hunter-Reay sits at the No. 3 position to start the race, and if he drives smart and his car performs at a high level he has an excellent chance to do just that.
JR Hildebrand
Hildebrand has come close to winning a couple of times already this year, finishing in the top five once and the top ten twice out of four races, according to ESPN.com.
He enters the Indy 500 in seventh place with 83 total points so far this year, according to IndyCar.com. Vegas isn't giving him much of a chance at 35/1 odds, according to Bodava.com, but Hildebrand shouldn't be counted out of this race.
Hildebrand has never won a race in the IndyCar Series, but at 24 years old he still has a lot of time to gain the experience and knowledge needed to finally get over the hump.
He rounds out the list of Americans who have the best chance of winning the 2012 Indy 500, and I can't wait to watch the race to see how they do.