Michigan Football Recruiting: Tracking Targets for 2013 Class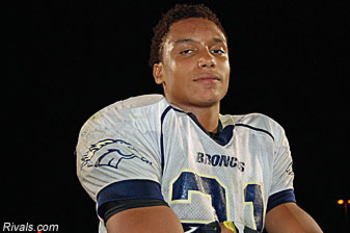 Rivals.com
Recruiting for Michigan has always been an easy job, but ever since head coach Brady Hoke stepped on campus, the top recruits are lined up out the door to become Wolverines.
Last season, Michigan put together one of the top recruiting classes in the country. This season, it's already landed 18 early commitments from some of the best prospects in the 2013 class. That being said, if you are familiar with the recruiting process, you know that it's never wise to stop when you are ahead.
You should always be looking for those top recruits, and try to land as many as you possibly can.
National signing day may still be several months away, but the recruiting process is fully underway. Here is the latest on some of the top prospects the Michigan Wolverines are targeting for the 2013 recruiting class.
LaQuon Treadwell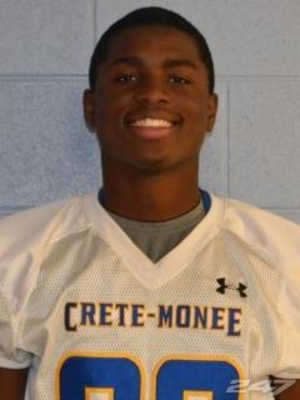 247sports.com
Latest Status: Considering Michigan, Alabama, Arkansas, Clemson and Notre Dame, among others.
Treadwell is a big wide receiver at 6'3", 190 pounds and plays the game very physical. He isn't the fastest receiver on the field, but with his big frame, he's able to out-muscle defenders for the ball and is capable of picking up chunks of yards after the catch.
He's expected to make a decision soon and the Wolverines are very high on his list.
From the Detroit News:
"(Michigan) said there's one spot left and they're going to wait on me to see what decision I'm going to make," he said. "They'll hold the spot. I haven't really told the coaches I was coming up (for a return visit). I've just been talking to Shane (Morris) and all those guys (about coming up) and just trying to get up to hang with them. Khalid (Hill) is talking about playing basketball with some of the other recruits… just getting used to hanging around them and everything."




Maurice Smith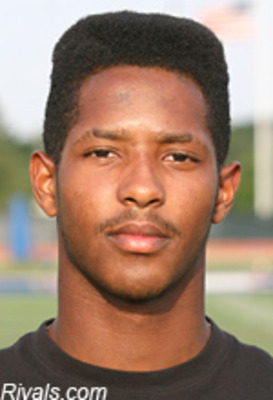 rivals.yahoo.com
Latest Status: Considering Alabama, Arkansas, Michigan, Ohio State and Notre Dame, among others.
Smith is a strong player, who is great in pass coverage, which is why he's listed as one of the top cornerbacks in this year's class. He doesn't mind getting dirty in run support, has great ball skills and at 5'11", 180 pounds, he could eventually switch to the safety position if needed.
While Smith has yet to announce some of his favorite schools, he does like Michigan a lot.
From Scout.com:
"I like Michigan, you know, just because I had some teammates from my school go there and give me nothing but good reports," said Smith. "So, you know, they're—you know, I don't have a top (group) but they're highly favored."
James Quick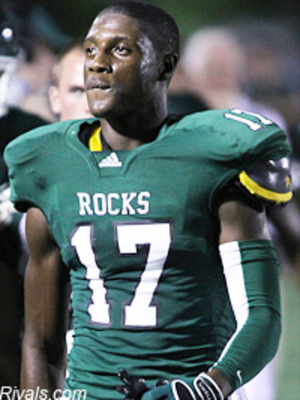 Scout.com
Latest Status: Considering Louisville, Michigan, Ohio State, Oregon and Arkansas, among others.
Quick is one of those players that doesn't talk much about the recruiting process. He's a two-way athlete who also plays basketball, and being from Louisville, makes many believe that's the direction he's heading. He's a 6'0" wide receiver, has great hands, runs excellent routes, and just like his name, he's quick.
There isn't much news to report about him lately, but as the process begins to pick up, he could be one of those players that gains a lot more attention.
Michael Hutchings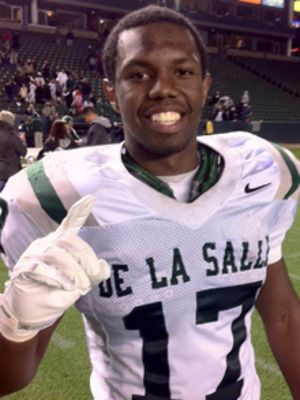 mgorecruit.blogspot.com
Latest Status: Considering Oregon, Michigan, UCLA, USC and Notre Dame, among others.
Hutchings is one of the top outside linebackers in this year's class, and also has the ability to play the strong safety position. He's an intelligent player, who's great in pass coverage, but can also lay a ball carrier out with his tough hitting ability.
Considering he's from California, many have the Trojans the favorites for his services, but Michigan was one of the first schools to extend an offer his way.
"It does give Michigan an advantage by being an early offer. Showing that they had high interest in me from the beginning is huge, but my list is wide open as of now." Hutchings told Mgorecruit.blogspot.com.
Justin Manning
247sports.com
Latest Status: Considering LSU, Miami, Michigan, TCU, Texas and USC, among others.
Manning has been real quiet about which teams he's favoring, but one of the top defensive tackle prospects in the country can choose between nearly any prestigious school out there. He's a tough athlete at 6'2", 275 pounds and is a great pass-rusher, with excellent explosion off the ball.
He hasn't really named any favorites, but says he will take his time throughout the process and is in no hurry to make a commitment (via Scout.com).
"I'm probably not going to go to any camps," Manning said. "If I do, it will just be to meet and talk with the coaches."
Kendall Fuller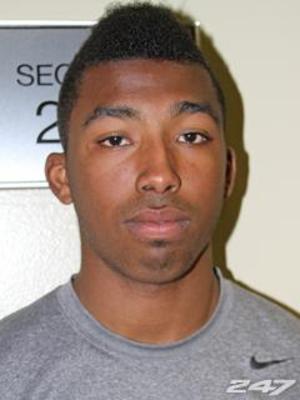 247sports.com
Latest Status: Considering Clemson, Virginia Tech and Michigan, among others.
Fuller is a true cornerback, who has great football instincts and terrific ball skills. He's a solid open-field tackler and could end up playing wide receiver as well. He has offers from nearly every school in the country, but it seems like Michigan really stood out when he took a trip to the school last month.
"It felt like if I were to go there, I would be welcomed. It felt like a second home, and that's the biggest thing Michigan offers," he said (via Scout.com).
The lengthy corner still isn't quite sure where he will end up, but at this point, you have to like the Wolverines' chances.
Su'a Cravens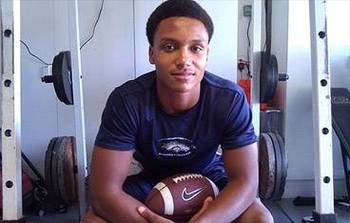 foxsportswest.com
Latest Status: Considering UCLA, USC, Michigan and Ohio State.
Cravens is arguably the top safety in this year's class. He has solid size at 6'1", 205 pounds and is capable of playing the linebacker position as well. He's a very athletic player and is best known for his blitzing ability. He's a difference maker on the football field.
Recent rumors suggested Cravens had cut his list down to three schools, but his father says that's simply not true.
"To set the record straight, UCLA, USC, Ohio State are Michigan are still strong favorites for Su'a," said his father (via Scout.com). "I don't know who said he is down to three schools but that was not true."
He's expected to make his decision in early June. At this point, he remains the top recruit Michigan is chasing.
Keep Reading

Michigan Wolverines Football: Like this team?