WWE Rumors: Lord Tensai Name Change Signals WWE Is Struggling with New Character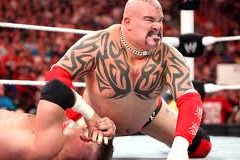 Photo via wrestlingvalley.org

The WWE is struggling to develop their newest superstar and has now resorted to a name change in an effort to drum up more interest.
Reported by both WrestlingTruth.com and RingsideExcess.com, the company has decided to drop the "Lord" in Lord Tensai. The character played by Matthew Bloom is now just Tensai, and we don't know exactly why they decided to make the switch.
WWE received backlash from Japanese fans who were offended by the fact that the word "Tensai" means natural disaster in Japanese, a subject that is no laughing matter after the horrific earthquake and tsunami that took over 15,000 lives back in March 2011. Japanese wrestler Yoshi Tatsu lashed out on Twitter to express his disdain for the name and vowed to beat him in a match despite already losing to him in April.
But the WWE isn't changing the Tensai part.
Nobody knows why the "Lord" part of Tensai's name has been extinguished, but does it even matter?
After exploding onto the scene right after WrestleMania, he has been shut out of PPV matches and has been nothing more than a big goon who is good at winning squash matches. The one time the WWE could have really capitalized on his momentum came after he beat John Cena on Monday Night Raw earlier this month. Instead, he was brushed aside yet again.
Something is weird about this situation, and it makes you wonder if the creative team behind the scenes is struggling to figure out what they are going to do with him. His gimmick is unique enough, but I wonder if his inability to speak on the mic limits his ability to create a legit feud that has some legs.
The fans are not warming up to Tensai and some sort of change had to be made.
WWE better provide fans with some sort of explanation as to why they went with the name change, because it's the only interesting news to derive from his character in a while.
This article is
What is the duplicate article?
Why is this article offensive?
Where is this article plagiarized from?
Why is this article poorly edited?