Quintin Berry: Meet the Newest Detroit Tiger
May 23, 2012

The Detroit Tigers have designated right-handed reliever Collin Balester for assignment, and with center fielder Austin Jackson still sidelined, the team has called up 27-year-old speedster Quintin Berry.
Berry hit .333 in 17 games for the Tigers in spring training before being sent down to minor league camp when Detroit cut down to 32 players on March 26.
He averaged .270 (.368 on-base percentage) with 11 RBI in 39 games for Triple-A Toledo this season and will replace Jackson, who's missed the last five games with an abdomen injury, in center field. 
The fifth-round pick of the Philadelphia Phillies in the 2006 amateur draft, Berry has played five-plus minor league seasons and has at least 40 stolen bases in four of them. He stole 19 bases with Toledo this season and immediately becomes the fastest Tigers player.
The Tigers only have 16 stolen bases as a team this season and badly need a threat on the basepaths.
"That's one of the reasons we're making the move to bring him up," Tigers manager Jim Leyland said to MLive.com. "To put him in center field and give us a little more speed out there." 
Berry can play any of the outfield positions, gives Detroit another left-handed bat and can be used situationally to pinch-run. 
He spent four-plus seasons playing Single-A and Double-A in the Phillies organization before being acquired by the San Diego Padres Double-A affiliate, San Antonio, in 2010.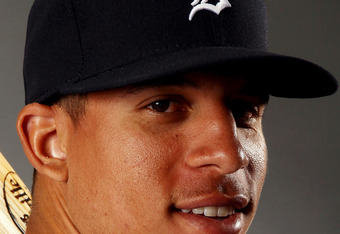 Elsa/Getty Images
He spent most of last year playing Double-A for the Cincinnati Reds and played four games for their Triple-A affiliate, Louisville, but has never gotten a Major League opportunity.
"I find it hard to believe he can't be or isn't at least a utility player in the big leagues. I didn't know Berry much, but Berry's attractive to me because of that speed," Leyland said in March. "He made a heck of an impression. That's another weapon, and we don't have much of it."
Berry signed a minor league free-agent contract with the Tigers last fall and impressed Leyland during spring training with his versatility and speed. He hit a grand slam, made a diving catch and drove in several key runs for the Tigers in spring training, but didn't earn an initial spot on the 25-man roster. 
"He's got real good speed and he's a real good defender," Leyland said. "He can bunt for a base hit and he can run real well. Hopefully, he can hit some balls in the hole and beat it out."
Berry will make his Major League debut on Wednesday. If Jackson goes on the disabled list, the rookie will get an extended opportunity to prove his worth.