Why Emmanuel Sanders Will Have a Breakout Year for the Pittsburgh Steelers
May 23, 2012

Gregory Shamus/Getty Images
Pittsburgh Steelers receiver Emmanuel Sanders hasn't had much of a chance to prove himself on the field. Injuries keep mounting up, causing him to miss time—so much so that he was supplanted on the depth chart last year by Antonio Brown.
This year, however, should Sanders stay healthy, he is primed to have a breakout season as an integral part of the Steelers' explosive passing offense.
Sanders will spend the summer competing with Jerricho Cotchery for the team's No. 3 receiver spot, which used to belong to Hines Ward. Both men are talented in the slot, but Sanders has a speed advantage over Cotchery that could propel him into the job.
Though the Steelers have developed one of the best passing offenses in the league, the team's No. 1 and No. 2 receivers cannot do it all.
We've all seen what happens when Mike Wallace is stymied by double coverage—quarterback Ben Roethlisberger turns elsewhere, generally to Brown—but this year, both Wallace and Brown will be the subject of double-teams now that opponents know how dangerous they are.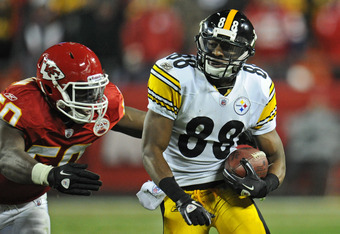 Peter Aiken/Getty Images
That leaves an opening for Sanders to really make an impact. With defenses' attentions locked on the team's top two playmakers, Sanders should be able to take advantage of single coverage and beat his man with speed and make plays.
By "breakout season," I don't mean that Sanders will be part of a receiving trio with over 1,000 yards apiece. I do mean, however, that Sanders' role on the offense will expand to the point that he's proven to be an indispensable component and a significant contributor.
This season is doubly important for Sanders. When the season wraps, both he and Brown will be restricted free agents, and, barring a new deal, Wallace will be an unrestricted free agent. With the Steelers likely to have salary cap issues again next year, the team will have to think hard about the shape of their receiving corps. Not all three men are guaranteed to remain with the team.
So, chances are, as long as Sanders stays healthy, he'll get his fair share of playing time while the team decides if his future is in Pittsburgh. Sanders is more than capable of making the most of this opportunity and should have many a chance to prove he's worth keeping around.