NL Worst of the Night: Braves' Mike Minor Gets Bombed for 4 Homers by Reds
May 22, 2012

John Grieshop/Getty Images
The good news for the Atlanta Braves is that Mike Minor didn't give up six runs or more Monday night in Cincinnati. He'd done exactly that in each of his prior four starts.
The bad news for Minor is that he couldn't keep the ball down or get movement on his changeup. That's a dangerous combination in a small yard like Great American Ball Park. With Minor serving up plenty of fat pitches, Cincinnati Reds hitters didn't miss on the opportunity to tee off, launching four home runs off the Braves' left-hander.
Three of those home runs came in a fourth inning that looked like batting practice. With two outs in the inning, Minor hung a changeup that pitcher Mike Leake hit into the left-field seats. The next batter, Zack Cozart, hit another flat changeup out of the ballpark. Back-to-back home runs for the Reds.
But Minor wouldn't give up three homers in a row, right? No one does that.
Drew Stubbs begged to differ. Minor didn't throw any changeups to Stubbs, who hit one out for a home run in the first inning. It was all four-seam fastballs to Stubbs. However, he left one of those pitches up in the zone for Stubbs to crush to right-center field for his second homer of the night.
That's right. Minor gave up back-to-back-to-back jacks. That's a fact. 
Watch a video of the three consecutive homers here.
Did Braves manager Fredi Gonzalez consider taking out his young pitcher after giving up those bombs?
"It's a teaching moment, a good moment for him to go back out there," Gonzalez told reporters after the game.
"He only gave up four solo home runs. I thought the kid pitched OK. It was a good chance for him to go back out there and hang around. We keep talking to our pitchers about just hang around, give yourself a chance to win a ballgame."
Minor apparently doesn't have to worry about being demoted to Class AAA Gwinnett just yet, but it's difficult to imagine that the Braves haven't had those discussions during Minor's past five starts.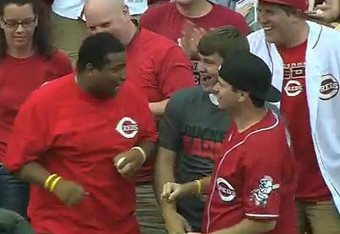 Perhaps even more impressive than the Reds' power display was the good fortune that smiled upon Reds fan Caleb Lloyd, sitting in left field. Lloyd ended up with the first two of those home run balls, giving him two souvenirs for the night.
Actually, he gave up both souvenirs. As reported by the Cincinnati Enquirer's John Fay, Lloyd returned Leake's home run ball, since it was the pitcher's first career homer. The other ball went to his buddy, who gave him the ticket for the game. Lloyd did, however, get some time in the Fox Sports Ohio broadcast booth with Thom Brennaman and Chris Welsh. 
So Minor had at least one big fan in Cincinnati Monday night. Lloyd has to be grateful for Minor's home run generosity. Maybe that's a promotion major league teams can run for every one of Minor's starts from here on out.
Hey fans, it's Take Home a Baseball Night with Mike Minor on the mound!
Follow @iancass on Twitter