Ryan Broyles Takes Part in OTAs, Titus Young Is Barred After Fight with Teammate
May 21, 2012

Gregory Shamus/Getty Images
Ryan Broyles made headlines when he worked out for NFL teams before the draft and ran a 4.57 40 just five months after tearing his ACL. The Detroit Lions must have liked what they saw, because they selected Broyles in the second round of the draft just a few weeks later.
Now, Broyles is surprising onlookers by being ready to participate in OTAs, and his timing couldn't be better.
Tim Twentyman from the Lions official website reported on Twitter this morning that Broyles had his helmet on for the start of OTAs. Twentyman called Broyles a "participant," but he added that the extent of his participation was to be seen.
Twentyman was cautious, but other reports from the scene were more openly optimistic. MLive.com Lions beat writer Anwar Richardson reported that Broyles took part in individual drills "with ease," which has to be comforting to both Broyles and the team. NFL.com reporter Ian Rapoport noted that Broyles was not wearing a knee brace and even had photographic evidence: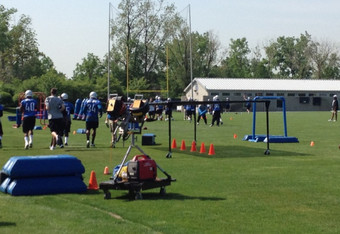 It was widely speculated that Broyles was drafted to eventually replace Nate Burleson, but news out of Detroit today has opened up another possible reason for the Lions to take a wide receiver in the second round for the second consecutive season.
Richardson also reported that last year's second-round pick, wide receiver Titus Young, was not allowed to participate in the OTAs after a fight with safety Louis Delmas during last week's voluntary workouts. Sources told Richardson that Young punched Delmas when he wasn't looking.
Head coach Jim Schwartz would not comment on the incident or the nature of Young's absence.
Broyles is still far from a sure thing to be full-go for the season opener, but with Young in the doghouse, he has even more impetus to get back on the field as soon as possible. After this piece of news, it's hard to avoid wondering if the Lions took Broyles because of issues they had detected with Young's personality.