Eden Hazard: Is Lille's Most Wanted Soccer's Answer to LeBron James?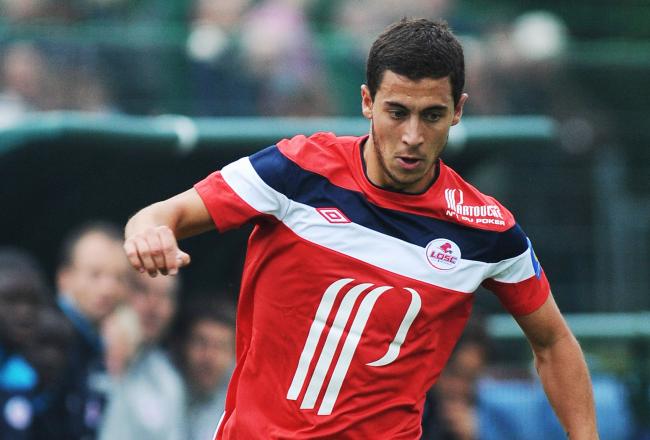 Valerio Pennicino/Getty Images
Lille midfielder Eden Hazard is a long way from where LeBron James was when he made a national televised event of announcing his NBA basketball future.
James was already a global brand when he starred in ESPN's "The Decision"—a hugely hyped TV special to tell the world where he'd be working it in 2011. He'd played seven professional seasons with Cleveland, and six times been an NBA All-Star.
Precocious, egotistical and self-centered? Many would say yes; just as many would say no. Either way, when you're so good the TV networks made it their business to show your high school games to the nation, there's at least some justification.
Can the same be said of Belgian international midfielder Hazard?
Not yet—not even close—but the 21-year-old's future is currently the hottest topic in football. We know he'll leave France, but Hazard's next destination remains a guessing game.
Before Sunday, it looked like a straight shootout between Manchester United and Manchester City. Hazard even said as much, when asked who he'd be joining after collecting his award as Ligue 1's Player of the Season last Monday—quotes as per Goal.com.
To Manchester, as I have already said. The decision will be taken soon.

I have made my choice 90 percent. There are always small things that can change everything. You will soon know where my future lies.

City have won the title this year, and they have great players, a great coach and a nice project. At United, we all know [Sir Alex] Ferguson and all the talented players he has in his squad.
We expected a decision after Lille's final game of the season, but Hazard played hard to get. He duly offered up a hat trick and an assist, as his team won 4-1 against Nancy, but the decision was not forthcoming.
Instead, he flirted with another of the Premier League's big hitters. It turns out Chelsea winning the Champions League final was exactly the kind of "small thing" he was talking about. Suddenly, the Blues had joined City and United in the mix for his signature.
Here's what Hazard said when asked whether he might now choose Chelsea (as per ESPN):
That's possible. But until I pen to paper I won't say where I'm going.

Of course it makes you think as Chelsea have won the Champions League. They're a big team and will be playing in the Champions League next season. They have great players and I always said I wanted to be playing. I think there is the possibility to play as well.

I still don't know yet, otherwise I would have announced it today. Nothing is done yet but it will happen soon.
Hazard's agent must be the most excited man in sports right now. He already had a player of obvious potential on his hands—a two-time French player of the year and still just 21—but it turns out he also has football's answer to LeBron in the self-marketing stakes.
Unsurprisingly, Hazard's indecision has prompted mass confusion in the football media.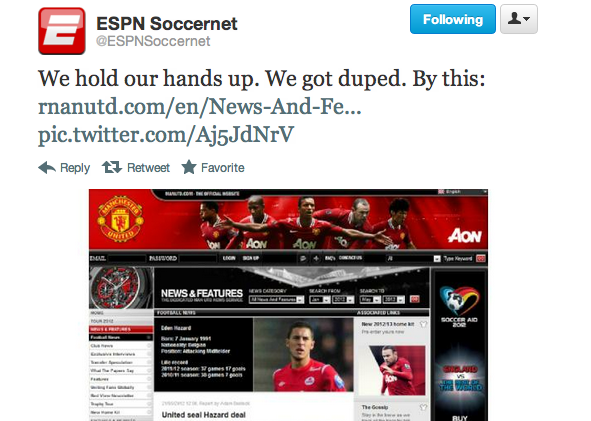 Claim has been answered by counter-claim, speculation poured on speculation. On Monday morning somebody faked Manchester United's official website and shared a news story reporting they'd signed him. Many, including ESPN Soccernet, fell for it.
If football fans didn't know Hazard on the strength of his performances for Lille, they certainly know him now.
His transfer is beginning to look like an arms race. Who knows? There may even be clubs other than Manchester City, United and Chelsea in the mix. And whoever lands him will benefit not only from his talents, but from the considerable boost to his public profile generated by his fluttering eyes in the mass media.
When LeBron made his play, we knew he'd deliver. After all, he'd already performed in the NBA against the same opponents he'd face in Miami. And he'd already performed under the weight of huge expectations.
Hazard will have a far bigger transition to make. He'll be playing in a different league, arguably against more consistently testing opponents. He'll be subject to a level of expectancy that has strangled many a young player in the past.
Is he really soccer's answer to LeBron? He's certainly reading from the LeBron playbook of transfer negotiations and how to build your own hype. But in playing terms, he won't be anywhere close until he delivers at the club he goes to next.
But if you think this Hazard business is big news, wait until Neymar makes his inevitable move away from Santos.
(Thanks to B/R's John Greely for the LeBron insight here.)
This article is
What is the duplicate article?
Why is this article offensive?
Where is this article plagiarized from?
Why is this article poorly edited?