NASCAR Sprint All-Star Race: 5 Drivers Who Could Stun the Field Tonight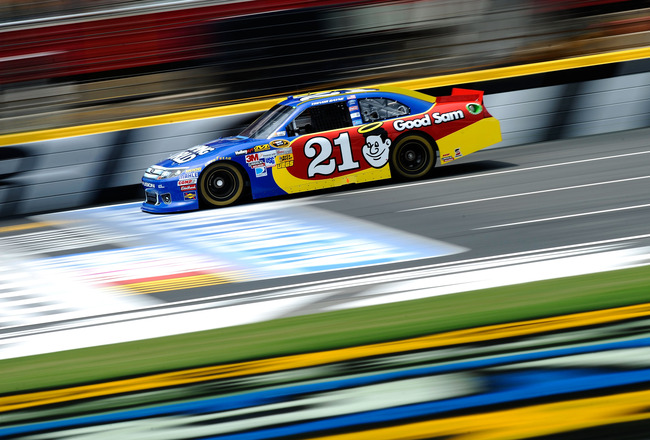 Trevor Bayne is among the dark horses for tonight's Sprint All-Star Race
Jared C. Tilton/Getty Images
The NASCAR Sprint All-Star Race is always about the big names.
From Dale Earnhardt to Jeff Gordon to Jimmie Johnson, many of the winners in this event's history are Sprint Cup champions several times over.
Other household names have also gone on to win the event, such as Carl Edwards, Dale Earnhardt Jr. and Kevin Harvick.
But while the big storylines tonight may be if guys like Edwards and Gordon can break out of early-season slumps and if Pole-sitter Kyle Busch can earn his first All-Star win after dominating in years past, a few lesser-known drivers wait in the wings for a chance to stun the field and win a million dollars.
Most of these drivers are already locked into the All-Star Race, while others will have to find a way in through either the Sprint Showdown or the fan vote.
Here are the five drivers with the best chance to pull off the upset tonight!
1. Trevor Bayne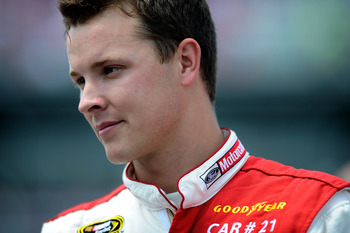 Trevor Bayne is ready to make headlines in his first All-Star Race.
Jared C. Tilton/Getty Images
The 2011 Daytona 500 winner missed out on a shot at his first All-Star Race a year ago when he was out of the car with an illness.
Tonight, he will get that chance. And it could not come at a better time for the 21-year-old.
Bayne has been out of the car for a good part of the 2012 season due to lack of funding, both on the Sprint Cup side with the Wood Brothers and on the Nationwide side with Roush Fenway Racing.
But Bayne knows the site of tonight's All-Star Race, Charlotte Motor Speedway, quite well. In his lone start at the 1.5-mile track last October, Bayne ran solidly in the top 10 all night long before running out of fuel late in the going, resulting in a 31st-place finish.
Tonight, the reins will be let loose for Bayne and his No. 21 Ford as he looks to avenge October's finish with a win in the Sprint All-Star Race.
2. Marcos Ambrose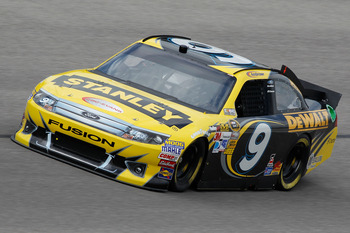 Marcos Ambrose looks to back up his top 10 at Darlington with a win in his first All-Star Race.
Todd Warshaw/Getty Images
No driver put on a better show last week at Darlington than Marcos Ambrose.
The Tasmanian Devil put together an All-Star performance seven days ago, coming from two laps down to earn his first top 10 of the season.
Tonight, Ambrose returns to the site of two of his best runs from 2011.
A year ago, Ambrose finished fifth and sixth, respectively, in the two points-paying races at Charlotte Motor Speedway and missed out on making the All-Star Race by one position.
This year, he's locked in.
Look for Ambrose to be up near the front again tonight, as he could prove to be a contender to win in his first All-Star Race.
3. Regan Smith
Regan Smith could turn some heads in his second All-Star Race.
Chris Graythen/Getty Images
When it comes to a winner-take-all showdown, one always has to keep an eye on Regan Smith.
While in just his second start, Smith may not be a veteran of the All-Star Race, the format of tonight's exhibition event fits his driving style.
Go all-out.
Smith is known for his ability to drive a car for all it's worth and drive as hard as he can all the time, as evidenced by his consistency in qualifying.
Tonight's event will practically be made up of 90 qualifying laps. And if Smith can make them all, look out.
4. Kurt Busch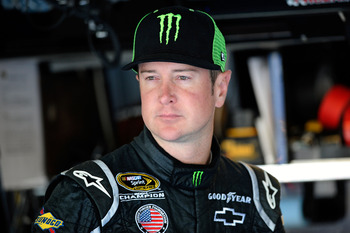 Kurt Busch could pull a repeat of 2010, when he won his first All-Star Race.
Jared C. Tilton/Getty Images
See: Smith, Regan.
Kurt Busch is another all-or-nothing driver racing with a lower-budget team, which leads us to believe he's had tonight's race marked on the calendar for quite some time.
Busch has shown tremendous speed early in races all year and has begun to string together some very solid races...until the last five laps.
The All-Star Race is quite a bit shorter than the events at Talladega and Darlington, however, which should play into Kurt's hands quite nicely.
Don't be surprised if the 2010 All-Star Race winner does it again tonight.
5. AJ Allmendinger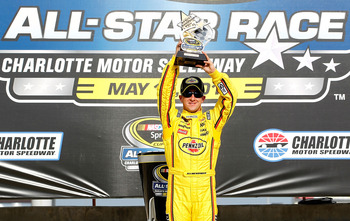 Allmendinger must race his way into the All-Star Race from the pole in the Sprint Showdown.
Jeff Zelevansky/Getty Images
AJ Allmendinger is the lone driver on this list who is not locked into tonight's Sprint All-Star Race.
With that said, he may just have the best chance to win, anyway.
Allmendinger starts from the pole in tonight's Sprint Showdown, giving him a leg up on the competition. He must finish first or second in the Sprint Showdown to make the race or receive the fan vote.
But if he can do it, and he's shown he's capable, the 2008 Showdown winner could have a say in who wins the big event.
Allmendinger is another driver who wheels the car for all it's worth. And after a rough start to the 2012 season, he needs to go out and prove he deserves his new ride at Penske Racing.
There's a good chance he can do that tonight by pulling off a Showdown-All-Star sweep.
Keep Reading