Ohio State Football: Latest NCAA Violations Say More About NCAA Than Buckeyes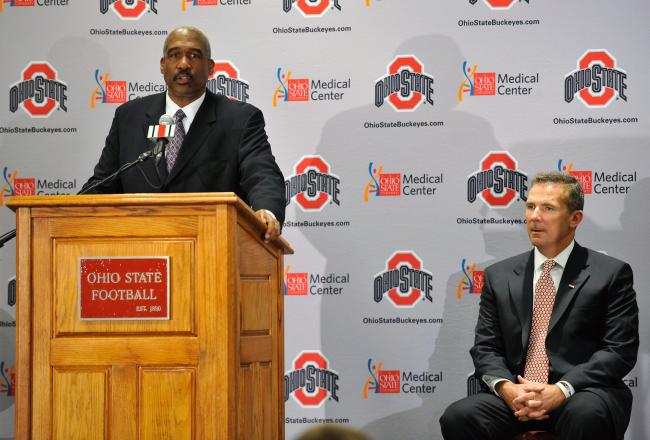 History's worst law-breaking monsters?
Jamie Sabau/Getty Images
As the Cleveland Plain-Dealer reported on Thursday, Ohio State self-reported 46 secondary violations to the NCAA over the last 11 months. That's a lot! Almost 50 secondary violations after the whole snafu that led to Jim Tressel and Terrelle Pryor getting sent out of town and the suspension of several other Buckeyes would be a problem, right?
So should we fire Urban Meyer? Should we fire Gene Smith? Should we figure out a way to fire all of Ohio State all at once?
Does Ohio State deserve any punishment for its 46 secondary violations?
Well, one look at what the actual violations, and it's clear that these infractions are so far beyond minor that the real crime here is the fact that the NCAA polices this type of interaction in the first place and that schools are forced to have compliance departments that track it:
Like first-year football coach Urban Meyer, less than three weeks after he was hired, committing a secondary violation by saying "good luck" to recruit Noah Spence at a game in December. Or athletic director Gene Smith committing a secondary violation in April by filming a video message to a football recruit.
Or even assistant coach Mike Vrabel using smokeless tobacco on the sidelines during football games last season, which was noted and reported to Ohio State by a Columbus-area health teacher and was a secondary violation of NCAA rules against using tobacco during games or practice.
First of all, hey, health teachers: STOP SNITCHING.
Second, nothing about an assistant coach responding to a "which gate do we go into" text from a player's parents, a group of football players paying for recruits' taxi fare back from the movies or accidentally sending a text instead of an email (all actual self-reported violations by OSU) strikes me as the type of thing the NCAA should have any business regulating.
I would never want to work under a framework of regulations like the NCAA's. The amount of forethought that would go into something as simple as a text message or a simple greeting in passing would make day-to-day work and life utterly unbearable.
And to what end? Is recruiting a more even game than it was 20 years ago? Is football cleaner of illegal activity than it was 20 years ago? Who's actually better off when coaches have to make sure the message they send from their phone to a recruit's phone is an email and not a text message?
Perhaps one day, we'll all be past this. It won't be soon enough.
This article is
What is the duplicate article?
Why is this article offensive?
Where is this article plagiarized from?
Why is this article poorly edited?