Chris Polk Looking to Make an Impact with Philadelphia Eagles in 2012
May 16, 2012

Eric Francis/Getty Images
The Washington Huskies had two players drafted in the 2012 NFL Draft, but an undrafted free agent will have the biggest impact in the NFL this season.
Chris Polk has an opportunity to win the back-up running back position to LeSean McCoy on the Philadelphia Eagles.
Polk put up big-time numbers during his career at Washington.
He is only the seventh running back in Pac-12 history to rush for more than 4,000 yards in his college career, and he did all that damage in basically three years.
Polk rushed for more than 1,000 yards in each of his three seasons as the starting running back and averaged at least 4.9 yards in those seasons.
In his senior season, he rushed for 1,488 yards—second most in school history—while fumbling just five times in 799 carries.
Polk has good size at 5-11, 215 pounds and ran a sub-4.5 in his 40 during his pro day.
The production, reliability and NFL size is there. Why the fall in the draft?
Analysts and NFL teams were saying Polk would be a second- or third-round draft choice, but draft day rolled around without his name being called.
Teams became concerned with a shoulder issue that doctors say is degenerative and would shorten his career reports Philly.com.
Despite having two surgeries on that shoulder Polk didn't miss a game at Washington. Now, Polk has motivation to prove teams wrong for passing him up in the draft.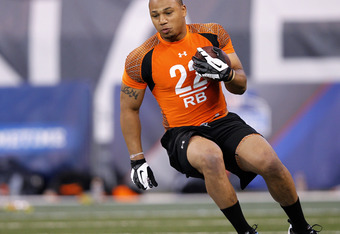 Joe Robbins/Getty Images
Undrafted running backs have found success in the NFL recently. Ryan Grant and Willie Parker made names for themselves on Super Bowl winning teams, and Arian Foster has become one of the league's best running backs as an undrafted player out of Tennessee.
I'm not projecting Polk will have that success in year 1 or ever, but there are opportunities for undrafted running backs to have success.
Polk will be behind Pro-Bowl running back McCoy. However, the rest of the depth chart features second-year players Dion Lewis and Graig Cooper and rookie Bryce Brown.
Like Polk, Cooper was an undrafted free agent while the Eagles selected Brown in the seventh round in this year's draft. However, Polk has proven to be way more productive than either Cooper or Brown.
Cooper never rushed for more than 1,000 yards while at Miami, and Brown has just three carries in his last two years.
While Brown is quicker than Polk, Polk has more power and is a better blocker and pass-catcher due to his experience in college the last few years.
Polk is also more mentally tough and determined as people have questioned Brown's mental toughness and indecisiveness.
Polk has always had good size as a running back and looked to punish tacklers.
Now Polk has extra motivation to hit the hole with a purpose. That's what the Eagles will love in Polk. He has something to prove.