Why Matt Kemp's DL Stint Will Not Derail the Dodgers' Magical Season
May 16, 2012

Stephen Dunn/Getty Images
What had been a dream season for the Los Angeles Dodgers thus far took a major blow on Monday, with news that MVP favorite Matt Kemp would be put on the disabled list because of a strained left hamstring. 
Going into Tuesday's play, the Dodgers had the best record in baseball at 24-11 and the largest first-place margin among the six division leaders. Perhaps that six-game lead over an increasingly weak-looking NL West is enough of a cushion for the Dodgers to withstand two weeks without their best player.
However, even without that cushion, the Dodgers should be able to get by without Kemp in the lineup temporarily. Obviously, they're a lesser team without him, and no club can enjoy sustained success with their best player on the DL. 
Several things have to go right for the Dodgers to continue winning games while Kemp is out. But these three factors are working in their favor and should keep Don Mattingly's club on the right path until their MVP returns. 
Pitching's Been the Key
The Dodgers have been winning on the strength of their starting pitching all season long. Chris Capuano, Ted Lilly and Clayton Kershaw are currently among the top 15 in ERA in the National League. And Chad Billingsley's 3.32 ERA certainly isn't bad either.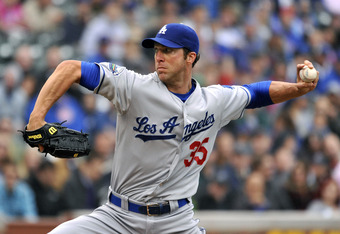 Brian Kersey/Getty Images
In their first game without Kemp on Monday night, Kershaw pitched seven shutout innings with six strikeouts, holding the Arizona Diamondbacks to four hits.
Asking for that kind of performance every night is a bit much (though maybe not from the defending NL Cy Young Award winner). But with that kind of pitching, the Dodgers can still win some games even with a Kemp-less lineup.
Look at the other games in which Kemp hadn't gotten a hit while trying to play with a sore hamstring.
Billingsley allowed two runs against the San Francisco Giants. In a three-game sweep over the Colorado Rockies, Capuano and Harang each gave up one run. Lilly gave up five (four earned) in his start, but the Dodgers were able to put 11 runs on the board to give him a win.
Teammates Are Picking It Up
No one is suggesting that Bobby Abreu is a suitable replacement for Kemp in the Dodgers' lineup. But picking him up after he was released by the Los Angeles Angels is looking like a savvy move right now. 
Since joining the Dodgers, Abreu is batting .296/.345/.444 in 29 plate appearances with four doubles and four RBI. When Kemp was taken out of Sunday's game versus the Rockies, Abreu came in and gave the Dodgers a lead with a three-run double.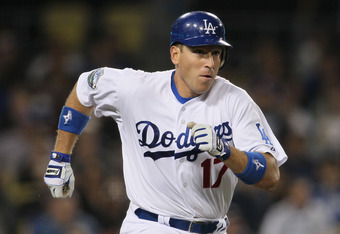 Victor Decolongon/Getty Images
But the batters who were already regulars in the lineup have picked up their game while Kemp struggled.
In the five games during which Kemp was either hitless or out with injury, Andre Ethier hit 9-for-18 with three doubles, two homers and three RBI. Catcher A.J. Ellis went 6-for-13 with a triple, home run and four RBI. James Loney hit 7-for-16. 
Can the other batters in the Dodgers' lineup keep up that kind of production? Their history says no, but if they can do so while Kemp is out, his absence won't be quite so glaring. 
Schedule is Favorable
There don't appear to be many great teams in the NL, so the Dodgers may not have run into one over the next couple of weeks anyway. But the schedule looks pretty kind to them while Kemp is out. After finishing a two-game set with the D-Backs, the Dodgers play a pair against the last-place Padres.
A weekend series versus the St. Louis Cardinals will be a test, but the defending World Series champs have lost four of their past five games and haven't played much outside the NL Central. Going out west will be a challenged for them, as well. 
Next week, the Dodgers have three more games against the skidding D-Backs, a trio versus the Houston Astros and a four-game series with a Milwaukee Brewers team that's still trying to find its footing. 
Looking ahead to June, the schedule gets tougher with a 10-game road trip that includes a four-game set with the Philadelphia Phillies. But Kemp should be back in the lineup by then. 
Follow @iancass on Twitter