San Francisco Giants: Why Brandon Belt Needs to Start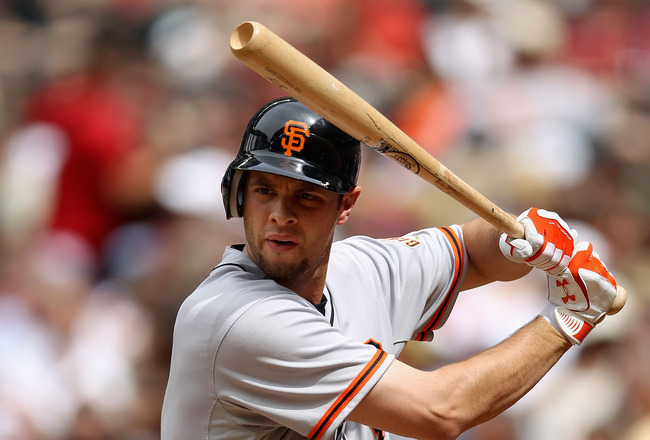 Christian Petersen/Getty Images
Due to injuries, setbacks, under-performance, and defensive ineptitude, San Francisco Giants manager Bruce Bochy has been placed in a rather unappetizing position. The Giants roster is currently lacking professional baseball talent at third base, shortstop and second base.
The preseason trio of first basemen have a combined 18 RBI, and Bochy seems to be treating right field on an inning-by-inning basis.
Nothing perplexes fans more, however, than Bochy's continued yo-yoing of top major league prospect Brandon Belt. Of the Giants' 35 games, Belt has only started 17.
The competition? None other than late bloomer Brett Pill. Pill is the right-handed half of the first base platoon, a platoon that runs according to three strictly held rules:
1) Left-handed hitters should never hit against left-handed pitchers
2) First basemen should always hit for power
3) On-base percentage and defense are less important than power hitting.
Bochy's dogmatic adherence to these rules has kept Belt out of the everyday lineup. While Belt's performance has been underwhelming, the alternatives are thin.
Though this topic has been beaten into the ground, the fact that it's still an issue is baffling. Plus, would you rather argue over the merits of starting Conor Gillaspie vs. Charlie Culberson?
Here are three reasons why Belt needs to be the guy.
He's the First Baseman of the Future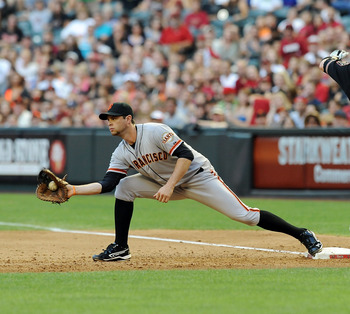 Norm Hall/Getty Images
Belt has mastered Triple A. He ripped through the PCL last season with a .975 OPS in 47 games. Pill's career minor league OPS is .771.
The Giants expect Belt to anchor first base for the next 10 years. Pill is a pleasant surprise that should provide some key late-inning hits off the bench this season. Neither has proven themselves an adequate offensive force, but Prince Fielder signed with the Tigers months ago. This is all we have.
So why not let Belt play? Despite being the Giants' top offensive prospect for almost two years now, Belt has yet to see consistent playing time at the major league level. Only once has he started more than six games consecutively, and that streak topped out at 13.
The stats are not impressive. But it's not as if he's competing with Willie McCovey. Neither Aubrey Huff nor Brett Pill has done much to earn the spot. At that point, it's time to look at who is most likely to be the Giants' first baseman long term.
Belt was, and still should be, the answer.
His Stats Are Better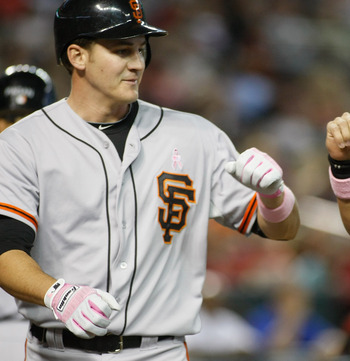 Ralph Freso/Getty Images
Neither Belt nor Pill has hit much this season. Pill has 3 HR in 51 ABs, which on the 2012 Giants makes him Babe Ruth.
The power Belt displayed in the minor leagues has yet to transfer to the bigs. His inability to make hard contact and hit inside fastballs is frustrating. However, statistically, Belt has been more productive that Pill at the plate this season.
Belt is fourth on the team in OBP at .347. Throughout his career, Belt has shown an ability to get on base, even during slumps. Currently, he fits perfectly as a No. 2 hitter in the Giants lineup behind OBP machine Gregor Blanco. Unfortunately, this runs head on with rule No. 2.
The platoon system is not supported by stats, either. Though he only manages to face lefties when Bochy isn't looking, Belt is hitting .333 against them for his career vs. .222 against righties
Pill, who made the team as a right-handed bat to face those pesky lefties in spot start and pinch-hitting situations, flails away against lefties to the tune of .234, while hitting .333 against right-handed pitching.
Bottom Line: neither of these guys deserve to start on a major league baseball team. Unfortunately, someone has to. Belt, with enough consistent playing time, should be a better run producer.
He Plays Better Defense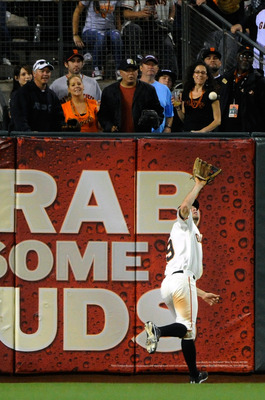 Thearon W. Henderson/Getty Images
When the season started, I never imagined I'd be worried about defense on May 16. However, the Giants defense has been atrocious so far this season. They lead the major leagues in errors and are on pace to be the worst defensive team of the last 20 years.
Brett Pill is an average first baseman. And when Belt, Posey or Huff need playing time, he becomes an awful outfielder.
Belt, on the other hand, is considered an above average first baseman, and likely a better outfielder as well. Defense is such a difficult stat to measure, especially given the small sample size, and nobody on the Giants seems to have a set position.
If Bochy gets confused during his daily line-up shake and bake, we may see Gregor Blanco at shortstop one of these days.
With how few runs the Giants score, they cannot afford to give them up in the field.
Keep Reading

San Francisco Giants: Like this team?