Lakers vs. Thunder: Game 1 Highlights, Twitter Reaction and Analysis
May 15, 2012

Brett Deering/Getty Images
The Oklahoma City Thunder looked like a team vying for an NBA title, and then some, in their 119-90 thrashing of the Los Angeles Lakers in Game 1 of the Western Conference semifinals at Chesapeake Energy Arena on Monday night.
OKC's Big 3 of Kevin Durant, Russell Westbrook and James Harden combined for 69 points amidst a spectacularly efficient performance that saw the Thunder score 98 points through the first three quarters.
The Thunder dominated in just about every way imaginable, from bench scoring (50-26) and field-goal percentage (53-43.2), to steals (13-1) and fast-break points (13-0).
And beyond.
The Lakers, for their part, looked old and tired, like a team less than 48 hours removed from an unnecessarily grueling seven-game series against the Denver Nuggets.
Kobe Bryant contributed 20 points to LA's futile cause but could do little to contend with the speed and athleticism of OKC's perimeter scorers. Pau Gasol (10 points, seven rebounds) and Ramon Sessions (two points, three assists) appeared to still be resting their legs.
Andrew Bynum (20 points, 14 rebounds) came to play, as did Metta World Peace, who scored 12 points and hit a pair of early threes in just his second game since his seven-game suspension for his elbow to James Harden's head.
But, as a whole, the Lakers could do little to stop the Thunder, who outscored LA 39-24 in the third quarter to double its halftime lead and nail down a 1-0 series lead.
Tweets of the Night
The Lakers looked like they had that 2:30 feeling all night, didn't they, Bill Bellamy?
Lakers better get a 5 hour Energy before they get ran out the Gym!!! OKC is real people!!

— BILL BELLAMY (@BILLBELLAMY) May 15, 2012
"Walt Frazier" had his own theory as to what made Kevin Durant and the Thunder so good on Monday night:
The Lakers must have all downloaded Doodle Jump before the game. Durant enragin' and beast uncagin'! #Durantula

— (Not) Walt Frazier (@NotWaltFrazier) May 15, 2012
Though, frankly, Grantland's Sebastian Pruiti put forth a much simpler and more cogent theory as to why OKC dominated LA:
LA struggled with Denver...OKC is better than Denver...OKC is a higher seed than LA.Are we surprised about this?

— SebastianPruiti (@SebastianPruiti) May 15, 2012
This guy probably agreed with all of the above (h/t @jose3030):
PIC: Super Thunder Fanyfrog.com/nwyqvtp

— 3030 (@jose3030) May 15, 2012
Must-See Highlight
It didn't take long for the Thunder to show that they were the faster, more focused and more athletic team. Kevin Durant made sure of it, welcoming Metta World Peace to OKC with this blow-by and thunderous throw-down early in the firstr:
Grades for Key Lakers Players
Kobe Bryant: B-
Kobe was helpless to keep the Lakers in the game all by himself offensively, with 20 points on 7-of-18 shooting.
He was even more helpless to slow down Russell Westbrook and James Harden defensively, as those two combined for 44 points on just 26 shots.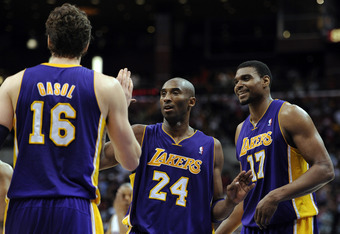 Harry How/Getty Images
No surprise, then, that he spent the entire fourth quarter watching from the end of the bench in disgust, as he finished with 32 minutes of court time on the night.
Andrew Bynum: B+
You know the Lakers are in trouble when Bynum shows up and they still get blown out of the water. The All-Star center finished with 20 points and 14 rebounds, though he didn't do a particularly good job of protecting the rim on defense.
Then again, few big men (if any) could do much to shut down the Thunder in the paint when their perimeter players were parading past Kobe, Ramon Sessions, Metta World Peace and Steve Blake with such alarming ease.
Grades for Key Thunder Players
Kevin Durant: A
The Durantula was deadly efficient against LA. The three-time reigning scoring champ poured in 25 points on 16 shots in just 28 minutes, along with eight rebounds and four assists.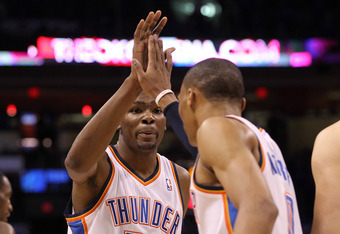 Ronald Martinez/Getty Images
And, like most of the Thunder's key players, Durant barely had to lift a finger in the fourth quarter.
Russell Westbrook: A+
Russell Westbrook couldn't have been much more efficient against his hometown team if he tried. The All-Star point guard and UCLA alum dropped 27 points on 15 shots and came within three rebounds and an assist of recording a triple-double.
Oh, and he only needed 27 minutes in which to do it. Kudos, Westy.
Deciding Factor: Ball Security
The Thunder whooped the Lakers every which way (including up), but truly separated themselves by taking care of the ball with an almost video-game-like efficiency. OKC turned the ball over just four times all night, including a 19-minute stretch between giveaways that spanned the entire second quarter and most of the third.
LA, meanwhile, gave the ball away 15 times, which the Thunder promptly converted into 21 points. 
That's not to say that the Lakers would've won with better ball security, though it's reasonable to suggest that the Thunder wouldn't have demolished them quite so easily.
Game MVP: Westbrook
Let's see Skip Bayless complain about Westbrook's role on the team after the brilliant game he played against the Lakers.
What's Next?
These two teams will be back at it for Game 2 on Wednesday at 9:30 p.m. EDT in Oklahoma City.