Oakland Athletics manager Bob Melvin now has more knowledge about his club, now later in the season, but the Manny Ramirez wild card still lurks in the distance.
Kevork Djansezian/Getty Images
May 13, 2012
About three weeks ago, I started a series of columns that will discuss what I think the Oakland Athletics' lineup should look like when Manny Ramirez makes his debut with the A's. More change occurred in those last three weeks than I expected.
Josh Reddick proved that he can continue to hit as hot as he is at the moment, and has therefore asserted himself as a 100 percent mainstay in the lineup. He's one of those guys that gets fewer off-days than most of his teammates because he's needed more than the rest of them on a day-to-day basis.
Also, Jemile Weeks has been hitting with more consistency, thus making the case to solidify himself in the No. 1 spot, which was not as solid earlier in the year during his cold streak.
On a less-positive twist, Coco Crisp has been, well, less than stellar. This is a good thing because now manager Bob Melvin has some answers to his outfield situation, but bad in that Crisp is the veteran of the team and his presence on the field could be pivotal at times (however, not as much so if he strikes out).
So, it's time for Round 2 in this series of columns. I have several lineups that I would use if I were Melvin, most of which revolve around whether he wants to put Ramirez in the field or give him a pseudo day off and make him the designated hitter. Here are several lineups with explanations to follow.
Lineup No. 1
1. Jemile Weeks, 2B
2. Cliff Pennington, SS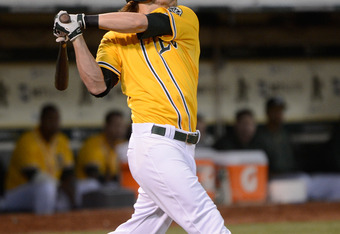 Josh Reddick's power swing is reaching can't-miss level for the A's, as long as his bat stays hot.
Thearon W. Henderson/Getty Images
3. Josh Reddick, RF
4. Manny Ramirez, DH
5. Yoenis Cespedes, CF
6. Jonny Gomes/Seth Smith, LF
7. Brandon Inge, 3B
8. Kurt Suzuki, C
9. Kila Ka'aihue, 1B
This lineup lets Ramirez be the DH, with Melvin determining the six-hole hitter and left fielder just by who is swinging the hotter bat.
I put Reddick in the three hole because he has been producing so well in it. If it isn't broken, don't fix it.
Cespedes is moved down to the five hole for one reason: The pressures of the cleanup spot are immense. He is under enough pressure being a Cuban defector in his rookie season. Let's let him get his feet underneath him in the United States before we put him in the prime time, shall we?
Ka'aihue in the nine hole may seem low, and it is, admittedly, really low. But, getting consistent hits in the bottom of the order has been a big issue for the A's this season. In this lineup, not only would the A's get better production with Inge, Suzuki and Ka'aihue at the bottom of the order, but Ka'aihue would also still get RBI chances in the nine hole with Suzuki, Inge and either Gomes or Smith hitting in front of him.
However, the idea of playing Ramirez in left field is surely enticing to Melvin and the A's fanbase. That lineup can easily be put together with few changes, therefore allowing the team to make day-to-day fielding changes that are based on team fatigue while not sacrificing that feeling of consistency. The lineup that has Ramirez at left field is as follows:
Lineup No. 2
1. Jemile Weeks, 2B
2. Cliff Pennington, SS
3. Josh Reddick, RF
4. Manny Ramirez, LF
5. Yoenis Cespedes, CF
6. Jonny Gomes/Seth Smith, DH
7. Brandon Inge, 3B
8. Kurt Suzuki, C
9. Kila Ka'aihue, 1B 
This lineup allows Melvin to make more of a game-time decision as to whether he will play Gomes or Smith, since the winner of that battle will not have to do any fielding work in pregame warm-ups. It's the small things like this that can help teams win a ballgame or two they probably would not have otherwise. Sometimes daily batting practice is the biggest indicator to a player's success or lack thereof.
I have one more lineup idea for you, one that addresses both the possibility of the need for an off-day for Ka'aihue and the event in which both Gomes and Smith are swinging hot bats. That lineup can be seen below:
Lineup No. 3
1. Jemile Weeks, 2B
2. Cliff Pennington, SS
3. Josh Reddick, RF
4. Manny Ramirez, LF/DH
5. Yoenis Cespedes, CF
6. Jonny Gomes, LF/DH
7. Brandon Inge, 3B
8. Kurt Suzuki, C
9. Seth Smith, 1B
This way, the A's can have both Smith and Gomes in the lineup while giving Ka'aihue what will likely be a very much-needed day off. Everybody wins, right?
A quick note: With all of these lineups, Eric Sogard is available for any off-days that need to happen for fatigue, as well as for the loser of the initial Smith/Gomes battle. Just a note.
One more note: It should be rather easy to spot that Coco Crisp is not in any of these lineups, nor is he mentioned as a possible reserve. That is because, to be honest, I don't really care about him anymore. He can be kept on the team as a glue guy. That's fine. Or, I hope, the A's trade him for some pitching prospects or maybe even something better. 
That's not it folks. For a continuation of some necessary lineup shifts the A's need, read my next column, "Bob Melvin Needs to Work with the Infield, and Pay Attention. Close Attention," which was released at the same time this one was.
NOTICE TO THE READER: Columns like this one work best with feedback. So please, vote in the polls, and feel encouraged to comment on the column with your thoughts. I'm the type of writer that will respond to your comments. Don't we all love a good sports debate?
Like the new article format? Send us feedback!