Bill Walton to Serve as ESPN Pac-12 College Basketball Broadcast Analyst
May 12, 2012

Get ready to "throw it down" with Bill Walton next season, Pac-12 basketball fans.
Sports by Brooks tweeted that Bill Walton will reportedly be serving as an ESPN Pac-12 college basketball game broadcast analyst for the upcoming season. If nothing else Pac-12 viewers can expect to hear some very "interesting" on-air comments from Walton.
Walton had an outstanding career as a player from a very early age through his time at UCLA and into the NBA. At UCLA Walton was a member of two NCAA championship teams, including being a part of UCLA's 88 consecutive win streak. 
Walton was a member of both Trailblazers (1977) and Celtics (1986) championship teams, and won the NBA's MVP award in 1978. Following his playing days, Walton held a long career as a basketball analyst, with a style that is, well…unique. 
While you could compile a book's worth of Walton-isms, here are 10 collected from billwalton.com and the moviemind.com.
1) Of course everyone will want to hear Walton say "throw it down":
Walton on Shawn Bradley missing a layup: "Shawn Bradley, you're 8 feet tall, throw it down big fellow."
2) If you don't think UCLA will be getting preferential treatment, you may want to reconsider after reading this Walton-ism:
Exchange between Walton and Tom Hammond:

Walton: John Stockton is one of the true marvels, not just of basketball, or in America, but in the history of Western Civilization!

Hammond: Wow, that's a pretty strong statement. I guess I don't have a good handle on world history.

Walton: Well Tom, that's because you didn't go to UCLA.
3) No longer will you be the only one complaining about the officiating, as Walton is sure to get in on the action:
"Come on, that was no foul! It may be a violation of all the basic rules of human decency, but it's not a foul."
4) Need more proof of Walton going after the officials, how about this beauty:
"The art of tossing up the jump ball has really declined. These officials need to spend more time practicing in off-season."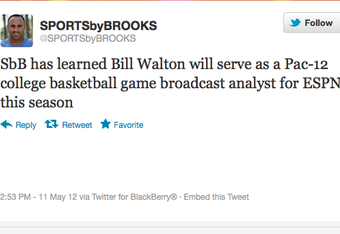 5) In case any players feel like they don't get enough attention for all the hard work they put in at the gym, they should be comforted to know that Walton is very appreciative of those efforts:
"He's (Kevin Garnett) been working out in the off-season, on that incredible computer generated body he has."
6) If you're wondering if Walton even knows what he is saying half the time, you're not the only one:
Exchange between Walton and Snapper Jones:

Walton: "That's a terrible defensive effort by Robert Horry. He didn't even make it difficult for Rasheed Wallace to score."

Jones: "Well, what do you expect? Earlier you said that Wallace could be one of the best players in the game, and now you want Robert Horry to guard him one-on-one?"

Walton: "No, I said that Rasheed could be the best player in the game"
7) If basketball doesn't seem to be in the future of any Pac-12 players, you can bet Walton will suggest an alternative career option:
"He (Greg Oden) should move to Hawaii, lose a ton of weight and start all over…become a yoga master."
8) Walton's words are like poetry, and he puts that extra special effort in to really provide a good visual for his viewers:
"Flawless…like Yosemite Falls coming right through the rim." (on Ray Allen's shooting form)
9) Alright, one more officiate quote just for good measure:
"The continual deterioration of officiating in the NBA is…one of the great American tragedies."
10) Why hire Walton for the job? How about we just let Walton answer that himself with one of his Walton-isms:
"I'm mainstream. Always have been."
Do you have a favorite Walton-ism? Leave it in the comments.