Pittsburgh Reportedly Suing Big East To Avoid Conference Limbo
May 12, 2012

Jared Wickerham/Getty Images
The University of Pittsburgh announced last September that it was leaving the Big East Conference for the ACC. On Friday, it filed a lawsuit to try and make that happen much quicker.
Due to the Big East's 27-month requirement notice, the Panthers (along with Syracuse) would not be allowed to join the ACC until 2014. But with the lawsuit, Pitt is demanding the Big East allow it to join the ACC on July 1, 2013.
Pittsburgh released the following statement concerning its lawsuit against the Big East (via CBS Sports):
Since the University of Pittsburgh made the decision to join the Atlantic Coast Conference, we have done everything possible to move through a smooth transition with the Big East. Though we have been excluded from governance activities, meetings, decision-making and operational functions of the conference, we have been positive and respectful of the Big East.
The Panthers could be able to make the move for the 2013 season, as the Big East is currently scheduled to have 12 active football playing schools for the 2012-13 season—the Panthers and Syracuse not included—but they felt the need to file suit to hopefully speed up the process.
Within the past six months, both TCU and West Virginia were allowed to exit the Big East without waiting out the 27-month waiting period or without facing penalty from the conference.
In the complaint (via the Pittsburgh Post-Gazette), Pitt asked for a jury trial to rule on its requests, which include allowing Pitt to withdraw from the Big East Conference at the end of the 2012-2013 conference year.
In addition, the school seeks sharing revenue received by the conference during the 2011-2012 conference year, which basically amounts to money lost from securing home games against both TCU and WVU that had to be replaced with lesser opponents.
Pitt claims that the decision of the Big East to force it to remain in the conference until 2014 has cost the school revenue in lost ticket sales, buyout fees and the game fees for two valuable home football games against WVU and TCU, thus leaving Pitt scrambling to find replacements at additional cost.
After allowing WVU out early, the conference set a precedent, and the Panthers are attempting to capitalize off that.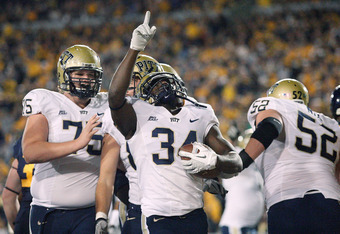 Jared Wickerham/Getty Images
It may be just a plot to get back to the negotiating table, but Pitt is serious about the move to the ACC and would like to get things done sooner rather than later. Both sides realize that forcing Pitt and Syracuse to remain in the conference until 2014 does neither party a bit of good.
So, instead of being a school without a conference for a season, pursuing legal action was really the only move Pitt could make.