Boise State Opting out of Big East Is Right Move for Broncos
May 11, 2012

Ethan Miller/Getty Images
In the short term, Boise State opting out of its agreement to transfer to the Big East would be costly. The program would face a multi-million dollar buyout.
But in the long term, bailing on the Big East could prove to be well worth the risk, and that may be why the program is having second thoughts, per CBSSports.com.
It's actually a risk for the Broncos to move to the Big East. There is all kinds of uncertainty surrounding the conference right now. Remember, the conference doesn't have automatic-qualifier status moving forward, so things are only going to get tougher.
Beyond that, Boise State deserves big TV money. What Chris Petersen has done with the Broncos throughout the years has been remarkable. The Broncos hold a 73-6 record in his six seasons with the team. Boise State deserves more than a potentially unstable conference.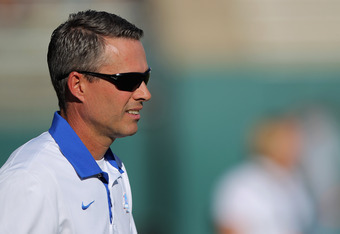 Doug Pensinger/Getty Images
In the Mountain West Conference, the Broncos not only stand to make more money in the long run, they stand to continue their winning ways. If TCU leaves for the Big East, there isn't another superpower beyond Boise State in the MWC. Translation: Undefeated record, here we come!
It's always important to look at the big picture as a conference. If the Broncos leave for the Big East, they will instantly receive much more money than any other conference (including the MWC) could offer them at the moment. But...if the Big East is unstable, how long will that last? The MWC has more to offer down the line.
If the Broncos opt out before July 1, 2013, they are faced with a $5 million buyout. They face a $10 million buyout if they bail after that.
But the risk could be well worth the reward, and if it worked out, Boise State would look like geniuses.
Follow me on Twitter. We can talk about college football together.