Princeton Football 2012: National Championship No. 29 Is Not on the Horizon
May 11, 2012

Matthew Stockman/Getty Images
The Princeton Tigers have fallen on hard times. The University that has won 28 National Championships, (the most in college football, with the most recent one in 1950) suffered through a terrible year on and off the field in 2011, and supporters expect that there is no place to go but up.
Former Cincinnati Bengals' assistant Bob Surace returns this season as Head Coach of the Tigers, and will rely heavily on defensive coordinator Jared Backus and offensive coordinator James Perry to guide a youthful Princeton squad in 2012. Surace will look to improve upon the woeful 1-9 record last season, which landed them dead last in the Ivy League.
But alumni and fans of the Tigers are hopeful that their fortunes will soon be improving. On defense, Second Team All-Ivy League defensive lineman Mike Catapano is returning for his senior year along with junior line mate Caraun Reid to anchor the Princeton line. Last year, the two players combined for thirteen sacks.
Catapano will serve as the team's co-captain along with junior linebacker Andrew Starks, who had 80 tackles last season for the Tigers. The captains will have their work cut out for them as they attempt to turn around a defense that gave up an average of 32.5 points per game last season.
If the Tigers are to really make strides this season, they will have to find a way to pump life into an anemic offense that averaged just 17.4 points per game last year.
This year, Ben Martin joins Surace's staff as running backs coach, replacing Andrew Aurich, who joined Greg Schiano's newly assembled group with the Tampa Bay Buccaneers. Highly questionable is the return of sophomore running back Chuck Dibilio, who had nearly 1,100 yards rushing last year and was undoubtedly a highlight in an otherwise forgettable season. Dibilio, the 2011 Ivy League Football Rookie of the Year suffered a stroke in January, but has shown good signs of recovery.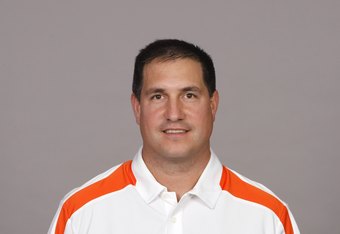 NFL Photos/Getty Images
"Everything's going pretty well," Dibilio said of his rehabilitation. "I'm pretty happy about my progress so far."
The real question for the Tigers' offense is at quarterback, where sophomores Quinn Epperly and Connor Michelsen will vie for the starting job. Both quarterbacks saw limited action last season as backups behind starter Tommy Wornham.
The Tigers open their season on September 15 at Lehigh and face Columbia (the only team they beat last season) on September 29.
Championship No. 29 may not be in the foreseeable future, but Surace is optimistic about the upcoming season. "There's a lot of young guys out there," Surace said of his young team. "We cannot make as many mistakes. For us to compete against a top five team like Lehigh or the rest of our schedule after that game, it's a pretty demanding schedule, we can't beat ourselves."