Preakness Stakes 2012: Potential Payouts for Saturday's Winners
May 16, 2012

Rob Carr/Getty Images
The second leg of the Triple Crown will happen on May 19, and bettors are trying to decide which horses will give them the best payouts. All eyes will be on Kentucky Derby winner I'll Have Another, but there are other horses that you need to keep an eye on as well heading into this weekend.
Went the Day Well
Went the Day Well had a great run at the Kentucky Derby, finishing fourth after rallying from 17th past the halfway point. A slow start by this horse could have derailed a Kentucky Derby win for jockey John Velaquez. If he can get a better start out of the gate, look for Went the Day Well to have a great run to finish and be a challenger for the win.
Bet on Went the Day Well to win now, and don't wait for the odds to get lower. He will be a big contender this weekend and has a shot to bring huge payouts to many bettors.
Creative Cause
The shorter the race, the better the result for Creative Cause. He finished fifth in the Kentucky Derby—which was the first time he finished outside the top three in his racing career—and should be a contender heading into the Preakness.
The Preakness is the shortest of the three Triple Crown races at 9.5 furlongs, compared to 10 furlongs for the Kentucky Derby, which makes Creative Cause a contender. On the final turn of the Derby, Creative Cause was in the mix in third place, but he fell late at the end.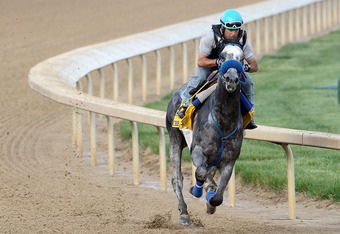 Matthew Stockman/Getty Images
At 8-1 odds so far, Creative Cause is another great bet for anyone who will be a high roller for this race.
Bodemeister
There is a good chance Bodemeister will take the Preakness.
Bodemeister showed us at the Kentucky Derby that he has the speed to win this race. The fast pace that he set was a clear indication that he will be a threat come Preakness time. Bodemeister should be setting the pace again and will be a hard horse to catch.
The one horse that can catch Bodemeister is probably Dullahan, and Dullahan was pulled out of the race in hopes that it will improve the three-year-old's chances of winning. After finishing third at the derby, Dullahan would have been a favorite among bettors at the Preakness, but now it looks like it's Bodemeister's race to lose.
The Preakness should be an exciting race this weekend, and I hope all of your bets win. Good luck!
Note: This article was revised to reflect the fact that Dullahan will not be participating in the Preakness.