Chicago Blackhawks: Did They Fire the Wrong Coach?
May 9, 2012

Jonathan Daniel/Getty Images
On Tuesday the Chicago Blackhawks announced they have fired assistant coach Mike Haviland. This means that both assistants from the 2010 Stanley Cup team are no longer with the team.
Head coach Joel Quenneville had this to say about the move:
I know I can be better in certain areas, and at the same time I had an assessment that there was some dysfunction to our coaching staff and we needed some change. He gave me the opportunity for the first time since I've been here to look if I needed changes to our coaching staff. I felt a change was necessary going forward, and it's not an easy decision.
So why did Haviland get fired and not assistant Mike Kitchen?
Kitch is getting blamed for our power play this year, but here are the facts: last year, our power play was fourth in the league, our penalty kill was 25th; Kitch had the power play. This year, I wanted to make changes going into the season; Havi was going to have the power play, and Kitch had the penalty kill.

We made the change and after 15 games our power play was 30th in the league, so we went back and Kitch got the power play back, Havi got the penalty kill. All of the sudden, it was like our entire team's problem was Kitch, and it's not about him. It's about us making our power play better collectively. This isn't about blaming Havi either; this is just the way it is, and part of that is part of the decision.
How is this not about blaming Haviland? Why not fire both or keep both if this isn't about blame?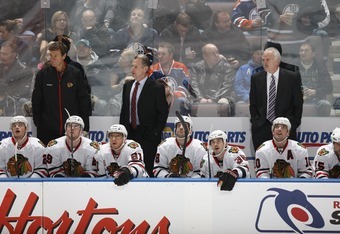 Dale MacMillan/Getty Images
The power play this season finished 26th and the penalty kill finished 27th.
Maybe it has something to do with Quenneville's past relationship with Kitchen who was on his staff in St. Louis. Kitchen was brought in to replace John Torchetti after the 2010 season.
According to many beat reporters, everyone tried their hands at everything this season because of the struggles.
This stinks of a friend trying to protect another friend. The question is, was this best for the team?
It's hard to say yes. It seems like this is a move to remove a possible Stan Bowman guy and replace him with another Quenneville guy.
Quenneville actually did address the idea of a disconnect on the coaching staff.
A couple of days after the end of the season, [Vice President/General Manager] Stan Bowman visited with me and we talked about a lot of things regarding the season and our team. One of the things we talked about was our coaching staff. I think he looked at it like there was some dysfunction to it.
I wonder if Bowman was talking about Kitchen and hoping that he would get the ax?
Whoever does come in to replace Haviland, it will be Quenneville's choice. This also brings an end to any speculation that Quenneville would leave the Hawks for the Canadians job.
So what do you think Hawks fans, did they fire the wrong guy? Sound off below.
Make sure to follow me on Twitter @dachicagofan and check out my weekly Hawks' podcast every Friday on my site The MG Experience.