Roy Halladay Arm Issues: Is Something Wrong with the Phillies Ace?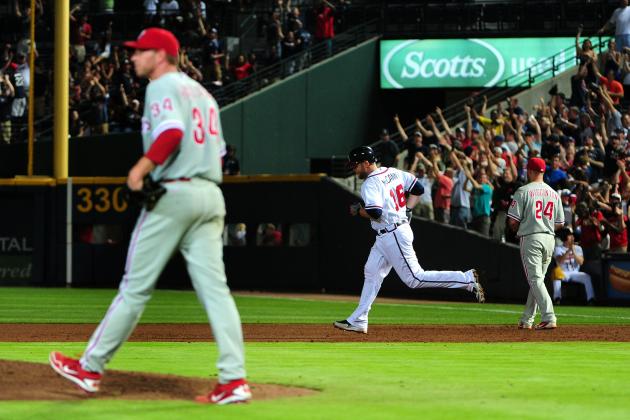 Scott Cunningham/Getty Images

Roy Halladay is a cyborg. That's according to San Francisco Giants closer (and a man guilty of letting go of his 15 minutes of fame) Brian Wilson. Of anything that Wilson's said, it's one of his most accurate statements. Doc is like the Energizer bunny—he just keeps on going.
However, his start to the 2012 season has been a bit worrisome for some fans. During spring training, FOX Sports' Ken Rosenthal reported that Halladay's velocity had significantly decreased compared to prior years. Not only did Halladay hear about it, he fired back, calling it "poor reporting at the extreme end of poor reporting." Go figure.
A week ago, though, ESPN's Buster Olney tweeted about Halladay's average fastball velocity from 2009 to the present, noting how it's declined year after year. In addition, he also mentioned Halladay's swing-and-miss percentage, which has also rapidly gone downhill over the same span. Here's the tweet if you'd like to see it:
Roy Halladay avg. fastball velocity, from 2009-12: 91.7, 92.1, 91.6, 89.9. Missed swing pct. from 2009-2012: 15.7, 10.8, 11.4, 4.8.

— Buster Olney (@Buster_ESPN) May 2, 2012
Does this call for concern? Possibly. And that's exactly what we'll try to determine.
After examining all the potential factors, we'll make a decision: is there really something wrong with Roy Halladay's arm?
Read on.
Begin Slideshow

»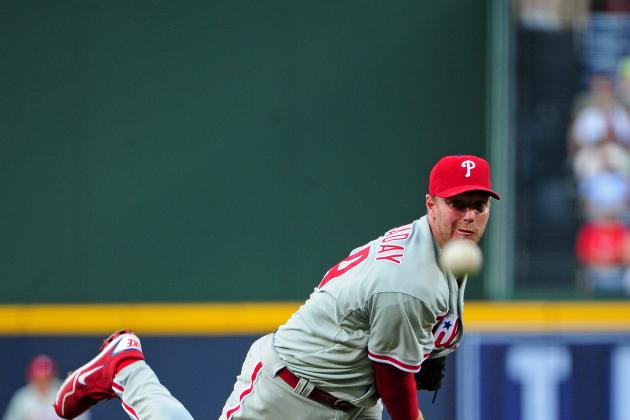 Scott Cunningham/Getty Images

Doc seemed like he was off to another Cy Young-caliber year when he started on Opening Day against the Pittsburgh Pirates in the Steel City. Halladay threw dominant, shutout ball over eight innings and very well could have pitched the ninth, but the smart move here was to give him rest and not to have him throw too many pitches.
Starts No. 2 and 3 of the season for Halladay were much of the same in terms of dominance, with Halladay surrendering a total of just three runs over those two starts en route to two wins and a 3-0 start to the year with a 1.17 ERA. At this point Doc looked just stellar. But afterward Doc, along with a combination of the bullpen and the offense, would struggle in each of his next four starts.
Halladay pitched great efforts against the San Diego Padres and Chicago Cubs, his fourth and fifth starts this year. Was he as masterful as his prior three starts? No, but he was sufficient: he pitched 7.0 innings and surrendered two and three runs respectively, with five Ks in each.
Due to lack of offense in addition to further deficits caused by the bullpen, the Phillies lost 5-1 in each of those games.
Then came Atlanta's start last week. After cruising through the first four innings, Doc had a 6-0 lead to work with in the fifth inning. However, a combination of problems that ended with a Brian McCann grand slam caused the Braves to tie it up at six runs apiece by inning's end. Halladay would pitch one more inning and allow two more runs before being pulled. It was his worst start as a Phillies pitcher: eight earned runs on 12 hits in just 5.1 IP, and his season ERA skyrocketed from 1.95 to 3.40.
Although Halladay was a little more consistent on Monday, pitching 7.0 innings and giving up just two runs, Jonathan Papelbon spoiled his effort in the ninth inning by giving up a three-run, pinch-hit home run to rookie Jordany Valdespin, his first home run and hit of his career.
Halladay's ERA now sits at 3.28, which isn't bad at all compared to some other major league pitchers, but when you're talking about Roy Halladay, it's subpar.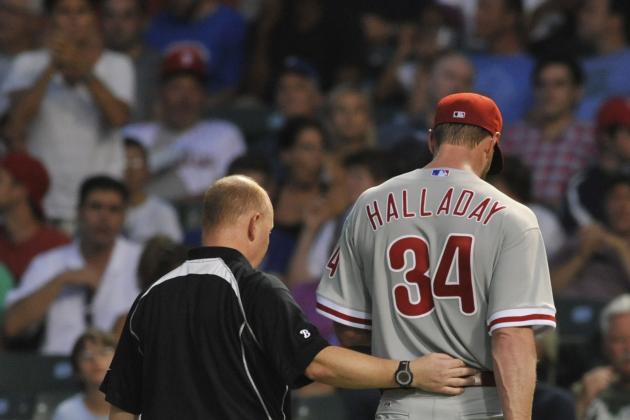 David Banks/Getty Images

See that picture? That's Phillies trainer Scott Sheridan escorting Roy Halladay off the field following what was deemed heat exhaustion on July 18 of last year when he started against the Chicago Cubs at Wrigley Field.
At the time, it was the worst Phillies fans had ever seen Halladay, who lasted just 5.2 innings and surrendered three runs on seven hits. It definitely wasn't his worst outing by performance standards, but seeing him doubled over on the field, struggling to breathe in the humid 91-degree weather was painful to watch.
On the contrary, the 2012 season has been the opposite for Halladay in terms of temperature. We know Halladay isn't good in extremely hot weather, as was evidenced by that Chicago start last year. So when he went out against the Braves last week in cloudy, 87-degree weather, it was disconcerting at the outset. As the night progressed, there was good reason to think so. That, and Halladay likely had something on his mind—he left the team for a day or two after that start to attend to a family matter.
Halladay's first five 2012 starts averaged at around 55 degrees. As a result, one could assume Halladay's arm wasn't loosening up like it should due to the relatively cold baseball weather, or that it was just tightening up as the night progressed (for the same reason). His most recent start this past Monday against the Mets was at 61 degrees, and while he didn't pitch like the Roy Halladay we know and love, it was still a fine performance. If you take a look at the chart below (thanks to the Crashburn Alley article hyperlinked above), you'll see that Halladay's velocity has increased throughout the season:
The gaps between speeds just show the offspeed pitched Halladay throws. But take a look at his most recent stars, they are pretty high up on that graph. And remember that Buster Olney tweet on the front slide? Forget about it. Here's one from yesterday:
Roy Halladay average fastball Velocity, start by start: April 21: 90.2 mph. April 27: 90.2. May 2nd: 91.1. Last night: 91.4.

— Buster Olney (@Buster_ESPN) May 8, 2012
What does Olney tell you? Halladay's fastball velocity has increased by the start, and it has shown that it's possibly still working its way up.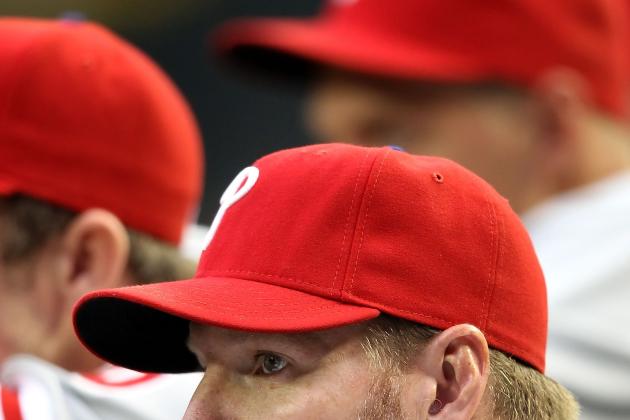 Christian Petersen/Getty Images

I'm going to play devil's advocate on this slide and pretend that Roy Hallday's arm is in deep trouble. Why? Let's figure it out.
Since 2001, Halladay has pitched an average of over 200 innings a season, coming out to around 209 IP each year. Additionally, his average ERA+, a stat that measures ERA in comparison to the rest of the league (average is 100) has been 148 over the same span. Halladay's had seven seasons throughout his career where he's pitched 200+ innings and has had an ERA+ of 140 or greater. Only five other pitchers in history can say the same: Roger Clemens, Lefty Grove, Walter Johnson, Greg Maddux, and Christy Mathewson (thanks once again Crashburn Alley). That's extremely impressive company Halladay's in. But could it also have led to arm troubles now for Doc from wear and tear?
Halladay himself wouldn't be surprised to see his velocity diminish as the years go by. While he "doesn't pay attention to that," he did have this to say:
"When I came up, I threw 98. Last year, I was throwing 92-93. So, you know, it's not unusual. But when you get older, it takes longer. The more innings you throw, the more time it takes to get yourself going again."
Since 2008, Halladay has thrown 1,018 innings; his ERA+ throughout that time is 157. His strikeout rates have never been higher, his 1.07 WHIP is well below his 1.17 career number and his 2.62 ERA is considerably less than his accumulated 3.23 ERA.
Halladay has been a machine over the last three to four years. Consequently, though, could damage have been done on his arm? Has he pitched more than he should have? Has Charlie Manuel handled him well as a Phillie? Those are topics up for debate, but the possibility that Halladay's velocity issues this year come as a result of wear and tear from years past isn't a thought anybody wants to have.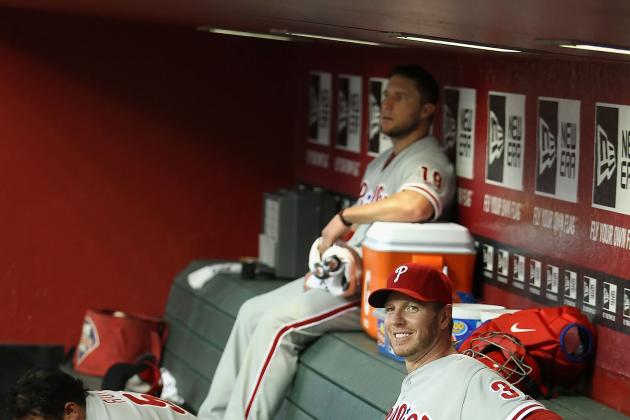 Christian Petersen/Getty Images

The doctor's ready to see you now, Roy. Oh, wait...
Sorry, maybe the Doc joke wasn't funny. But here's what we've got: Halladay has pitched with finesse over the years, and one could go as far to say that he's been the absolute best starting pitcher in baseball over the last five to 10 years (I will).
However, every rose has its thorn (and trust me, I can't stand that song—but that line works here). Has Halladay reached a turning point in his career? Is there something wrong with Doc's arm?
We looked at his starts this year. When he pitched slower, he was more effective. As his velocity increased, his command (as well as both run support and backup from the bullpen) decreased, save run support in the Atlanta game. Is this the result of a bad arm, or just misfortune? I'll go with the latter, since we know that Halladay has gotten better with age, and I don't see that trend changing anytime soon.
Sure, Buster Olney's swing-and-miss stat I mentioned on the opening slide is very concerning. 4.8 percent is not what you want for a swing-and-miss percentage of your strikes, and even though that may have slightly increased in favor of Halladay after his Monday start, that's not a stat that drastically changes after one appearance like ERA can.
With Halladay's strikeout numbers down for the first time since he's joined the NL, is this just because of a new approach or an injury? I don't see it as injury, but I don't see it as approach, either. Halladay is throwing a cutter more often now than earlier in his career. But I think that's just been luck of the draw, though if it persists throughout the rest of the season, I'll hold my tongue on the subject.
Doc may have had some wear on his arm, but he has such a great work ethic and hasn't been on the DL for an arm-related injury since 2004. When you've got a pitcher who can say that, rarely is it chance. It's because the pitcher works hard and continues to do his job the same as he's done it for the last 10 years. He strives to be the best and settles for nothing less. When there's a change that needs to be made, whether during a game or outside of it, he makes adjustments and finishes what he started.
Injury, shminjury. That pitcher is Roy Halladay and he's not hurt. He's fine, and he'll continue to pitch just as well as he has in the past this season. Maybe 2012 won't be Cy Young-caliber. But it should suffice enough that his ERA is under 3.00 and his innings count is above 200, not to mention a handful of complete games in there.
Is there potential reason to worry? Sure. But is there reason to panic? Not in the slightest.