Philadelphia Phillies: Did Cole Hamels Just Ignite a New Rivalry with Nationals?
May 9, 2012

Greg Fiume/Getty Images
It was surprising to hear Cole Hamels admit to hitting the Washington Nationals' up-and-coming star Bryce Harper intentionally on Sunday night. 
Hamels received a five-game suspension and an undisclosed fine. The punishment really doesn't mean much. The Phillies confirmed Hamels will only miss one start and it will be pushed back to Sunday against the Padres. 
Given the National League East standings and other past events, trouble could be on the horizon when these two teams meet again. 
For Phillies fans, the Nationals have left a bad taste in the Phillies' mouths that had not previously been there. When the Montreal Expos moved to D.C., Phillies fans welcomed the idea. A two-hour drive down I-95 meant they could see their team play more games in person. It gave Phillies fans a great excuse to visit the nation's capital. 
For a period of time, Nationals Park was coined Citizens Bank Park South (CBP South for short) by Phillies fans. The Nationals were not a contender, while the Phillies were in pursuit of another World Series title. Attendance still isn't where the Nationals brass would like it to be. Once the Nationals have a little success, more people will start going to games. A large population of longtime Baltimore Orioles fans in the area have contributed to the low attendance at Nationals games as well.
The first inkling of a rivalry was when Jayson Werth signed a seven-year $126 million contract with the Nationals after the 2010 season. Werth said he believed in the Nationals future and that it had a lot to do with him signing there. That future included Stephen Strasburg and Harper. 
The new "Natitude" at Nationals Park appears to be gaining momentum following last Sunday night's nationally televised game on ESPN.  Part of the "Natitude" campaign was to not sell tickets to Phillies fans until the day of the game if there were any tickets remaining. By the looks of things, it looked like that wasn't a problem for Phillies fans.  
A second player on the 2008 World Series winning team has taken the train south to play for the Nationals. Brad Lidge signed a one-year deal with the Nationals in January. It seems like just a small point right now. Lidge has continued to battle injuries that have plagued him to near minimal success since the 2008 season. He had surgery Tuesday morning and is scheduled to begin throwing again in three weeks.  
Now the Hamels incident has opened the public's eye to a rivalry that only had a seed planted but hadn't shown any promise of becoming a bitter rivalry. 
It even got the Nationals' GM Mike Rizzo in a little bit of trouble with his comments. Rizzo was fined an undisclosed amount for basically calling Hamels a "fake." Maybe that will add to the tension building between the two teams.
Oddly enough, Hamels could have been a possible target for the Nationals to bolster their lineup this winter. Right now, if Rizzo had the option to sign Hamels to a long-term deal in free agency, he probably wouldn't. Whether or not the benches clear, Hamels could still wind up in Washington. Rizzo could see this as another opportunity to stick it to the Phillies and their fans. It will all depend on how Rizzo feels months from now.
According to Philly.com, Hamels didn't want to go any further in the saga when given a chance to do so Tuesday when he talked to the media.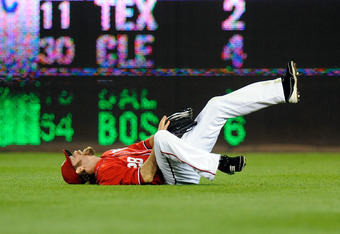 Greg Fiume/Getty Images
"I'm just going to let it go," he said.
The Nationals or Harper may not be willing to let it go. 
Now Jayson Werth has expressed some hatred for some of the fans who once loved him in an email to the Washington Post. What Werth just doesn't realize is that he has kind of done the same thing as a bride leaving the groom at the altar. 
There is a chance for the benches to be clearing the next time these teams meet. The best part about that is it won't be a long wait. The Nationals and Phillies will meet again at Citizens Bank Park in about two weeks.
The whole incident does raise an interesting question. Could it be possible that Philadelphia fans will look at Bryce Harper similarly to the way they look at Sidney Crosby?
Follow me on Twitter: @Rob_Gsinger25