SEC Football: Breaking Down the Sporting News' SEC Coach Rankings
May 8, 2012

Kevin C. Cox/Getty Images
Matt Hayes and the good folks at the Sporting News are in the mood to rank coaches, and the SEC's list came out Tuesday afternoon.
Not surprisingly, Alabama head coach Nick Saban tops Hayes' list as the No. 1 head coach in the SEC. You'll get no argument from anyone with knowledge of the conference for putting Saban there. But what about some of the other coaches?
Here are a few things about the rankings that jumped out to me.
Who's Way Too High?
Vanderbilt head coach James Franklin at No. 5:
I know, I know. Six wins at Vanderbilt is mighty impressive, and Hayes correctly points out that Vanderbilt could have won up to four more had they caught a couple of breaks. But they didn't. Franklin brought a solid attitude to Nashville and is recruiting like there's no tomorrow, but let's hold off on anointing him as the next big thing until we see if his success is sustainable.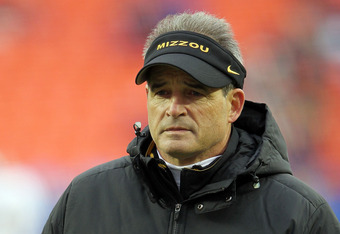 Jamie Squire/Getty Images
Missouri head coach Gary Pinkel at No. 6:
Pinkel's success at Missouri can't be denied, but that was in the Big 12. This may, in fact, be the appropriate place for Pinkel, but since he's never coached a game as an SEC head coach, let's err on the side of caution until after this season.
Who's Way Too Low?
Auburn head coach Gene Chizik at No. 7:
Hayes correctly points out that, aside from the national championship season of 2010, Chizik's career at Auburn has been remarkably average. But he incorrectly attributes that success in 2010 to one man—quarterback Cam Newton. Newton was amazing, don't get me wrong, but Auburn's 2010 season was also successful because of a veteran offensive line and a defensive line that went about eight deep. Two of the primary responsibilities of a head coach are to recruit well and hire a great staff, and Chizik has done both.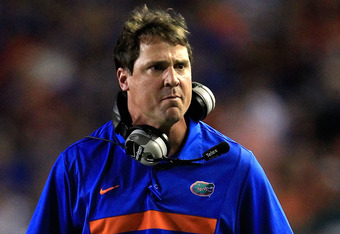 Sam Greenwood/Getty Images
Florida head coach Will Muschamp at No. 10:
Behind Texas A&M head coach Kevin Sumlin? Come on. Muschamp wasn't great in his inaugural season in Gainesville, but he has recruited well and needs time to be successful. Switching from the spread back to the pro-style offense is like fitting a square peg into a round hole, and that's what bit the Gators last year.
Tennessee head coach Derek Dooley at No. 14:
I know he's on the hot seat, is running assistants off left and right and lost to Kentucky for the first time in a quarter century, but can you honestly say that he's a worse coach than Hugh Freeze at Ole Miss? I can't. People seem to forget that injuries to wide receiver Justin Hunter and quarterback Tyler Bray derailed Tennessee's season last year. It's hard to recover from losing two studs like that. 
The SEC Blog will come out with its SEC coach rankings later this summer.