Oklahoma Sooners Recruiting: Filling Defensive Needs Early for 2013
May 8, 2012

Rarely are the needs of a recruiting class as clear as they are for the Oklahoma Sooners for 2013.
The Sooners need defense, and they need it bad—especially after an offense-rich 2012 haul that consisted of only eight defenders out of 26 total recruits.
Oklahoma will have larger-than-usual turnover in the defense after this season, losing nine players out of the heavy rotation, as well as a few key backups, due to graduation. This is not including juniors Tony Jefferson and Aaron Colvin who, with big years, could easily make their way to the NFL a year early.
Let me put it this way: There is a good chance the Sooners will lose the entire five-man starting rotation on the defensive line as well as the entire starting secondary.
All in one year.
You can imagine my surprise then, when two of Sooners' earliest commitments came from the No. 2- and No. 3-ranked running backs in the nation (Greg Bryant, Kieth Ford)—adding yet more talent to an already deep position.
After severe weather kept several top recruits from visiting campus for the Spring Game, things were getting off to a rocky start for the revamped OU coaching staff.
Since then, however, defensive coordinator and defensive backs coach Mike Stoops, linebackers coach Tim Kish and defensive line coaches Bobby Jack Wright and Jackie Shipp have been very busy.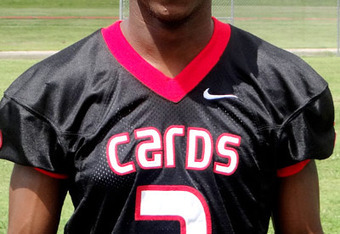 Most importantly, they are producing results.
Stoops has been vocal about his needs in the secondary, saying recently that the program needs to sign five quality players for the unit. He has made positive strides early, convincing in-state 4-star cornerback Stanvon Taylor to come on board, while also securing the services of former Arizona defensive back Cortez Johnson.
Johnson was a recruit of Stoops' last year and decided to follow the former Arizona head coach to Norman. "I just wanted to get back with Coach Stoops and be closer to home," Johnson said. "Oklahoma – it just felt right. Everything went great and fell right in place." At 6'2", 196 pounds, Johnson is the typical Stoops defensive back with good size and versatility.
Despite the early grabs, Stoops definitely has work left to do for his group. Last week, I wrote about three California teammates that Stoops is pursuing—two corners and one safety— that would fill out the class perfectly. The Sooners have offers out to almost 20 defensive backs.
Matt Dimon (No. 17 DE) was a good early get for Wright, but the big fish was top-ranked in-state prospect, D.J. Ward (No. 8 DE) out of Lawton.
Snagging Ward makes it two years in a row that OU has signed the state's top-ranked player. After signing three defensive ends last year, including a JUCO transfer, the Sooners are likely done at that side of the ball.
Defensive tackle isn't a huge need in this class, but one good recruit wouldn't hurt.
Kish has his hands full at linebacker and needs to bring in both quality and quantity in the 2013 class. The only 'backers to have ever seen playing time are seniors Joe Ibiloye and Jaydan Bird and juniors Tom Wort and Corey Nelson. Michigan transfer Kellen Jones was the most promising of the younger guys, but his recent transfer to Clemson leaves the unit hurting for depth.
Couple all of this with the fact that OU did not sign a linebacker last year (Eric Striker will play safety) and things become even more dire.
There are currently 18 outstanding offers to linebackers for 2013, but eight have already verbally committed elsewhere. If Kish wants to avoid the crippling wrath of local fans and media early in his Sooners career, he must prove himself during this class and bring in at least two high-quality players.
The Sooners will have one of the best defenses in the conference next season—on paper.
Still, the coaches still have a lot of work to do if they wish to continue head coach Bob Stoops' impressive run of talented defenses during his tenure in Norman.