Octavio Dotel: Detroit Tigers Reliever Takes Home AL Worst of the Night Award
May 8, 2012

Detroit Tigers manager Jim Leyland concocted a plan to give closer Jose Valverde the night off on Monday, and for good reason. Valverde had pitched three days in a row, and he probably wasn't going to be needed against a weak-hitting Seattle Mariners lineup.
Alas, the Tigers could only score two runs to support an excellent performance from Doug Fister, and they found themselves in need of a closer going into the bottom of the ninth at Safeco Field with a 2-0 lead.
Octavio Dotel entered, and chaos ensued.
Dotel, who once saved 36 games in a single season, did not handle the situation very well. Here's a quick rundown of the play-by-play.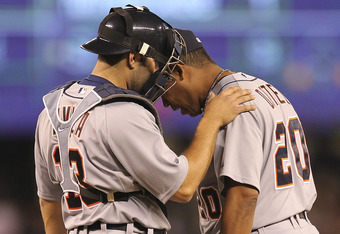 Otto Greule Jr/Getty Images
Batter One: Dotel walked Brendan Ryan, who came into the game hitting .153, to put a runner on first base with nobody out.
Batter Two: Dotel then walked Ichiro Suzuki, a man who has never been known to take an abundance of walks. Dotel did get squeezed a little bit on ball four, but that's what happens when you don't throw strikes consistently.
Batter Three: With Jesus Montero at the dish, Dotel uncorked a wild pitch that put both Ryan and Ichiro in scoring position. Shortly after, he had a low and outside breaking ball get away from Alex Avila, allowing Ryan to score and Ichiro to move up to third.
On a 3-2 count, Dotel then served up a fastball right down the middle to Montero, and he hit it off the center field wall for a game-tying RBI double.
Dotel was removed after that, and the Mariners went on to win the game on a sacrifice fly by John Jaso.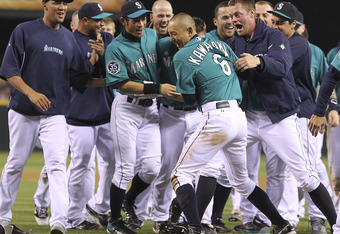 Otto Greule Jr/Getty Images
MLB.com has the video highlights if you must have moving pictures.
Here's the line on Dotel in the box score for last night's game: 0 IP, 1 H, 3 R, 3 ER, 2 BB, 0 SO, 15 Pit, 4 Str, 1 WP.
In the end, it was a blown save and a loss for Dotel.
Despite the fact he's known as "Heartbreak Dotel" in some circles, Dotel isn't usually this bad. In fact, Danny Knobler of CBSSports.com was kind enough to point out that it had been a while since Dotel's last mega-implosion:
Before last night, last time Dotel had 2 unintentional walks in blown save: 5-5-09. That's 196 appearances -- and 6 teams -- ago.   — DKnobler (@DKnobler) May 8, 2012
So hats off to Dotel for going three years without being so ridiculously awful. I believe "Huzzahs!" are in order.
Okay, maybe not. What is in order is an American League "Worst of the Night" award. I didn't think it could get any worse than Adrian Gonzalez after he won it for his performance on Sunday, but Dotel proved me wrong.
Dotel's bad night will soon be forgotten. Valverde will be back in action after his night off, and Dotel will move back to the setup role that he has been excelling in this season.
There will come a time, however, when Dotel will have to redeem himself. I'll be keeping the "Worst of the Night" award handy when that day comes.
If you ever want to nominate someone for "Worst of the Night" honors, hit me up on Twitter.