Oklahoma Football: 5 Things That Will Keep Bob Stoops Up at Night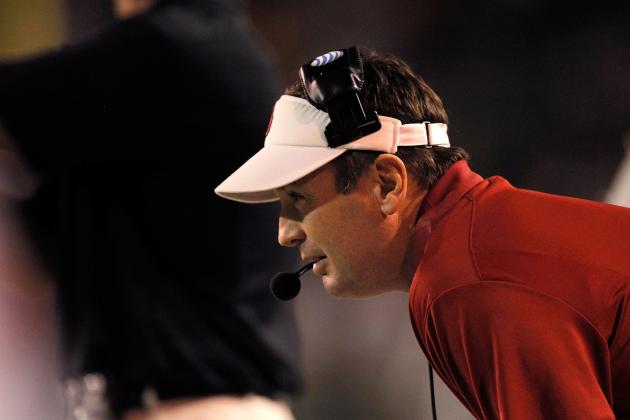 Sarah Glenn/Getty Images

Being the head football coach at a university certainly comes with some benefits: good salary, nice working conditions, attention from the media, etc.
However, being the head football coach at a prestigious college football program comes with some impediments: overwhelming stress, the need to live up to expectations, attention from the media, etc.
Oklahoma Sooners head football coach Bob Stoops is constantly being bombarded with stress and expectations from fans and the media, but that's what happens when you have a reputation to uphold.
But, hey, that's why he makes the big bucks. Here are a few reasons Stoops will once again be held under the microscope this season, likely causing him to lose a few hours of sleep.
Begin Slideshow

»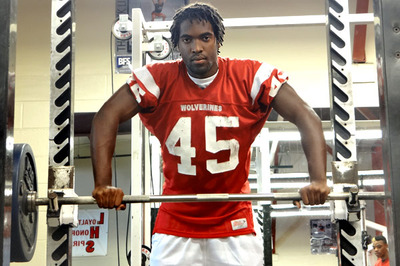 First off, let's start with what is likely the least important portion of this article, but still a valid topic of discussion: recruiting.
Recruiting doesn't necessarily seem like something Stoops should stress over during the course of the season when he has actual games to worry about, but there's no doubt he's thinking about it somewhere in the back of his mind.
There are 17 seniors currently on this Sooners roster that are either starters or will likely earn significant playing time—that's a good chunk of guys to make up for next year. Then, if you add on the junior starters that could go pro, such as Kenny Stills, Tony Jefferson and Tom Wort, then the Sooners could be in trouble next year.
The Sooners certainly have some promising freshman, sophomore and junior athletes already with the team, but this is an important recruiting class for years to come.
So far, recruiting is off to a good start, as the Sooners have already received verbal commitments from five 4-star recruits, including the No. 2 and No. 3 running backs in the class—Greg Bryant (Delray Beach, Florida) and Keith Ford (Cypress, Texas).
The Sooners have received commitments from in-state defensive prospects D.J. Ward (No. 8 defensive end) and Stanvon Taylor (No. 22 athlete), as well. While Bryant and Ford may look the best on paper, Ward and Taylor are likely to have the most immediate impact from the class so far.
On a bit of a side note, the transfer train is already off and running once again. Wide receiver Kameel Jackson has chosen to transfer to Texas A&M. This just shows the impact that freshman receiver Trey Metoyer is going to have with the team.
However, Oklahoma received a transfer of their own—Jalen Saunders, a speedy wide receiver out of Fresno State, has decided to wear crimson and cream next season. Saunders led the Bulldogs with 50 catches for 1,065 yards and 12 touchdowns, which was good enough to earn him All-Western Athletic Conference honors.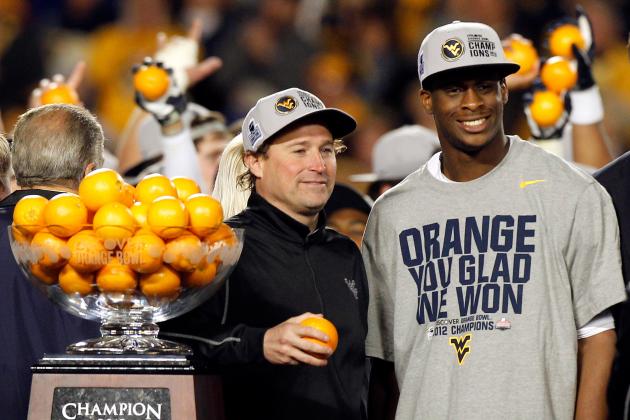 J. Meric/Getty Images

Bob Stoops has never been one to back down from a challenge, but after looking over his team's schedule for the upcoming season, he may lose a few hours of sleep.
After Oklahoma's first two games of the season—UTEP and Florida A&M—the Sooners will be hard pressed to find another "gimme" game.
They begin conference play in Week 4 at home against preseason ranked No. 13 Kansas State, and then after a week's rest, the Sooners will make a trip down to Lubbock in what should be a challenging revenge game against Texas Tech.
After what could be an emotionally draining game in Lubbock, it's time for the Red River Rivalry against No. 22 Texas. While last year's game was a blowout, this year should prove to be much more exciting.
At this point, getting Kansas a week later should seem like a week off, but you can't even count out the Jayhawks after going through three weeks of difficult games already. This could prove to be a trap game, as the Sooners take on No. 24 Notre Dame in Week 9.
After going on the road to face what should be an improved Iowa State team, and then hosting a Baylor team that will be looking to prove its worth without quarterback Robert Griffin III, the Sooners can look forward to only having three games left on their schedule!
However, the last three games of the year are likely going to be the hardest games of the season.
Week 12: At No. 11 West Virginia
Week 13: Vs. No. 21 Oklahoma State
Week 14: At No. 14 TCU
All three teams have a chance to be ranked in the Top 10 by the time these games roll around, making every game a "make it or break it" type game for the Sooners' championship hopes.
So, to recap, that means that the Sooners are currently facing six ranked teams in 12 games, and the majority of their unranked opponents still figure to give the Sooners a pretty tough game.
Stoops may be pulling his hair out by the end of the season.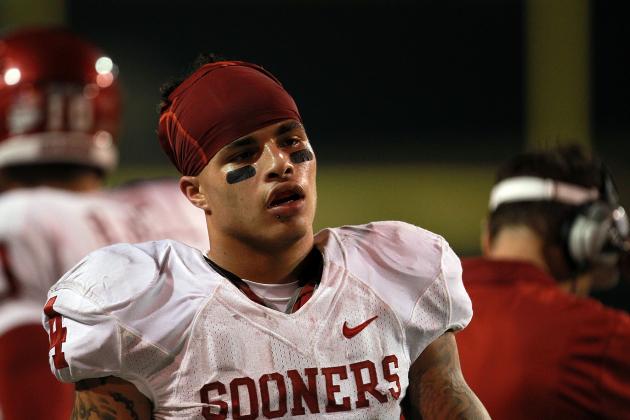 Ronald Martinez/Getty Images

Beyond the obvious selections that might keep Stoops awake at night, leadership ranks pretty high on the list.
I expect Stoops to take control of his team better than he did the year previous. At times, players seemed disinterested, which usually reflected in their performances. The re-hiring of defensive coordinator (and brother) Mike Stoops should help out in getting the players' attention once again.
However, where is the on-the-field leadership going to come from this season? Almost all of last year's "leaders" are now gone to the NFL: Ryan Broyles, Frank Alexander, Travis Lewis and Jamell Fleming.
Offensively, the obvious choice will be senior quarterback Landry Jones, but beyond that, some juniors really need to step up—I'm looking at you, Kenny Stills. After Broyles went down with an injury last season, you never seemed to step up into the No. 1 wide receiver role.
Maybe that spot is saved for Trey Metoyer. Maybe Metoyer will show some freshman leadership on the field this season? Regardless, the offense needs to be led by more than just Jones.
Defensively, the secondary should be led by senior cornerback Demontre Hurst, but I want to see junior free safety Tony Jefferson really step up into that role. Jefferson is the best defender on the roster, and he's almost assuredly going to be a high draft pick that flourishes in the NFL with the right team.
It's now your time, Tony. Take the next step in becoming a leader.
However, if that doesn't pan out, I'm sure junior linebacker Tom Wort will have no problem filling in where Lewis left off. Wort plays with more heart and emotion than any other player on the field. Being a leader is right up his alley.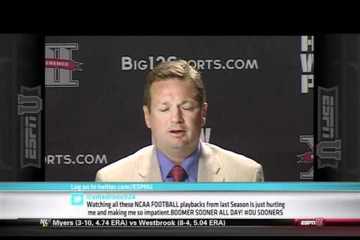 The media is normally not something that head coaches want to deal with, but when you're the head coach of a prestigious football program, the media comes at you even harder.
Being that head coach, you're obligated to keep up the certain standards and reputations that go along with your program, and when things aren't going right, the media can certainly blow things out of proportion.
This season will be no different for Stoops and the Sooners. After not performing up to their No. 1 preseason ranking last year, faltering all the way to No. 16 by the time the end of the year rolled around, the media will be all over Stoops and his ability to "turn the team around" this season.
Despite his fantastic record since becoming the head coach of the Sooners, Stoops has received negative feedback from several media outlets (and fans, mind you) after not being able to win another national championship.
Since the 2000 victory over Florida State, the Sooners have been back to the national championship game three times, failing to win any of them. After falling short that many times, a "fire Bob Stoops" has been brought up in conversation one too many times.
This was highlighted after ESPN First Take analyst (and Oklahoma native) Skip Bayless brought it up via Twitter following last season's embarrassing defeat at home to Texas Tech.
"FIRE STOOPS! Recruits loaded teams that lay eggs when least expect it. Knew I shouldn't have trusted him this season. WHAT WAS I THINKING?"
Stoops doesn't seem like he's one to let the media get the best of him, but if the Sooners have another season with a few disappointing losses, you can expect the media (namely Bayless) to keep attacking.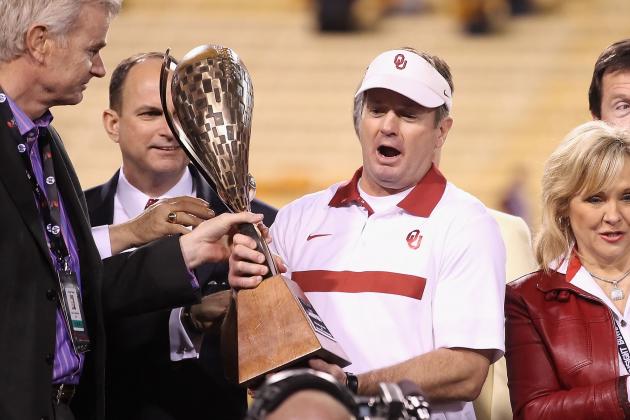 Christian Petersen/Getty Images

This slide goes hand-in-hand with the slide previous, because, most of the time at least, it is the media that determines the perception of your program.
However, you can bypass the media and create your own perception by your on-the-field performances, and Stoops has to be hoping his team can get back to living up to their potential—but that first starts with his own performance on the sideline.
I mentioned that Stoops has only won one of four national championship games, and because of that, he has received mostly negative criticism for falling short. However, just being able to go to four national championship games in the span of 12 years is a big accomplishment in itself!
That seems to be the story that most media outlets tend to neglect. Sure, the Sooners have come up short more times than not, but they've at least made it there. That's something that approximately 117 other teams couldn't say during those years.
Stoops has been to eight BCS bowls, for Pete's sake, but yet, the perception of Oklahoma football has been a team that continually doesn't get the job done.
Stoops may not let it be seen to the media, his players or his family, even, but I'm sure somewhere in the back of his head, the perception of the program is slowly eating away at his thoughts.
The only way to get that perception back to the top? Win another national championship.
With the amount of stress and expectations that are continually put on Stoops' shoulders, there's no doubt he's going to lose some sleep. I imagine he's going to push through, though, just like he always does.
That's why he makes the big bucks.