Why Phillies' Pitcher Cole Hamels Must Not Sign with Yankees
May 8, 2012

Patrick McDermott/Getty Images
In March, Todd Zolecki of MLB.com reported that friendly New York Yankees fans wooed Philadelphia Phillies pitcher Cole Hamels from the stands during a spring training game.
"Yankees fans were really nice for some odd reason," Hamels said. "I don't know why."
This, two months after New York Times writer Tyler Kepner targeted Hamels as a potential free-agent target for the Yankees after the 2012 season.  
Yet if one were to ask Phillies shortstop Jimmy Rollins, Hamels is going to be handcuffed to Citizens Bank Park.
"He's not going anywhere," Rollins confidently told CNSPhilly.com. "He was drafted by this organization, raised by this organization and became a superstar in this organization. If you know anything about this organization, that means he's not going anywhere."
Whew. That is a lot of organization.
Perhaps Rollins knows something the always-unpredictable Phillies owner Ruben Amaro Jr. does not.
To this I hope Rollins is right.
As much as I would love to see Hamels in pinstripes in 2013, there is something I crave to see more.
I would love to see Hamels remain in Philadelphia for at least the next decade.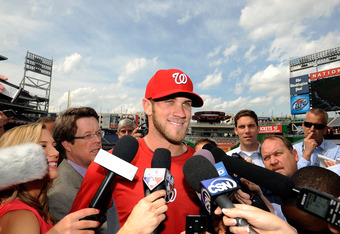 Greg Fiume/Getty Images
For this my reasoning is simple.
I would love to see Hamels and Nationals phenom Bryce Harper build on the beanball-spawned rivalry Hamels admittedly sparked Sunday night.
I can just see this rivalry unfolding now.
Fire in the hole!
Here comes Harper's Ferry.
Fire below!
Fiery quotes make baseball fans giddy.  
Charge!
Bullish battles between the Phillies and Nationals are way too hot for TV.
Ladies and gentlemen, get your popcorn ready.
It is Stephen Strasburg versus Cole Hamels, in a grudge match for the ages.
Strasburg stares down the ninth hitter Hamels in the third inning, snarling.
Umpires on watch, retaliation will nonetheless rule.
And benches on both sides of the ballpark will clear.
The boys of summer will be boys, as sparks will fly.
This newborn rivalry will drive ratings year, after year after year.
Meantime, Yankees fans will say, "sheesh, I thought our rivalry with the Red Sox was insane."

If you like this article, you may also enjoy: Why Baseball Fans Love Rip Sewell's Manhood-Defying Eephus Pitch.