Benefits Mike Gillis Contract Extension Bring to the Canucks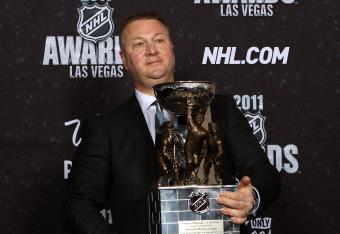 Bruce Bennett/Getty Images
VANCOUVER—After a week-long meeting with the Vancouver Canucks Francesco Aquilini ownership group, today, the Canucks announced a contract extension for their president and general manager Mike Gillis.
Since Gillis joined the Canucks back in May of 2008, the team has had several franchise highlights.
He emphasized on player development and stocking up with youth in the system. He also brought in players that brought veteran experience and leadership to a team trying to compete for a Stanley Cup.
The most important moment of his tenure was re-signing the Sedin twins on July 1, 2009, when the Canucks were in risk of losing the All-Star Swedes to unrestricted free agency.
Of the several trades Mike Gillis has made, his best trade so far has been trading for defenseman Christian Ehrhoff and Brad Lukowich for draft pick bust Patrick White and depth-prospect Daniel Rahimi.
So with Mike Gillis re-signed to an extension, what is in store for the Canucks moving forward?
The Canucks brand is much stronger today than it was when Gillis joined the organization.
There is an unique atmosphere to be associated with the Vancouver Canucks everywhere people visit in the city. From natural health foods stores to clothing stores at the mall, people like to post Canucks posters and memorabilia in the display windows.
Do you like the Canucks decision to sign Mike Gillis to an extension?
On the ice, the Canucks also reached a franchise peak these last two years with back-to-back President's Trophy wins and a trip to the seventh game in the Stanley Cup Finals in 2011.
The fan base is enormous, and there probably isn't a player in the NHL that won't consider Vancouver as one of the favourable destinations to sign a contract with to play hockey.
Blessed with experience as a player's agent, Mike Gillis understands the business of signing player contracts from the player's perspective.
When Alexandre Burrows and Ryan Kesler re-signed with the Canucks, their "hometown discounts" allowed the team to acquire pieces to complement the team for a long playoff run.
Alexandre Burrows signed a four-year deal worth $8 million back in March 2009. The Sedin triplet is worth much more to the Canucks than his contract suggests. Ryan Kesler's contract, at $5 million for six years, was also a pretty good signing in March 2010.
Now with the Canucks core all set in place, the work Mike Gillis has to do is to find ways to make sure the organization can get back to the playoff finals.
While 28 teams won't get there each year, the Canucks should set their goals that high. It will be difficult, but Gillis' job description is clearer today than it was four years ago when he became the rookie GM.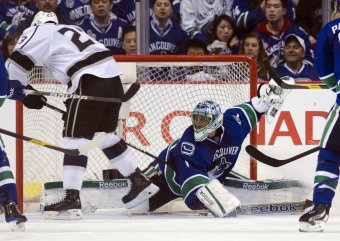 Rich Lam/Getty Images
This offseason, Mike Gillis' biggest task is to find Roberto Luongo a new home and acquire as much asset as possible for the team. The salary cap configuration will change a lot with a $5.33 million goalie off the books, but he needs to spend that money wisely.
Without further ado, let's see what Gillis and the Canucks have in store at the June Entry Draft. My prediction is that Roberto Luongo will be the highlight of that event held in Pittsburgh.
This is Joseph Trenton reporting from Vancouver.
In case you missed it, here are some other recent articles by Joseph
- Canucks Prospect Series: Anton Rodin
- Why the LA Kings will not win the Stanley Cup
This article is
What is the duplicate article?
Why is this article offensive?
Where is this article plagiarized from?
Why is this article poorly edited?

Vancouver Canucks: Like this team?