Ricky Bobby, Jeff Gordon Highlight 5 Good, 5 Bad at Talladega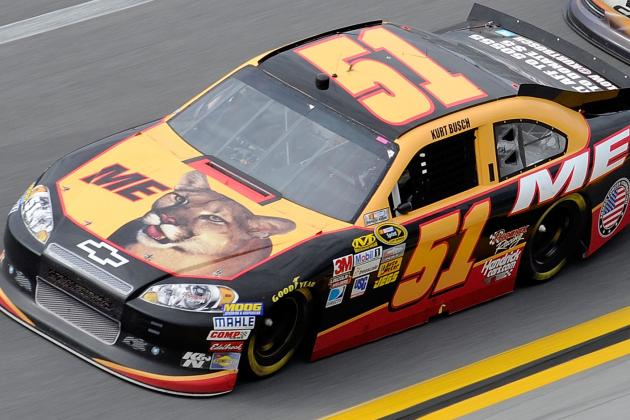 John Harrelson/Getty Images
Kurt Busch's "Ricky Bobby" paint scheme owned the weekend at Talladega
The boys of NASCAR were at the world's fastest race track this weekend for the Aaron's 499 at Talladega.
Dramatic racing and re-enacted scenes from a 2006 hit movie dominated the day, but it was a 28-year-old Michigan driver who took the headlines, accomplishing a feat not matched in 36 years.
But for every great battle and storyline, there was a wreck to be avoided and a car out of the race. Several drivers did not make it through the war of attrition, including a struggling veteran and the season's surprise sleeper.
Who was good and who was bad Sunday at Talladega? We've got you covered!
Begin Slideshow

»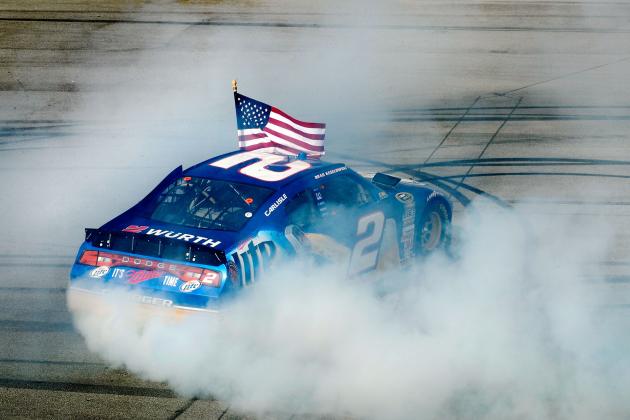 Jared C. Tilton/Getty Images
Brad Keselowski won his second race of 2012 Sunday at Talladega
One driver may have already etched his name in the 2012 Chase for the Sprint Cup field.
With his win Sunday at Talladega, Brad Keselowski accomplished two things: he earned the first win for Dodge at Talladega in 36 years, and he earned his second victory of 2012.
The latter is significant because, with 17 races remaining between now and the Chase cutoff race and Richmond in September, Keselowski is the only driver outside the Top 10 in points with two wins.
Meaning he's in a very good position to earn a Chase wild card berth if need be.
After climbing to 12th in the standings, three points out of 10th on Sunday, however, Keselowski may not need it.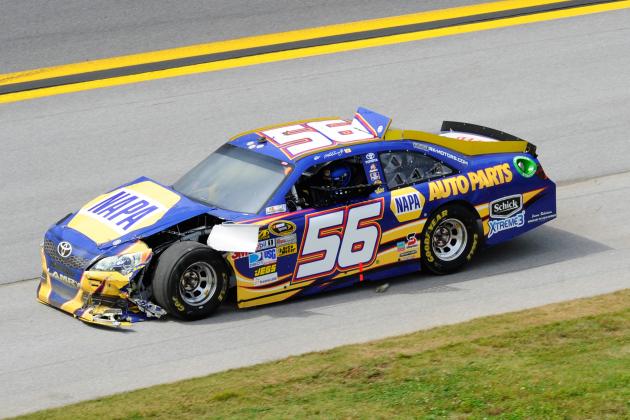 John Harrelson/Getty Images
Martin Truex Jr. earned his first DNF of 2012 Sunday at Talladega
Are the wheels beginning to fall off of Martin Truex Jr.'s dream 2012 season?
After earning five consecutive Top 10 finishes and climbing all the way up to second in the standings, Truex has finished 25th or worse in each of the last two races, dropping to sixth in the standings.
His latest finish, a 28th Sunday at Talladega, marked his first DNF of the season.
Of course, Truex was not the only casualty in Sunday's war of attrition, as 20 drivers in all failed to finish the race.
However, should Truex fail to get back on track Saturday night at Darlington, there may be cause for concern in the No. 56 camp.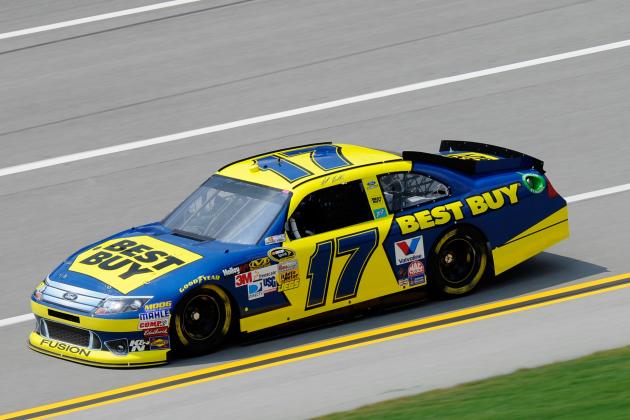 John Harrelson/Getty Images
Matt Kenseth dominated Sunday en route to a third-place finish at Talladega
No driver has been better on plate tracks this season than Matt Kenseth.
The unlikely master of the draft dominated Sunday's race at Talladega, leading 73 of the 188 laps before being overtaken with two laps to go by eventual winner Brad Keselowski.
Kenseth would finish the race in third.
The dominant day by Kenseth shows some promise for later in the season.
Sure, dominance at Talladega does not necessarily translate into success elsewhere.
But if Kenseth can put together a performance like this in the Chase race at Talladega, a race often known as the "Wild Card Event," he could be a threat for the title.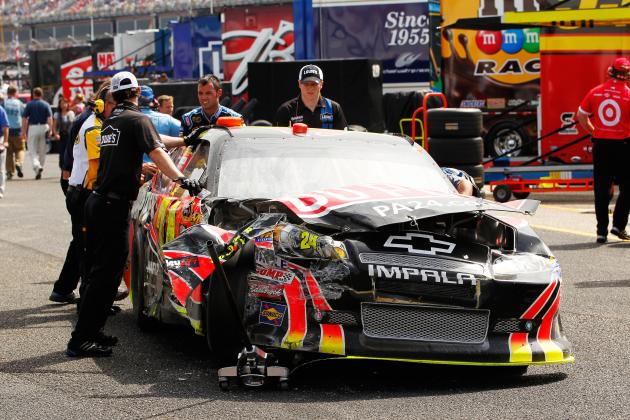 Tyler Barrick/Getty Images
Jeff Gordon had another rough afternoon Sunday at Talladega
If Jeff Gordon didn't have bad luck...
By now, you know the end of that sentence by heart. Gordon's abysmal 2012 season continued on Sunday after he was caught up in a Lap 142 "Big One."
Gordon finished 33rd.
Sunday's finish marked Gordon's third-straight result outside the Top 20, dropping him from 17th to 23rd in the standings and putting him in a very precarious position as far as making the Chase.
If Gordon is to qualify for NASCAR's postseason, he will have to start winning some races, and soon.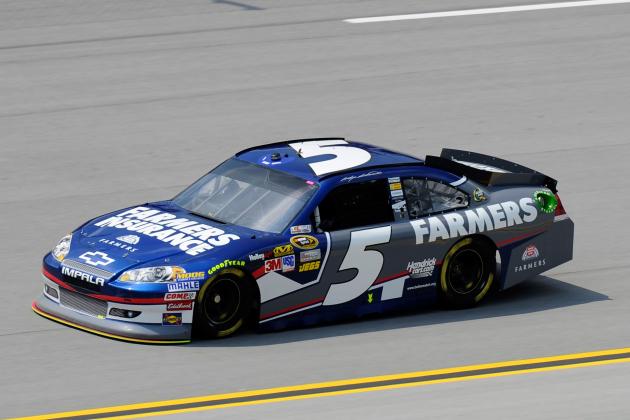 John Harrelson/Getty Images
Kasey Kahne has four-straight Top 10 finishes after a fourth-place run at Talladega
On the complete opposite side of the Hendrick Motorsports spectrum is Kasey Kahne.
After having Jeff Gordon-like luck to start the 2012 season, Kahne has ripped off four-consecutive Top 10 finishes, with his most recent being a fourth-place effort Sunday at Talladega.
Sunday's finish did not come easy for Kahne, who was nearly a casualty in Sunday's war of attrition. But Hendrick's newest driver masterfully maneuvered his way through three wrecks and managed a very respectable result.
Kahne has now climbed from 31st to 19th in the standings in the last four races.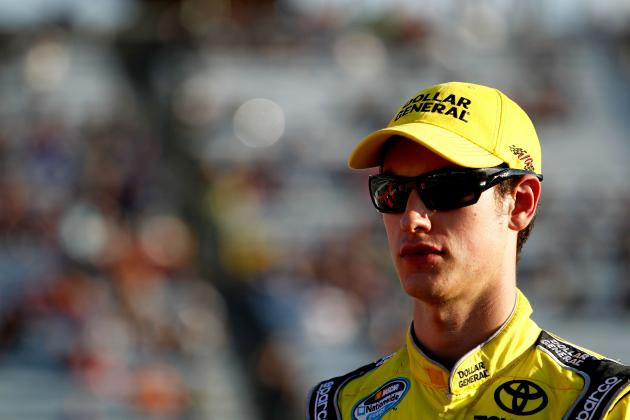 Jeff Zelevansky/Getty Images
Joey Logano had another poor finish Sunday at Talladega
Standing in Victory Lane after winning Saturday's Nationwide race at Talladega, Joey Logano called his shot.
Asked after that race if his win was an indication for Sunday's Aaron's 499, Logano responded, "Yes, for sure."
By the time Sunday's race was all said and done, however, every corner of Logano's bright yellow No. 20 car was ripped apart. He had been caught up in both versions of the "Big One,"and the final order reflected Logano's worst effort of the year.
His 26th-place finish at Talladega also marked his eighth-straight finish outside the Top 10 in a slump which has dropped him from ninth to 15th in the standings since the season's fourth race at Bristol.
Logano missed a golden opportunity to gain some points at Talladega and now must rebound at a track where he finished 35th last year.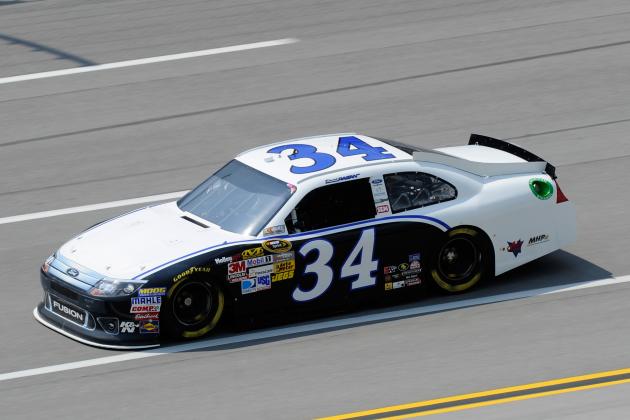 John Harrelson/Getty Images
David Ragan earned his first Top 10 of the season at Talladega
One great thing about restrictor plate racing is the surprising drivers it often brings to the front of the field.
Sunday's race at Talladega was no different as Travis Kvapil and Casey Mears among others took turns leading the Aaron's 499.
At the end of the day, a pair of unsuspecting young drivers ended the day in the Top 10 as David Ragan brought his Front Row Motorsports machine home in seventh, with Trevor Bayne right behind him in eighth.
David Gilliland finished close behind in 13th, with Kvapil and Mears ending the day in 16th and 18th, respectively.
For all five drivers, Sunday's finish was a season-best.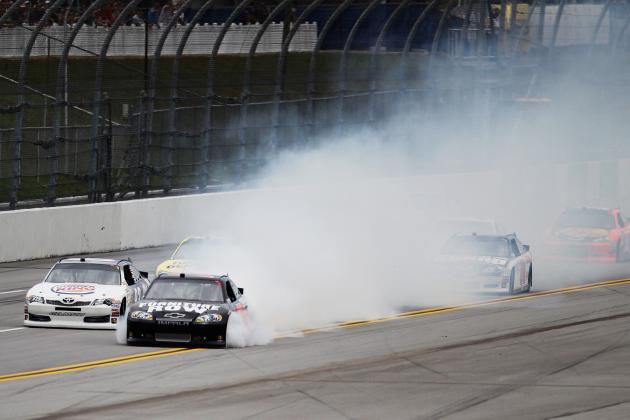 Chris Graythen/Getty Images
Regan Smith was one of many drivers to suffer mechanical problems Sunday at Talladega
In an effort to appease the fans and bring pack racing back to restrictor plate tracks, NASCAR made changes to the cars to encourage that type of racing.
Among them were changes to the grill openings, which on Sunday caused many cars to run hot and begin to overheat.
Many cars were sent to the garage because of engine problems, including Regan Smith, Ryan Newman and Jimmie Johnson.
In addition, a number of cars experienced fuel pressure problems during the race's final series of green flag pit stops, including Aric Almirola, whose ill-timed issue triggured a multi-car pileup that included Jeff Gordon, Martin Truex Jr. and Carl Edwards.
In all, no fewer than nine cars were affected directly by a mechanical issue on Sunday, many of which did not finish the race.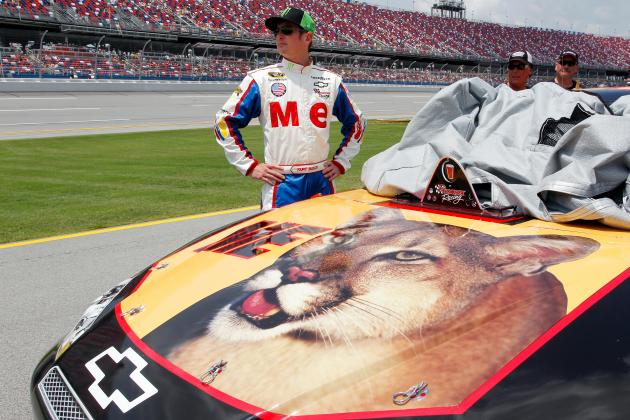 Tyler Barrick/Getty Images
Kurt Busch's "Ricky Bobby" impression was among the best things that happened at Talladega
When you drive for a low-budget team and have no sponsor, why not have a little fun?
That's exactly what Kurt Busch and his Phoenix Racing team did at Talladega this weekend, taking a page out of the book, or rather a scene from the 2006 movie, Talladega Nights: The Ballad of Ricky Bobby.
Busch and his team took their role seriously, even going so far as to re-enact interviews and in-car radio communications from the movie.
Busch's paint scheme was among the best in recent years, with his No. 51 car looking like a carbon-copy of the ride Will Ferrell's lovable character drove in the movie.
Busch and his team competed with the big boys from Dennit Racing most of the day, until...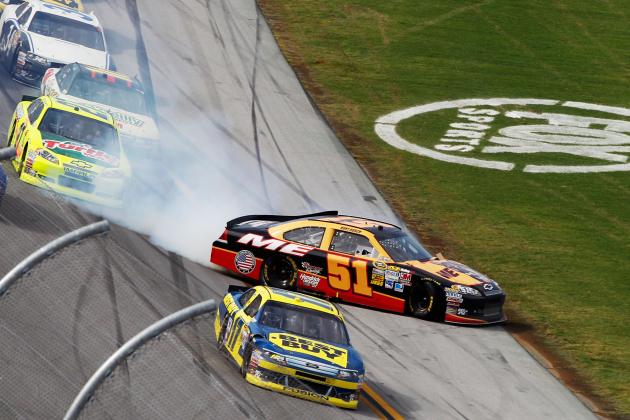 Todd Warshaw/Getty Images
Kurt Busch's "Talladega night" ended in heartbreak
...it all went up in smoke.
With seven laps to go in Sunday's race, Busch made a move to the outside while running in second with his former teammate Brad Keselowski right behind him.
As Keselowski moved in behind Busch to do what we can only assume was a little "Shake 'n Bake," Keselowski turned Busch's car dead-left, sending the 2004 champ for a ride through the grass and into the inside wall.
Ironically, just like in the movie when Ricky Bobby's best friend and former teammate went to Victory Lane, it was Busch's former teammate, Keselowski, who took the checkered flag.
For Busch, maybe next time he can re-enact Days of Thunder?