MLS Weekly Power Rankings: Seattle Sounders Finally Get Past the Galaxy
May 7, 2012

Otto Greule Jr/Getty Images
The Seattle Sounders Jumped to the table of this week's Power Rankings after handling the Los Angeles Galaxy and Philadelphia Union in one week. Sporting Kansas City had a tough week with its first home loss of the season. And Vancouver stepped up with a big win over San Jose on Saturday. 
1. Seattle Sounders (6-1-1, 19 pts.) Beating Los Angeles in the midweek game was what the Sounders needed to get that monkey off their back. Following that win up with a solid, 1-0 win over Philadelphia wrapped up an impressive week for a team that was playing under the radar for much of the season.
2. Real Salt Lake (7-3-1, 22 pts.) Was there any doubt RSL would beat New England, who was coming off a Wednesday night game? No. But it just proves that this team wins when it needs to, which is vital.
3. San Jose Earthquakes (7-2-1, 22 pts.) A goal-fest on Wednesday and a 5-3 win over D.C. was followed up by a disappointing 2-1 loss to Vancouver on Saturday.
4. Vancouver Whitecaps (5-2-2, 17 pts.) A Canadian Championship win on Wednesday was followed up by a 2-1 win over a San Jose team that looked unstoppable. Is there a bigger turnaround in MLS this year? Probably not.
5. Sporting Kansas City (7-2-0, 21 pts.) A loss at home? Can't be for Sporting. It happened. To top it off, Kansas City lost to the expansion Montreal side that is still a work in progress. 
6. New York Red Bulls (5-3-1, 16 pts.) No Henry? No problem. New York kept its second straight clean sheet by beating Los Angeles at the Home Depot Center. Has Hans Backe found his new center-back pairing?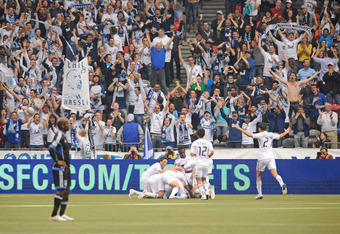 Derek Leung/Getty Images
7. D.C. United (5-3-3, 18 pts.) A tough loss to San Jose on Wednesday was followed up with a good win over hapless Toronto. D.C. has plenty of confidence going forward. Ben Olsen has his team flying.
8. Montreal Impact (3-5-2, 11 pts.) Going to Livestrong Park is not easy. Kansas City dominates teams when they come to town. But the Impact were able to hang on and get a vital, 1-0 win. Things are looking up for the expansion side. 
9. Houston Dynamo (2-2-2, 8 pts.) The Dynamo had another week off. But this week two tough games await: New York on Wednesday and D.C. on Saturday. The good news is the team's new stadium opens up on Saturday for the first time. It's supposed to be beautiful.
10. Chicago Fire (3-2-2, 11 pts.) Beating Chivas on Friday night was a good road win for the Fire. Can Chicago keep that momentum going forward with a packed schedule?
11. New England Revolution (3-6-0, 9 pts.) Beating Colorado in the midweek was important, because going to Salt Lake on Saturday was going to be almost impossible. The Revs beat Colorado with some beautiful play and goals. The performance against RSL was promising as well. Will this be the big turnaround Jay Heaps wants and the team needs? Or is it more false hope?
12. Colorado Rapids (4-5-0, 12 pts.) Two road games in one week is tough. Colorado made it out alive with three important points on Sunday night, beating Dallas 2-0.
13. FC Dallas (3-3-3, 12 pts.) Dallas is still searching for that push it needs. The Hoops show promise and then fade. 
14. Los Angeles Galaxy (3-5-1, 10 pts.) Two tough losses for Los Angeles this week. Championship hangover is alive and well for the Galaxy.
15. Chivas USA (3-6-0, 9 pts.) Chivas needs to find a way to win at home. 
16. Columbus Crew (2-4-2, 8 pts.) A draw away to Portland was a good result for Columbus. But the lack of goal-scoring punch is frightening for the Crew.
17. Portland Timbers (2-5-2, 8 pts.) JELD-WEN Field was supposed to be a fortress, but Portland can't seem to make it impenetrable on the field. 
18. Philadelphia Union (2-5-1, 7 pts.) Sebastian Le Toux's finishing is sorely missed in Philadelphia. The Union are tied for the fewest goals scored with Chivas USA with five. 
19. Toronto FC (0-8-0, 0 pts.) It's just ugly in Toronto right now.